Remember when: Woolley Wilson won the 1972 Vic Peters Classic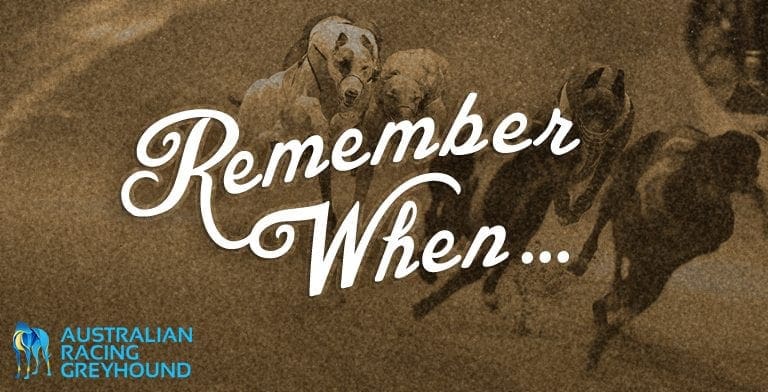 FOR many years, the Vic Peters Memorial Classic was the premier race in New South Wales for young sprinters with winners often being considered as potential top line stud propositions.
It was, briefly, the richest race in Australia and certainly remained one of the most valuable in terms of prize money until the Group racing era commenced.
In 1972 the race was taken out by a strikingly-marked 35-kilo black and white dog named Woolley Wilson (Benjamin John x Top Sapphire Oct '70).
Woolley Wilson was bred by Fay and Alan Chauncy. As a six-weeks-old puppy, he was one of two puppies purchased by quadriplegic Gary Wilson for $150 each. The story goes that Wilson sat on the grass at Chauncy's place and stated he would take the first two puppies to reach him.
Chauncy had noted one of the pups in the litter had what he termed a 'woolly' coat and thought he'd have trouble selling it. So, he gave the 'woolly' pup a little bit of a kick up the backside to propel it towards Gary Wilson, making sure it was one of the first pair to reach him.
After breaking-in only fairly, Woolley Wilson was sent to a leading trainer, the late Geoff Watt, who would prepare him for his entire career.
At first, Woolley Wilson struggled to keep up with Watt's other greyhounds, but he gradually improved and made his racing debut at the age of 18 months, finishing second in a maiden over 466m at Singleton on April 1, 1972.
On April 15, Woolley Wilson won his maiden at Singleton, by eight lengths. After winning first-up over 537m at Richmond, he then ran fifth at that track and second at Maitland before winning a double at Richmond and Maitland and failing over 507m at Dapto.
Watt brought Woolley Wilson to Harold Park on May 27 and from box eight he registered a brilliant 10 lengths win over 457m in a solid 26.7.
On June 2, Woolley Wilson exited box one for the first time and led all the way at Richmond.

After running only fourth behind his brilliant kennel mate Benny McGrath at Richmond the following week, Woolley Wilson contested a heat of the Winter Stake at Harold Park, running second behind Woodstock Cup winner Midnight Enemy.
In the June 19 Winter Stake final, Woolley Wilson went out an outsider at 10/1 ($11.00) despite drawing well in box two. From this alley he began perfectly and led until turning for home, when he was joined by Midnight Enemy. The pair staged a great duel all the way down the long Harold Park straight and at the post Woolley Wilson prevailed by a head. Butch's Bounty was 10 lengths away third.
Three days later, Woolley Wilson finished second behind Young Moss over 530m in his first start at Wentworth Park. On June 24, he registered his first win at the track, running a fair 31.4.
Set for the National Derby series, Woolley Wilson easily won his non-betting heat and quarter-final and, on July 8, scored a last bound victory in his semi-final, holding off the all-distance star Ragsie to score by a neck in a fast 31.1.
Woolley Wilson drew box three for the final but was unable to run down early leader Young Moss (box one) who ran a race record 31.0. On the same night, Lord Galaxy equaled the track record of 30.8.
Just two days later Woolley Wilson clashed for the first time with Lord Galaxy, in top grade at Harold Park, running a fine second to Lord Galaxy who scored in 26.3, the fastest time at the Glebe course in 18 months. Then, on July 22, Woolley Wilson scorched around Wentworth Park in 30.9, 1/10th outside the track record. Lord Galaxy was third.
After a fourth behind Quality Blend at Harold Park, Woolley Wilson won a heat of the Sid Graham Memorial Trophy at Richmond and then, on August 7, he became the sixth greyhound to equal the Wentworth Park track record of 30.8.
On August 11, having his third race in eight days, Woolley Wilson took his prize money beyond $11,000 as he annexed the final of the Sid Graham Memorial Trophy.
Set for the National Sprint Championship series, Woolley Wilson finished sixth and second behind Lord Galaxy in heats held at Harold Park and Wentworth Park and amassed enough points to enter the semi-finals at Olympic Park on September 4. In a brilliant first-up performance Woolley Wilson defeated Lord Galaxy and Victorian star Gold Grotto in 29.15/16, a new track record.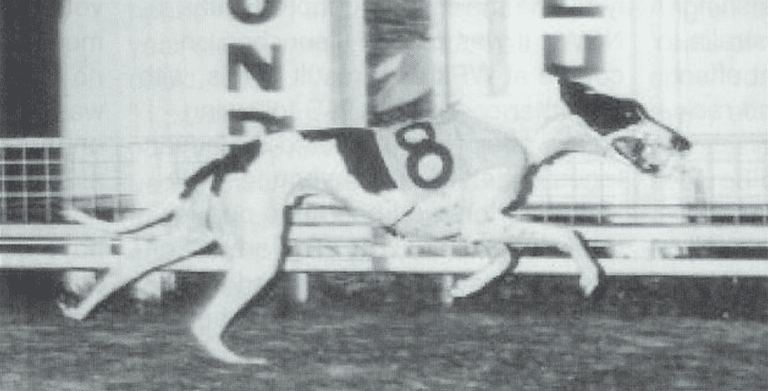 He made his way into the final when second to Saucy Princess in the Sandown Park semi-final but could only finish seventh behind Lord Galaxy in the National Sprint Championship final, also run at Sandown, on September 16.
Watt continued Woolley Wilson's heavy racing schedule, setting Woolley Wilson for the Maitland Gold Collar. He won his heat but from box four in the final, on September 27, he was outpaced by Wyalong Gift (box two) who raced away with a six lengths break at one stage before Woolley Wilson cut this back to just over a length on the line.
A win at Wentworth Park was followed by an unplaced run at Harold Park before the black and white sprinter scored his first win in top grade at the latter circuit, running a fast 26.4.
These races were a lead-up to the Vic Peters Memorial Classic series at Harold Park. After easily qualifying through the non-betting heats, Woolley Wilson won his semi-final and then collected the $7,000 first prize money in the final, exiting box two on a rain-affected track to defeat Free Reign by two lengths.
Woolley Wilson next finished fourth in a semi-final of the Melbourne Cup and fifth in a Free For All at Wentworth Park before bouncing back to score over 457m at Cessnock and then winning an Invitation Stake (top grade) at Harold Park by seven lengths in a sensational 26.2, only 2/10ths outside the track record.
His next mission was the NSW St Leger (now Paws of Thunder) and once more he easily won his non-betting heat and quarter-final and then scored in 31.1 in his semi-final. Kennelmate Benny McGrath broke the track record with a 30.7 victory in his semi-final.
Drawn badly in box five for the St Leger final, Woolley Wilson had a chequered passage but flew home to run fourth behind Likely Light.
Woolley Wilson closed out 1972 disappointingly, running second in a heat of the Christmas Gift at Harold Park and fifth behind Quality Blend in the final and then finishing last of six runners behind Quality Blend at Wentworth Park.
In 44 starts during the year Woolley Wilson had notched 22 wins and 10 seconds, as well as five fourths and was considered among the final four for NSW Greyhound of the Year honours, losing out to Ragsie.
After a decent break, Woolley Wilson commenced 1973 with a solid second behind Miss Baines in a semi-final of the Australian Cup on February 19 and then scored at Wentworth Park in a near-record 30.80 on March 2.
Just three days later he flew over 486m at Gosford in 28.90 and then won again at Wentworth Park.
Following a second and a third in Invitation Stake-class at Harold Park behind his nemesis Quality Blend and the Victorian sprinter The Little Gent, Woolley Wilson travelled to Queensland for the 558m Gabba Foundation Gift (best eight). From box one he jumped straight to the front and strolled home 11 lengths clear.
After a disappointing third at Tamworth and a fifth in a heat of the Olympic Park Sprint Championship after striking severe interference, Woolley Wilson was back in the winner's circle on May 5 with a win at Harold Park in a fast 26.25.

Woolley Wilson then scored over 405m at Maitland, at Olympic Park (by six lengths) and then, on May 19, at Wentworth Park. That last victory propelled his prize money to $34,491, the highest amount ever won by a sprinter in Australia to that time and placing him third on the all-time list behind Zoom Top and Shapely Escort.
Three more wins followed, two at Harold Park and one at Wentworth Park, and these took his prize money beyond $36,000 and into second place on the all-time list.
On June 15, Woolley Wilson contested a match race over 537m at Richmond against the track record holder Para Main. 'Big Woolley' led all the way to defeat a gallant Para Main by a length in 31.74, unofficially breaking the track record.
On June 19, Woolley Wilson won his ninth successive race, scoring by four lengths at Wentworth Park. Sadly, this would prove to be his last race victory.
Set for a second crack at the National Derby, Woolley Wilson made the final by running second to Dusty Trail in his semi-final and then ran a great third behind outsider Rushin Moss and Dusty Trail in the final after being battered from box five.
Two thirds at Harold Park were followed by a solid second behind Victorian champion Half Your Luck at Olympic Park and a third at Wentworth Park.
Woolley Wilson then contested the quarter-finals of the National Sprint Championship, running second behind the ill-fated Quick Sweep at Harold Park and then, on September 8, finished sixth at Wentworth Park. After the race he was found to have injured his right front foot and Gary Wilson announced his retirement.
Woolley Wilson was again a finalist for NSW Greyhound of the Year and the panel of eight were locked four-apiece in favour of either Woolley Wilson or He's Some Boy. NCA Secretary Gerry Candrick cast the deciding vote in favour of He's Some Boy.
The champion made a brief return to the track in February 1974, running last of six starters in a semi-final of the Australian Cup, after which he was retired permanently.
Woolley Wilson raced 73 times for 36 wins, 16 seconds and six thirds, earning $40,906 in prize money which, at the time, placed him third behind Zoom Top and Lizrene, but the highest as a sprinter only.
He won 11 races at Wentworth Park and nine at Harold Park.
More Greyhounds News