Remembering the career of dual Gold Cup winner Dotie Wilson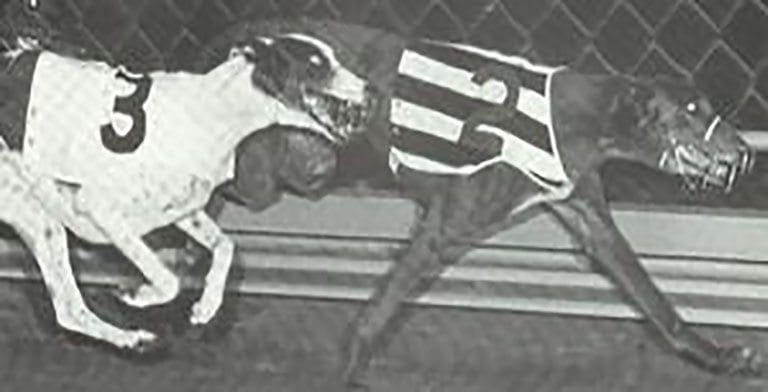 JUST as many racehorses appear to run better at some tracks than others, so it is with many greyhounds. When night racing was conducted at the Gabba circuit in Brisbane one New South Wales stayer seemed to make the track her own: the 1975 NSW Greyhound of the Year, Dotie Wilson.
Indeed, the unfashionably-bred blue bitch competed eight times over the 704m journey at the Gabba and recorded eight victories, including two successive Gabba Gold Cup finals (now known as the Albion Park Gold Cup, Group 1).
Dotie Wilson was whelped in July 1972 by Mister Richie out of Richies Lady. Abermain breeder Richard Wilson had raced both sire and dam and named the little blue bitch after his wife, Dot.
When Dotie Wilson was 11 months old, Richard Wilson leased her to Jim Canning, a male nurse who worked at the Morriset Psychiatric Hospital, near Newcastle.
Canning gave Dotie Wilson her first start just five months later, running third in a maiden over 457m at Cessnock on November 26, 1973.
Five days later she broker her maiden status, scoring by three lengths over 466m at Singleton. It was to be the only sprint success of her lengthy career.
Three unplaced runs followed, at Maitland, Newcastle and Gosford before two third placings over 485m at Newcastle bookended the end of 1973 and the start of 1974.
Canning realised Dotie Wilson would probably make a better stayer than sprinter, and on January 15 she proved him right, scoring by six lengths over 689m at Gosford. Two more distance victories followed, by four lengths over 686m at Newcastle and by six lengths over 684m at Maitland.
Canning brought her to Sydney, but in her first three contests, all over 722m at Wentworth Park, Dotie Wilson could only finish fourth, fifth and third.
Canning then gave her three successive races over the 732m trip at the spacious Harold Park circuit, where she finished third, second and fifth.
Dotie Wilson finally broke through in the city, scoring by six lengths at Wentworth Park in a fair 43.69 on March 17.
After a poor seventh at Newcastle and an equally poor fifth at Wentworth Park, Canning decided to give Dotie Wilson a two-month spell.
She resumed with a strong fourth in what was her last sprint race, a heat of the Newcastle Bracelet. A seventh and second at Newcastle over 686m and then a second over 640m at Singleton followed before Dotie Wilson registered her second Wentworth Park victory, running a slow 44.07 on June 17.
Promoted to top grade, Dotie Wilson started at 20/1 ($21) and recorded her third win at the course, winning in 43.49, the best of the night. It was her third win at Wentworth Park, and also her last. In a further 13 races at the Glebe course, Dotie Wilson never finished closer than second.
A second at Harold Park, a sixth behind the great Miss High Lo and champion South Australian bitch Ascapella Miss at Wentworth Park, and a seventh at Harold Park continued Dotie Wilson's average run of performances.
On July 20 she returned to the winning list, scoring at Newcastle and then Harold Park, her first win in six starts at that course.
A fifth at Gosford over 689m, a nose second at Harold Park behind Footmark and then a fourth at Gosford in a heat of the Central Coast Distance Championship (thereby scraping into the final) were followed by a head victory over Footmark at Harold Park.
On August 27, Dotie Wilson finished only fifth behind Nellie D'Or in the final of the Central Coast Distance Championship. That defeat was followed by a last of seven at Wentworth Park, last of five at Newcastle and a fifth at Newcastle.
On October 12, the blue bitch made the final of the Sydney Cup at Wentworth Park by finishing fourth in her heat behind Footmark.
In the Sydney Cup final, Dotie Wilson was no match for Miss High Lo, but again ran a solid fourth, indicating a slow return to form.
After winning at Harold Park, Dotie Wilson could only run seventh and then fifth behind Miss High Lo in two races at Harold Park and Wentworth Park.
In spite of her average form, Jim Canning set Dotie Wilson for the Summer Cup at Harold Park. The race would prove her coming of age.

Facing boom stayer Armatree's Idol in her semi-final, Dotie Wilson took ground off the 1/4 ($1.25) favourite to be beaten just over a length in a fast 43.16. Miss High Lo ran 42.80 to win her semi-final, the second-fastest time ever registered at Harold Park.
The November 30 final saw Armatree's Idol in box one, Dotie Wilson in box two and Miss High Lo in box three, with punters installing the latter as favourite. In what was the best performance of her career, Dotie Wilson jumped to the lead and managed to hold off Miss High Lo all the way down the long home straight at Harold Park to score by a neck in a fast 43.05. Armatree's Idol was a close third.
After the event Canning said, "I knew the material was there and it was probably the well-grassed track that brought it out." Canning believed she never showed her best when the turns were bare of grass. It was also the first time in six clashes that Dotie Wilson had finished ahead of Miss High Lo.
A week later, Dotie Wilson ran fourth behind Miss High Lo in the Sun Toy Fund Cup at Wentworth Park, in a new track record of 42.64.
The tables were turned again just four days later when, on December 11, Dotie Wilson came from fifth of six at the first turn to bolt home by seven lengths over 684m at Maitland. Miss High Lo only plodded into fifth place. Dotie Wilson ran a new track record of 39.78.
Dotie Wilson finished 1974 by running a 10-lengths second behind Miss High Lo in a heat of the Stayers' Christmas Gift before running fifth behind Miss High Lo in the final on December 21.
During 1974, Dotie Wilson started 43 times for 12 wins, seven seconds and three thirds.
Soon after, a leasing disagreement arose between Jim Canning and Richard Wilson and this prevented Dotie Wilson from racing again until March 8, 1975. The dispute was resolved, and Dotie Wilson remained under Canning's care.
The blue bitch resumed in a heat of the Autumn Cup at Newcastle, winning by 10 lengths in a track record 41.05.
In the final, run just five days later, Dotie Wilson had little luck and finished a half-length second to Bryan's Venture.
Continuing her dislike of Wentworth Park, Dotie Wilson finished sixth in a heat of the National Distance Championship, but then won her next heat, run at Harold Park. This made her one of five NSW representatives to head north to the Gabba for the semi-finals.
After running second at Maitland, Dotie Wilson went to Brisbane and contested a semi-final of the Distance Championship, over 704m at the Gabba on April 3. From box one she raced away to win by four and a half lengths from Victorian stayer Golden Fellini, running a fast 41.96.
The National Distance Championship final saw Dotie Wilson again draw box one and she used the rails to perfection to come from second early to win by four lengths from fellow NSW stayers Tintawin and Gaytilla. Her time of 41.66 was just 5/100ths outside the track record.
Dotie Wilson returned to the Gabba on May 8 for the heats of the Gabba Gold Cup. Drawn in box one again, she ran 42.01 to defeat Sister Stella by a length and a half.
In the final, Dotie Wilson came out of box two and after chasing Busy's Chief to the home corner she pounced and railed away to win by three lengths in 41.83, a new race record. She earned $5,000 for the victory.
Back at Harold Park, Dotie Wilson contested a semi-final of the Association Cup and made it into the final by coming from behind to win by a neck in a solid 43.47.
For the fourth time in six starts she drew box one and used it to full advantage, leading all the way to defeat Pied Paul by seven lengths in 43.33, the second-fastest Association Cup to that time.
Given a six-week break, Dotie Wilson resumed to make it seven wins on end, at Harold Park, but back to Wentworth Park the string of wins came to an end when she could only run second behind Brown Sparks.
After winning again at Harold Park, Canning took her back to the Gabba for the 895m Gabba Thousand, run on July 31. She led all the way and raced away to score by seven and a half lengths in 53.85, clipping a massive 60/100ths off the track record.
After once more finishing unplaced at Wentworth Park, Dotie Wilson was again back at the Gabba and drew box one in the Skippa Trophy, winning by an easy five lengths and make it six out of six at the Queensland course.
Canning persisted with competing at Wentworth Park, but Dotie Wilson finished last of seven after hitting the running rail and being slightly injured.
Nonetheless, Dotie Wilson notched her sixth successive win at the Harold Park course when successful there on September 15.
A second at Singleton and a comfortable five-length win at Maitland followed before Canning again rested Dotie Wilson.
She resumed six weeks later, on November 12, with a fourth at Harold Park and a poor last of five runners at Singleton.
Dotie Wilson returned to form overcoming serious interference to record a half-length victory in a semi-final of the Summer Cup, but lost all chance of defending her title in the final when she again suffered interference, at the first turn, and finished sixth behind 40/1 ($41) outsider Liberty Lover.
After running third in a heat of the Stayers' Christmas Gift on December 16, Dotie Wilson finished the year with a brilliant six lengths victory in 43.16 at Harold Park. It would be her 12th and final win at the big track.
During 1975, Dotie Wilson had raced 27 times for 16 wins, four seconds and one third and early in 1976 she was named NSW Greyhound of the Year, becoming the first greyhound to be awarded the title without having won at Wentworth Park in the previous 12 months.
Dotie Wilson resumed racing on January 31, 1976 with a third at Harold Park. Canning then entered her for the heats of the Wentworth Park Gold Cup but she could finish only fifth behind Queensland star Kabisa Gem. Even so, a scratching gave her a run in the final, but she again ran only fifth, behind That's Eddy.
On March 11, she contested the Australian Marathon, run over 942m at Dapto, winning by two and a half lengths in 57.89.
A second at Harold Park, a fourth of six starters over 617m at Cessnock and a fifth at Harold Park followed before Dotie Wilson contested her last race in NSW, a 969m marathon at Wentworth Park. Previously undefeated in two marathon starts, Dotie Wilson could finish only seventh behind Tarragon Miss.
On April 29, Dotie Wilson was back at the Gabba for her semi-final of the Gabba Gold Cup. From box two she railed well to defeat Marg's Fortune by a length in 42.08.
In the final, Dotie Wilson again drew box two, but had NSW star Woolley Wong on her inside in box one and Queensland stayer Kabisa Gem in box seven. Marg's Fortune, drawn in box three, was a late scratching. Once again Dotie Wilson railed beautifully and went on to win by three-quarters of a length from Classic Prophet in 42.08.
After the race, Jim Canning announced Dotie Wilson's immediate retirement. She had raced eight times at the Gabba for eight wins. Overall, Dotie Wilson started 86 times for 32 wins, 12 seconds and seven thirds, earning $51,800 in prize money.
Similar Greyhound Racing News