Improving West On Sadie holds Crudeli's hopes for WA Oaks victory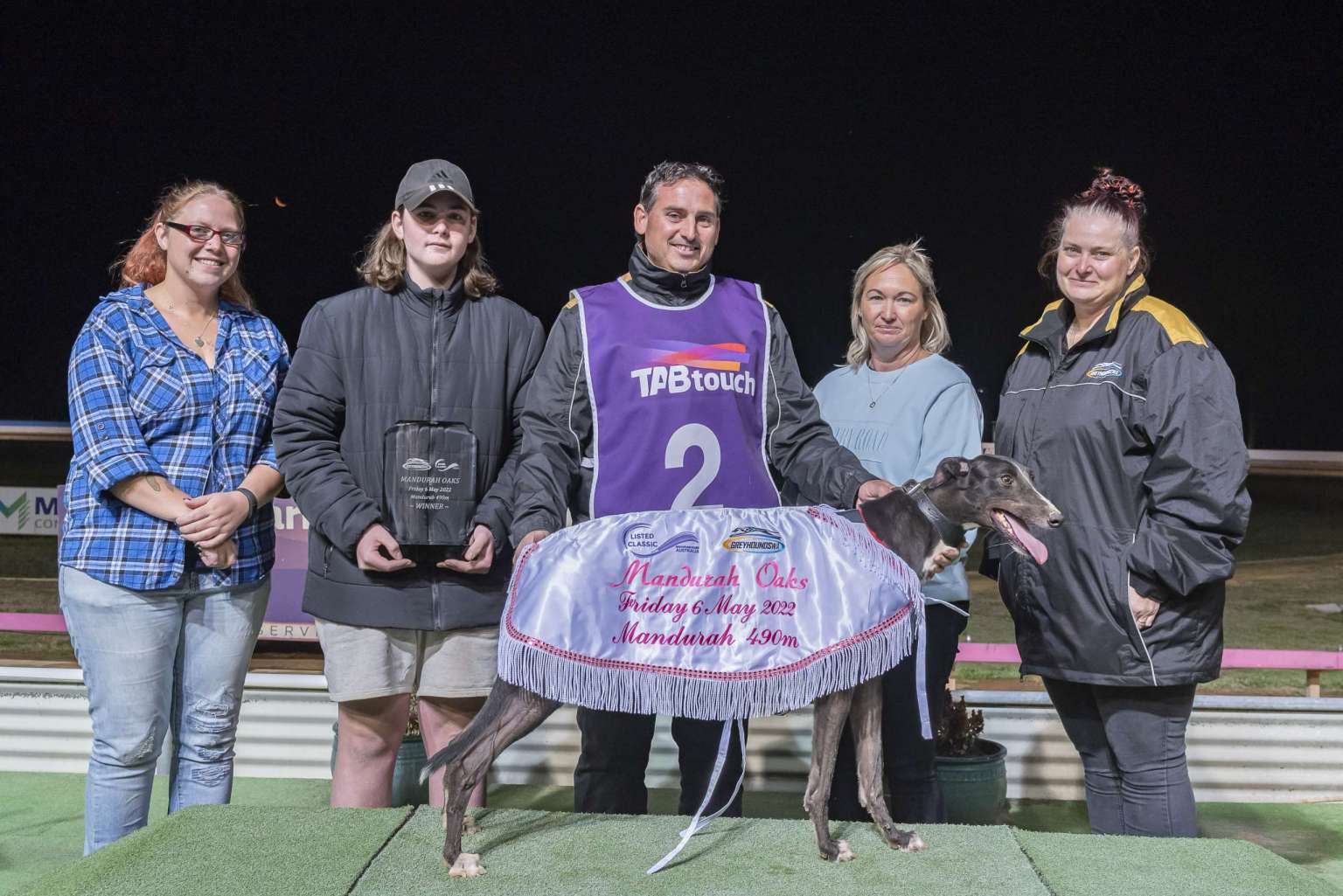 Trainer Damien Crudeli was warned about West On Sadie's error-prone and tardy starts, but now she is going after her second consecutive major feature triumph.
That is the effect he has had on her ahead of the $57,000 WA Oaks at Cannington on Saturday night.
The experienced greyhound mentor has put in countless hours at his Nambeelup property to have the two-year-old bitch knocking on the door of having a great career.
But – after also winning the Mandurah Oaks on May 6 – the success has not come easily.
Crudeli never gave up on his young talent after he was told about West On Sadie's bad tendencies out of the boxes.
"She's always been a dog who's had ability. She just had a lot of bad habits," he told australianracinggreyhound.com.
"And one of them was coming out of the boxes – she just wasn't sprinting well.
"So we did a lot of box work with her and a lot of lure work, and really getting her down.
"When Chris (Halse) handed her to me he said 'this bitch can run – she's just doing too many things wrong'.
"It was purely not getting into the race and she's maturing into a very nice bitch at the moment. She's sprinting better now. So she's actually getting herself into a better position early.
"Whereas before she'd sit about sixth, and then when she went to have a crack at them she was catching them. But she was catching them too late."
2022 Mandurah Oaks (490m) – West On Sadie (27.66)
---
Crudeli is getting plenty of satisfaction out of West On Sadie's development because she's worked so hard on getting to where she is today.
The young bitch certainly does not have the natural ability of kennelmate Jackson County, who has won over $119,000 in prizemoney from 88 starts, saluting on 19 occasions.
"She's an interesting dog. She just seems to be improving with age," Crudeli said.
"A dog like Jackson County has the ability to go 600m and go 34.60 and 34.70 seconds. He probably rates as the best.
"With her she's still learning her ability. We know that she's got it, but she seems to be thriving at the moment and really showing a bit more in terms of her racing ability.
"We put her out there in trials by herself and she'll come out and run a good time.
"But it's a matter of doing it in the races. I'm looking forward to when she matures a little bit more and we start to look at the 600m races with her.
"It'll be interesting to see where she settles and what type of races she runs over the 600 with the track sense she's got at the moment."
West On Sadie – now with four wins from 25 starts – has some excellent facilities to assist her in her continual quest to improve.
"There's no stress here – I try to keep the dogs relaxed all the time," Crudeli said.
"We've got a nice big paddock where I can take them out, and walk with them and let them do their own thing.
"If they want to stretch out, they can stretch out. If they want to roam around and do their own thing they can as well.
"I've also got a 300m straight track. When I run them with the motorbike there it really fires them up. They love it.
"They get in front of you and have that winning feeling. It is a good little set-up here.
"There are about 30 race dogs and about 10 or 12 pups at the moment. Those pups aren't too far off getting on the track – probably another eight weeks or so."
Indeed, West On Sadie's preparation will be spot-on for Saturday night's feature over 520m. But can she handle starting from box eight?
"The only thing that's against her is box eight. There are four or five dogs who jump in the 5.40 (second range)," Crudeli said
"Anything can happen on the first bend, and she jumps 5.50 to 5.55 seconds. So she'll be a length to two lengths off the pace going into the first bend.
"If they can spread out a little bit and she can just manage to get across and underneath that, I think she might be able to position herself into fourth or third up the back straight, and then have a crack at them.
"In the past, she didn't tend to go around dogs turning for home, and she has done that her past two times now.
"Her race smarts are getting a lot better as she gets older."
2022 WA Oaks Heat (Cannington, 520m) – West On Sadie (27.73)
---
Crudeli has enjoyed plenty of success as a greyhound mentor over the years, helping Equanimity take out the 2017 Perth Cup alongside brother Graham and father Enzo.
The trio also teamed up to oversee Black Bombshell's victory in the SA Derby that year.
"Equanimity was just an absolutely fantastic dog," Crudeli said.
"That was when I was teaming up with Graham and the old man. He took out WA Greyhound of the Year.
"We've had some good Bale dogs who have come over as well.
"One of the highlights I've really enjoyed was when we travelled with Black Bombshell back in the day and we won the SA Derby.
"We beat Mepunga Blazer and got the quinella (kennelmate Bundles Galore finished second).
"That was one of our bigger highlights because we travelled and had a crack at that race.
"Even though the prizemoney wasn't as much as the Perth Cup.
"The Perth Cup you always want to win and it was great, but just the excitement of travelling and winning that SA Derby in that field was great."
---
Similar Greyhound Racing News