Jarick Bale drawn to upset 2021 Sale Cup favourite Mepunga Ruby
Fastest Group 1 Sale Cup heat winner Jarick Bale will have plenty of work to do to cross the field from box eight but AustralianRacingGreyhound.com's exclusive greyhound ratings suggest the Mark Delbridge trained greyhound is well over the odds at the $6.00 currently offered.
Greyhound bookmakers have made Jarick Bale third favourite for the race behind Mepunga Ruby and Zac's Entity despite having the premier track and box draw form of the three. Starting nine times from box eight, Jarick Bale has won four races and been placed a further three times.
From the outside box Jarick Bale will get the opportunity to race outside the early pace which should see Knicks Bale, Drako Bale and Untapped applying pressure to Mepunga Ruby early, who wants to race toward the middle of the large Sale greyhound track. Jarick Bale will be ideally placed early to capitalise on any crowding.
Chasing a second Sale Cup (650m) title on Sunday night, Jeff Britton is however cautiously optimistic it will be a case of third time lucky on the Group 1 stage for the $2.10 favourite Mepunga Ruby in the Boxing Day showpiece.
Britton won the Sale Cup in 2014 with classy West Australian Star Recall, while his GRV Hall Of Fame inductee father Allan and brother Robert have also won the event in 1997 and 2010 with Shannen's Storm and Symmetry respectively.
Mepunga Ruby (Box 1) has been racing in elite staying company since August, winning the Group 3 Speed Star (725m) at The Meadows, running third in the Group 1 Bold Trease and sixth in the Group 1 Topgun Stayers, incredibly missing a place just once in her last 19 starts.
Mepunga Ruby dropped back from '700' for last Sunday's Cup heats, where she finished strongly at her Sale debut to score in 37.37sec, the slowest of the four run-offs, and then drew Box 1 for the $75,000 to-the-winner final.
"She was the last one left, so Craig (Solkhon, kennel representative) didn't have to choose," Jeff Britton said of the box draw.
"I'd rather be drawn there. Boxes win these races. If Do It had 'the red' in the (Group 1) Hobart Thousand last week I think he would've won by three or four lengths.
"I trialled Mepunga Ruby at Sale last week but she looked like she was still feeling her way around in her heat.
"She rails fairly well on the city tracks but I trialled her off 'the red' and she wanted to get out to Box 4 and she seemed to do the same thing in her heat.
"She went into the first corner running second and came out fourth. You can't do that.
"Sale can be a tricky track up the back but once she got around there she really took off.
"I really want '700' with her now. She keeps getting stronger. But over 650m, there's a lot more pace in the race. I think Untapped (Box 5) will probably lead but hopefully we'll be running first or second and then we've got to worry about Zac's Entity (Box 6)."
Zac's Entity, which is trained by Kel Greenough, who's aiming at back-to-back Sale Cup victories after Houdini Boy was successful in 2020, is undoubtedly the query runner.
After incurring the wrath of the stewards in the Group 1 Topgun Stayers, the lightly-raced talent made his return in last weekend's heats and did just enough to win in 37.14sec, edging out Group 1 Hume Cup winner Knicks Bale (Box 3).
Knicks Bale, trained by Correy and Samantha Grenfell, is one of three' Bale' finalists, along with Mark Delbridge's fastest qualifier Jarick Bale (Box 8) and Andrea Dailly's Drako Bale (Box 4), which is striving to go one better than his illustrious mother Fanta Bale, runner-up in the 2017 Cup final.
Local support will be with hometown hero Omega Tyson (Box 7), which is trained, owned and bred by Barry and Heather Harper at Seaspray.
2021 Group 1 Sale Cup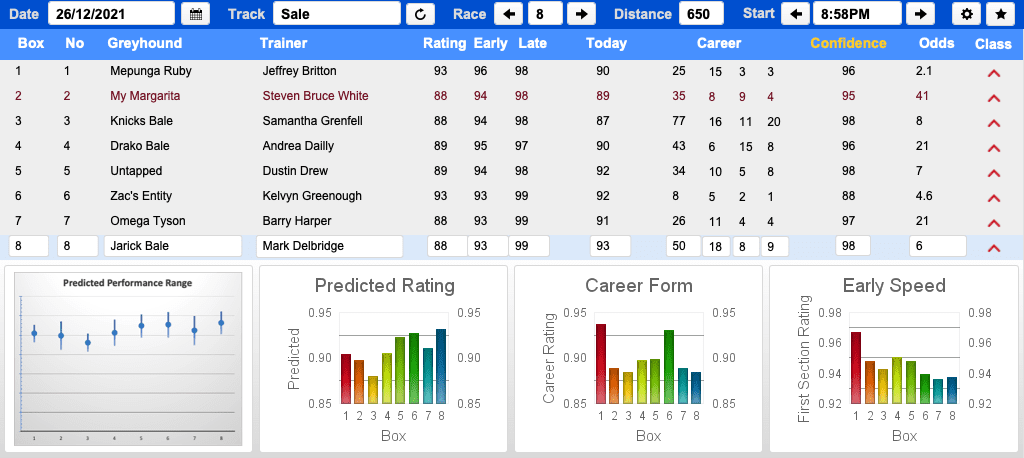 1. MEPUNGA RUBY
Trainer: Jeff Britton, Anakie VIC
Breeding: March 2019 Fernando Bale x Mepunga Rosie
Won 15 from 25
Best Time: 37.37
Developed into one of the nation's best stayers, finishing unplaced only once (Group 1 Topgun Stayers) since stepping up to '700' in August. Found the line strongly on debut at Sale in 37.37sec heat victory and drawn to get every chance to open Group 1 account at third attempt. Deserved favourite.
2. MY MARGARITA
Trainer: Steve White, Buln Buln East VIC
Breeding: December 2018 Bekim Bale x My Bella Rose
Won 8 from 35
Best Time: 37.09
Former NSW stayer that qualified for Group 2 Sydney Cup final in October prior to relocating to Victoria. Started at $26 in heat when came from last early to run a close second to Mepunga Ruby. Outsider of the field and depth is likely to test her.
3. KNICKS BALE
Trainer: Samantha Grenfell, Anakie VIC
Breeding: December 2018 Kinda Cruel Red x Dyna Willow
Won 16 from 77
Best Time: 37.16
Enjoying a remarkable late career purple patch that sees her contesting third Group 1 final in two months, including emotion-charged victory in Group 1 Hume Cup (600m) on the day of her legendary breeder Paul Wheeler's funeral. Was grabbed on the line by Zac's Entity in the heat and has each-way claims.
4. DRAKO BALE
Trainer: Andrea Dailly, Anakie VIC
Breeding: April 2019 Dyna Villa x Fanta Bale
Won 6 from 43
Best Time: 37.28
Professional placegetter that hasn't won since July but was beaten less than a length by Omega Tyson in the heat, coming from midfield. Also qualified for Group 1 Bold Trease at Sandown last month after running second in heat to another rival here in Untapped. Minor claims again appear best.
5. UNTAPPED
Trainer: Dustin Drew, Dennington VIC
Breeding: April 2019 Aston Dee Bee x Mepunga Fame
Won 10 from 34
Best Time: 37.28
Consistent middle distance performer that made impressive leap to elite company in Group 1 Bold Trease series over 715m, leading all-the-way to win heat and leading again when fourth in final. Led until home turn in heat when runner-up to fastest qualifier Jarick Bale. Looks likely to be the lamplighter again and should give another great sight.
6. ZAC'S ENTITY
Trainer: Kel Greenough, Pearcedale VIC
Breeding: May 2019 Fernando Bale x Zara's Entity
Won 5 from 9
Best Time: 36.95
Enormous ability but question marks surround the lightly-raced talent after racing erratically in Group 1 Topgun Stayers. Resumed from break in heat when claimed Knicks Bale on the line. If his mind is on the job can definitely win.
7. OMEGA TYSON
Trainer: Barry Harper, Seaspray VIC
Breeding: August 2018 My Bro Fabio x My Superstar
Won 11 from 26
Best Time: 37.22
Will carry the hopes of the locals after continuing consistent recent form in heat victory. Experience at the track is a plus and only missed a place once in last 10 starts but the move from Box 1 in heat to an outside alley isn't ideal. Others likely to have his measure.
8. JARICK BALE
Trainer: Mark Delbridge, Balliang VIC
Breeding: March 2019 Allen Deed x Houston Bale
Won 18 from 50
Best Time: 36.72
Was a near-record 36.72sec heat winner of Sale Distance Championship over this course before unlucky fourth in final. Bounced back when claiming heat honours from this draw. One of the key players and with luck from the draw should be in the finish.
2021 Sale Cup Heat Winners
37.13sec Jarick Bale
37.14sec Zac's Entity
37.22sec Omega Tyson
37.37sec Mepunga Ruby
Sale Cup Winners
2010 Symmetry (Robert Britton, Lara VIC)
2011 Mystic Apple (Val Awramenko, Leopold VIC)
2012 Destini Fireball (Emilio Rinaldi, Lethbridge VIC)
2013 Dyna Nalin (Paul Stuart, Nambeelup WA)
2014 Star Recall (Jeffrey Britton, Anakie VIC)
2015 No Donuts (Bradley Canty, Cardiff NSW)
2016 Dundee Osprey (Geoffrey Scott-Smith, Pakenham South VIC)
2017 Quick Jagger (Christopher Halse, Nambeelup WA)
2018 Neo Cleo (Wendy Neocleous, Hazelwood North VIC)
2019 Weblec Eagle (Matthew Lanigan, Anakie VIC)
2020 Houdini Boy (Kel Greenough, Pearcedale VIC)
More Greyhounds News