Jet-setting Australian greyhounds to be adopted in the USA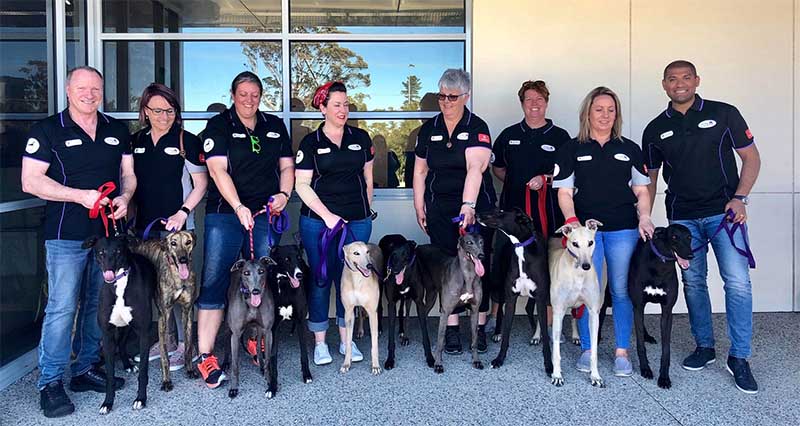 Thanks to a passionate alliance of volunteer rehoming groups in Australia and the United States, ten retired racing greyhounds have embarked on a 15 hour journey across the Pacific to find their forever homes.
The greyhounds are part of a pilot program between the Victorian based volunteers at Racing 2 Rehome and two west coast greyhound rehoming groups, Royal Hounds and Greyhound Pet Inc, to ensure that after their careers are finished, every racing greyhound is given the best opportunity to live a happy and healthy life, as a much loved family pet.
Racing 2 Rehome's Adoption Co-ordinator, Rebecca Miller said the idea of rehoming retired and desexed Australian greyhounds in the United States came about following a recent trip to North America.
"Due to their gentle and loving nature, the greyhound has a long and successful history as a pet in North America and at its peak, rehoming groups in the United States were finding loving homes for tens of thousands of greyhounds annually," she said.
"Of recent years the desire for these dogs as pets has outstripped the numbers of dogs available for rehoming, leaving many adoption groups without dogs and potential greyhound owners sitting on very long waiting lists.
"That left me thinking. Here we have two very greyhound savvy countries who are both passionate about the breed, yet they find themselves in two very different circumstances. One country with a ready made adoption network and supply of loving homes waiting for greyhounds, and another country with healthy, beautiful dogs desperately in need of additional loving homes."
"A loving home is a loving home, whether it is in Australia or the US. So, the solution was plainly obvious, let's just put the two pieces of the puzzle together and we have a win-win situation for both dogs and potential owners."
Miller said that with welcome changes in Australia, greyhound owners and trainers are making it a priority to give their dogs the opportunity of successful retirement.
"The demand in Australia for retired greyhounds as pets is high and continues to grow, however currently there are greyhounds across every state, who through no fault of their own, are slipping through the cracks and are falling outside the formal industry rehoming structure and rehoming criteria," she said.
"They are wonderful, happy greyhounds who we have found just need a little bit of extra time, or a different environment to help their transition to pet life. As a volunteer rehoming group, they are the dogs that we believe need the greatest assistance and we are always looking for new adoption families to adopt these beautiful greyhounds.
"Once we became aware of the massive demand [for retired greyhounds] in the USA and the strict adoption protocols in place in these groups, we thought the rehoming of these Australian greyhounds to loving homes in the USA was an opportunity that deserved investigation."
In 2017 Greyhounds Australasia suspended passports for dogs heading to the USA, amid fears that the greyhounds were ending up in China.