Lektra Heckler wins 2023 Shepparton Cup for rookie trainer Jake Loverso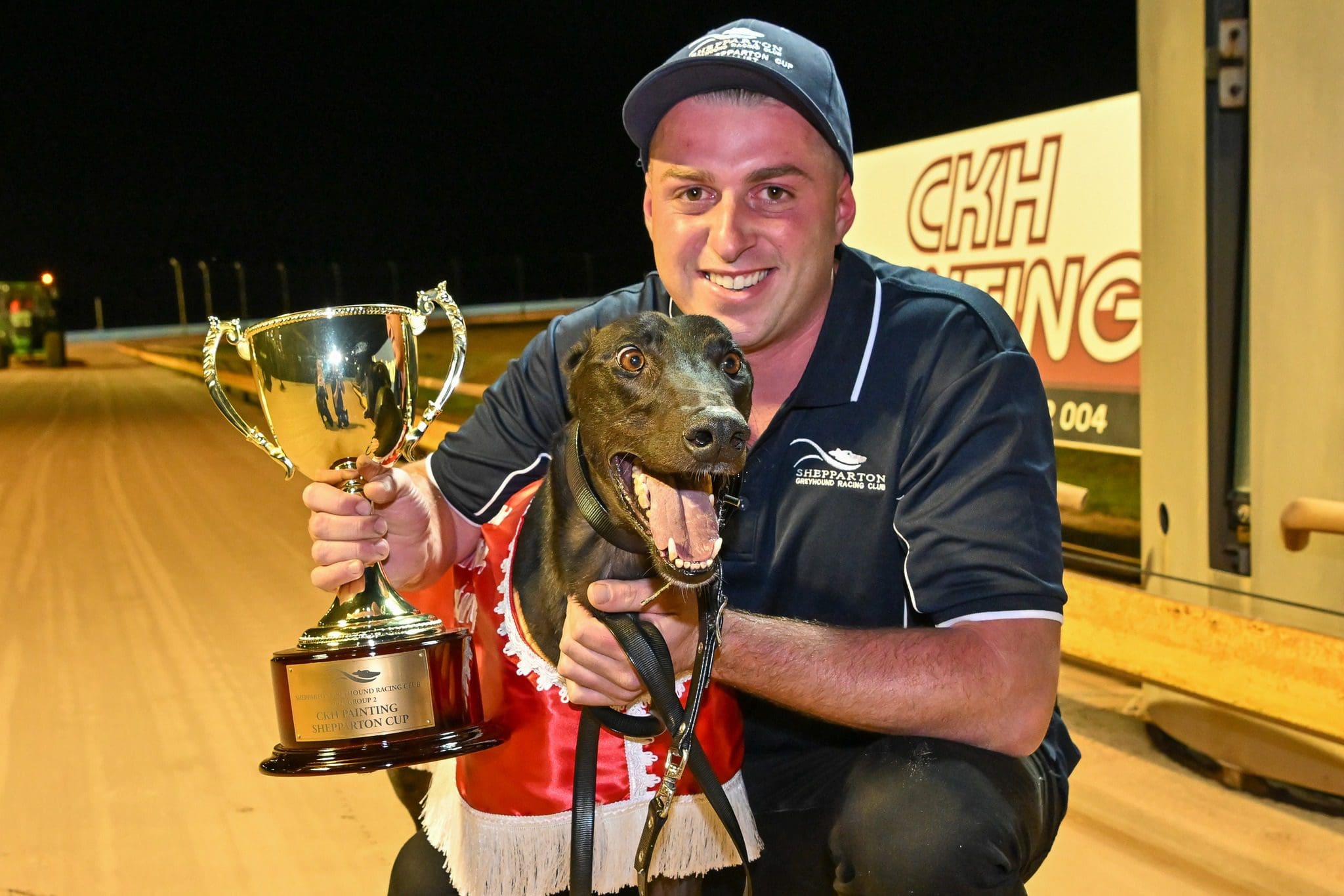 Rookie greyhound trainer Jake Loverso last night won his first group race with his first finalist after Lektra Heckler took out the 2023 Group 2 Shepparton Cup final.
It was a night full of first's with Lektra Heckler dubbed the 'new kid on the block' of the country cups scene, taking out his first group race in the $47,000 to-the-winner final at start 40, and in the process putting together an unbeaten run of eight wins in a row.
It was also prolific greyhound breeder and owner Phil Lenehan's first Shepparton Cup trophy.
Lektra Heckler demoralised the opposition exploding from the boxes to run three lengths quicker than any other dog to the first section mark, and kept going to win by 1.5 lengths over Unleash Collinda in 24.95.
Always A Thrill ran on from midfield to grab third in his first group race final for trainer Chris Tilley.
Lektra Heckler is now yet to taste defeat in eight appearances for 27-year-old Loverso and has broken 25 seconds in three of his four wins at Shepparton.
2023 Group 2 Shepparton Cup – Lektra Heckler (24.95) T: Jake Loverso
---
Post-race Loverso was full of praise for Lektra Heckler and his owner Phil Lenehan for giving him a chance with the dog after Lenehan trained the injury prone greyhound to 10 wins from his first 32 starts.
"I've got to hand it to Phil. I've known him for a few years now and late last year I saw Lektra Heckler had injured himself so I asked Phil if I could train him," Loverso said.
"Phil was training him at the time but he backed me in and we haven't looked back. Not only is Phil a champion breeder, but he's one of the best owners. He never interferes and just let's me do what I do."
"I called him straight after the race tonight and he was ecstatic. He always knew this was a quick dog and it was just a matter of keeping him injury-free."
Loverso, who is the partner of Group 1 winning trainer Kayla Cottrell; plans to set Lektra Heckler for the Ballarat Cup next with a view to winning the Warrnambool Cup in May.
Loverso said to win the Warrnambool Cup would would mean a lot to him if he could deliver a home town cup win to Lektra Heckler's owner and breeder Phil Lenehan as a thank you for having the faith in him to train the gifted dog.
It would certainly be a huge night in "The "Bool" for the local greyhound community with Phil and the extended Lenehan family having been stalwarts of the greyhound culture in that area for generations.
And as you may conclude from the dog's name, the owner himself is quite a character.
Lektra Heckler is a 38-month-old son of Zambora Brockie and Lektra Viki, and has now had 40 starts for 18 wins and 12 placings. Last night's Group 2 win took his career earnings to $98,846.
Similar Greyhound Racing News