Litter brothers Trooper Tears and Trapper Tears quinella 2023 Group 3 Launching Pad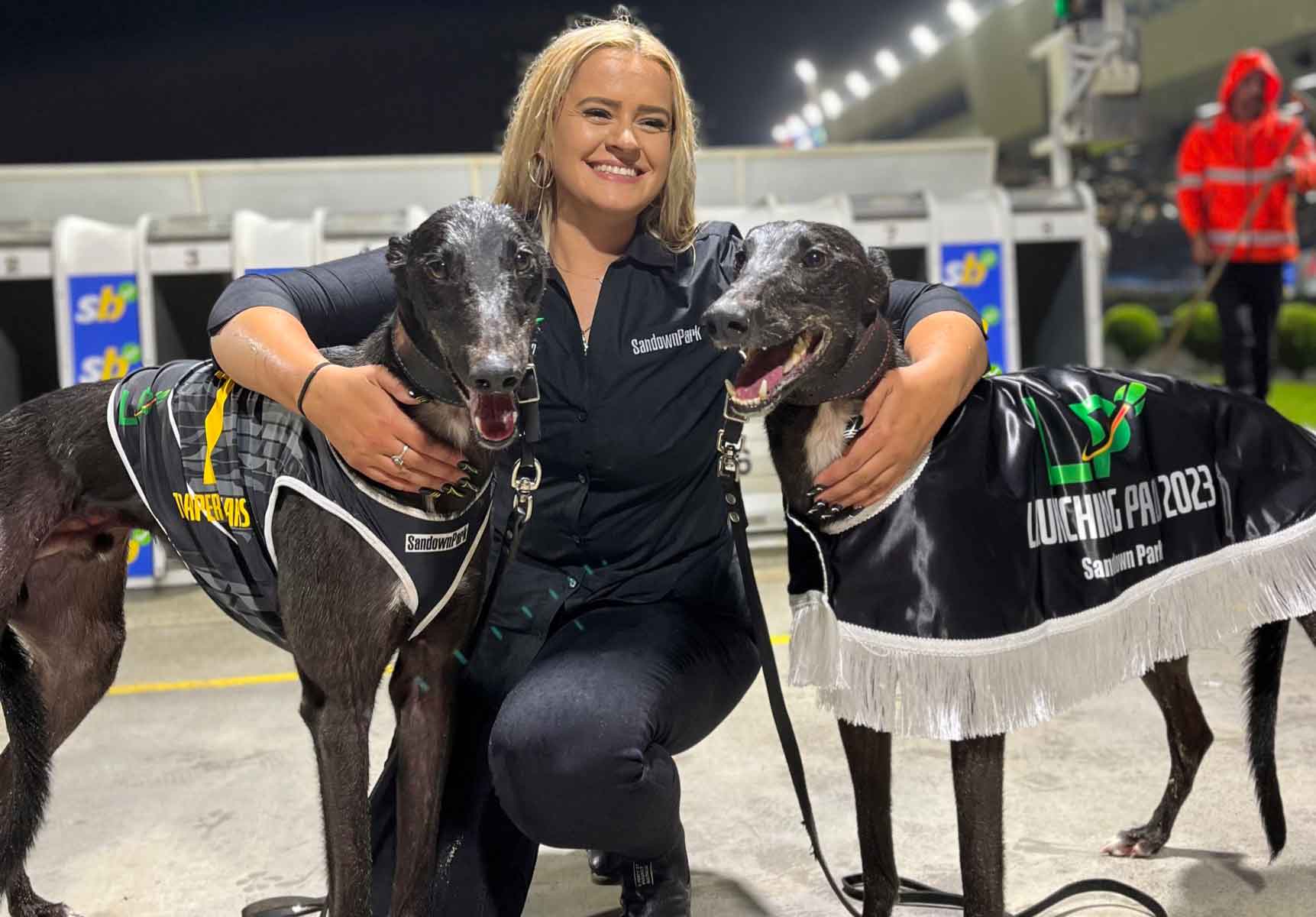 The association between trainer Rob Britton, breeder Michael Ivers, owners the Zsa Zsa Syndicate and Sandown Park, continued on Thursday night when the 'Tears' greyhounds finished first and second in the 2023 Group 3 Launching Pad final.
Britton had taken a similar path with champion stayer Tornado Tears who finished fifth in the 2018 Launching Pad final.
The win of Trooper Tears was not unexpected prior to box rise with the son of Goodesy and Freaky Tears sent out a +160 favourite with greyhound bookmakers on the back of his flying win in 29.01 in the semi finals a week prior.
But the way the win came about was almost bizarre.
In rainy conditions, +190 race second favourite with greyhound betting sites Starline Express and Meteor Monelli led around the first corner clearly and looked set to dominate the race from the back straight, but both greyhounds seemingly 'stopped'.
As the field stacked on the home corner the 'Tears' greyhounds, who lack nothing for stamina in their pedigree, took full advantage and put the race beyond doubt.
2023 Group 3 Launching Pad Final – Trooper Tears (29.61) T: Rob Britton
---
A post-race veterinary examination of Starline Express revealed no injury and trainer Reg Gardoll could only offer that perhaps the greyhound "prefers drier conditions".
A head-on review of the race shows Starline Express getting very wide in the back straight and perhaps she found herself in ground that was much 'slower going' out wide before finishing last?
No vet examination of Meteor Monelli was conducted and stewards made no enquiries.
Meteor Monelli did come off the rail in the back straight, but not enough to come off the racing line, so punters are left to guess for themselves why the greyhound seemingly waited for the field to catch up.
But it was Trooper Tears who took the $150,000-to-the-winner first prize, while litter brother Trapper Tears took home another $40,000 for second for connections.
Breeder and Zsa Zsa Syndicate co-owner Michael Ivers described the result as one of his greatest joys in the sport.
"That was just out of this world.
"It's one of the biggest thrills I've ever had" said a delighted Ivers.
Rob Britton trains Trooper Tears for the Zsa Zsa Syndicate and has had the greyhound for his past seven starts after transferring to Victoria from the New South Wales kennels of his breeder Michael Ivers who started the dog five times for his first four wins.
Like Trooper Tears, Trapper Tears transferred down to Britton's Lara Kennels after having his first six starts for Ivers, resulting in one win and four minor placings from six starts.
Britton admitted that both greyhounds had been a bit of a surprise to him, but he concedes Michael Ivers always had confidence in them
"They've been a little bit of a surprise packet to me".
"Even though Michael liked them a lot, I didn't realise they could run the times they can" he said.
Both greyhounds are from the April 2021 litter by Goodesy out of Freaky Tears and only turned two years of age less than a week ago on April Fools Day.
Trooper Tears has now had 12 starts for seven wins with another 5 minor placings and with the Launching Pad's huge first prize for a Group 3 race, has now banked $199,380 for connections.
Trapper Tears has now recorded eight placings from 14 starts, with six of those being seconds; and four first place finishes earning $66,040 for his efforts.
It's highly likely Australian greyhound racing will see both greyhounds progress to staying in time with Rob Britton's longtime handler Peter Riley drawing an ominous comparison for the current crop of stayers when talking about Trooper Tears' win.
"He showed the other side of his card today.
"Found trouble early. That was probably one of the worst starts he's ever had for us.
"Just the strength and determination and will to win.
"He reminds me a lot of Fanta Bale.
She just wanted to win and he's in the same mould", said Riley.
---
---
Similar Greyhound Racing News