Lord delivers a "pearler" of a performance in Group 1 Golden Easter Egg heats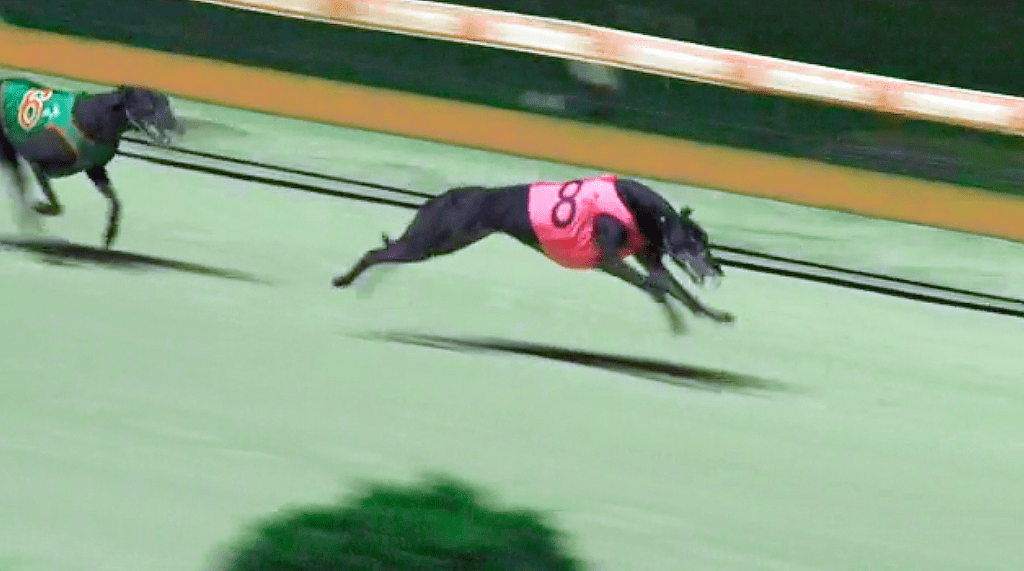 It's not often you see a $1.45 favourite with greyhound bookmakers step out in a quality line-up contesting a group one series heat, however that's exactly what occurred at Wentworth Park last night, with Jodie Lord's She's A Peal continuing her outstanding run of form in notching up her seventh straight win in 2022 Group 1 Golden Easter Egg heat seven.
The daughter of Aston Dee Bee and Shez Impetuous has now tasted success in 11 of her past 12 outings and set the Glebe circuit alight over the 520m, with a stunning 29.47 performance from box eight.
It is her trademark early speed which participants have become accustomed to witnessing, with a sensational 5.33 early sectional and an equally-strong run home time of 11.78. Handler Paul Mills told said after the race, "She's only getting better and better and she's just peaking and might have a little bit more".
Monday night's Group 2 Maitland Cup winner Good Odds Cash was the second fastest qualifier of the night, despite finishing second to She's A Peal, posting a sizzling 29.63 from box six. The Frank Hurst-trained chaser battled on gamely, defeated by just 2.25 lengths at the finish and looks set to figure in next week's semi-finals.
Victorian greyhound Equalizer was perhaps the cinderella story of the evening, having just his third race start since a seven month injury layoff. Exiting from box two in his first outing at Wentworth Park, the Jason Thompson prepared son of KC And All and Captivating stepped cleanly and took control of the lead turning into the back straight, streaking away by four lengths in 29.85.
Thompson said after the race; "I contemplated not even running him. His run last week at The Meadows was unbelievable and he pulled up really flat. I only made the decision yesterday to start him and I was happy with him yesterday and happy with the travel up and just wanted him to qualify".
While there were plenty of upset performances throughout the evening, an absolute "boilover" occurred in heat eight with Tachycardic saluting for Sydney-trained Kayla-Jane Coleman at fixed odds of $51.00 at greyhound betting sites. Beginning beautifully from box six, the son of Collision and Cardiology led all the way in a solid 29.90, with Coleman both shocked and elated post-race.
"That blew me away. I was a little bit worried with all the rain we've had, he was a little bit underdone. For him to begin that well and cross them, yeah I was pumped", Coleman said.
Idolize kept her unbeaten record at Wentworth Park intact with her third start at the circuit, a successful one from box seven. After finishing fourth in last week's Group 2 Shepparton Cup final, the daughter of My Redeemer and Hightan held off late challenges from both Coast Model and Wow to salute in the third fastest heat time of 29.82.
Trainer Peter Presutto was perhaps the most surprised man on track from his post-race comments. "She just surprised me. She's not right, but she keeps producing so onwards and upwards I hope and she keeps improving week to week and it's a surprise to see her go this good." Idolize is no stranger to success at Wentworth Park, having won the Group One Futurity final back in January 2022.
Other heat winners were; 2022 Group 2 Maitland Gold Cup finalist Mitchell Street for Jedda Cutlack (30.21), winner of three of her past four Analysing for Michael Hardman (30.21), last week's Dubbo Country Classic runner-up Fantastic Raven for Jason Mackay (29.84), Group 2 Ipswich Gold Cup victor Louis Rumble for Steve Kavanagh (30.29), Handsome Rhino the second fastest heat time recorded for Paul Galea (29.73), and Hold Me Up for Joe Comito in 29.87.
The full listing of qualifiers for next week's semi-finals in time order are:
2022 Golden Easter Egg Heats Qualifying Times
She's A Pearl – 29.47
Good Odds Cash – 29.63
Handsome Rhino – 29.73
Idolize – 29.82
Fantastic Raven – 29.84
Equalizer – 29.85
Hold Me Up – 29.87
Coast Model – 29.87
Wow – 29.89
Louis Rumble – 29.90
Boston Garden – 29.90
Tachycardic – 29.90
Zipping Tesla – 29.97
Wicked Flash – 30.03
Romantic Storm – 30.04
Sally's Reward – 30.04
Decimate – 30.04
Fergie Pepper – 30.05
Zipping Kyrgios – 30.11
Arctic Kingdom – 30.13
Indy Matilda – 30.13
Ties That Bind – 30.14
Our Mechanic – 30.15
Lala Kiwi – 30.19
Mitchell Street – 30.21
Analysing – 30.21
Daph's Ascend – 30.22
Weblec Jet – 30.23
Zipping Pearson – 30.28
Redeem Our Cash – 30.34
Chase Me Honey – 30.35
Zara's Ivan – 30.36
2022 Golden Easter Egg Heat 1 – Mitchell Street
2022 Golden Easter Egg Heat 2 – Analysing
2022 Golden Easter Egg Heat 3 – Equalizer
2022 Golden Easter Egg Heat 4 – Fantastic Raven
2022 Golden Easter Egg Heat 5 – Idolize
2022 Golden Easter Egg Heat 6 – Louis Rumble
2022 Golden Easter Egg Heat 7 – She's A Pearl
2022 Golden Easter Egg Heat 8 – Tachycardic
2022 Golden Easter Egg Heat 9 – Handsome Rhino
2022 Golden Easter Egg Heat 10 – Hold Me Up
Similar Greyhound Racing News