McCarthy holds a triple threat of capturing Group 3 Ipswich Cup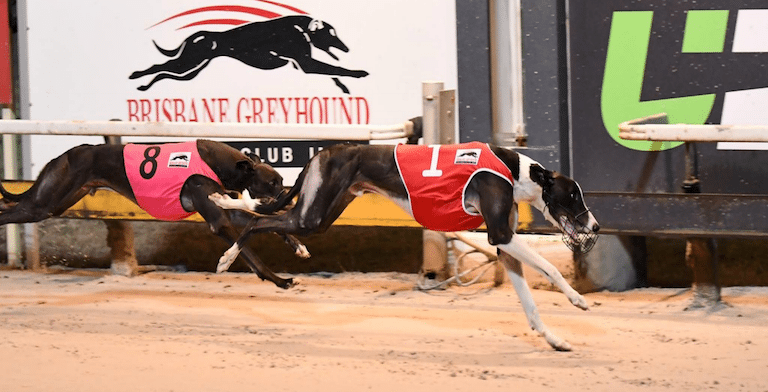 JOHN McCarthy will have three chances of capturing Saturday night's Group 3 City Of Ipswich Cup (520m) after his consistent litter brothers Slick (Dyna Lachlan x Pearl Za Zinger Apr '15), Rather Dapper and Aza Zeus were all able to qualify in their respective heats over the weekend.
On a wet and boggy track, Tony Apap's Outside Pass (Head Bound x Tina's Show Aug '13) stole time honours for the night when recording a nippy 30.52 off box eight.
Slick was the next fastest, charging his way to the front after a steady start to score by three and three quarter lengths over Outback Sunshine (Lochinvar Marlow x Shades Of Ella Dec '14) in 30.81.
McCarthy, who also owns and bred the litter, was pleased with the effort and rates Slick – a winner of 15 from 40 – the fastest of his trio.
"He has got plenty of ability and he is very strong, but he lets himself down at the beginning of his races," McCarthy told Australian Racing Greyhound.
"He has definitely got the talent to win, but he has his little quirks – if he could come out a bit better he'd go to the next level.
"He is a very fast dog and he probably deserves to win a big race, but if any of them win the final that would do me."
Also winning his heat was Aza Zeus which clocked 31.17 on a deteriorating track towards the end of the night. The victory took his earnings beyond $41,000 – bringing up his 11th win at start 42.
"I love the dog," McCarthy said.
"He is an excellent kennel dog and he does everything right. He has lived in the shadows of his brothers throughout his career, but he has won 11 races now and he tries his heart out every week."

Rounding out McCarthy's chances is Rather Dapper – this year's Group 2 Queensland Derby winner – which finished second in his heat behind the strong Alotta Amy (Cosmic Rumble x Maywyn Or Ebay Nov '13).
The black and white dog led for a long way, tiring slightly in the closing stages to finish one and a half lengths behind the winner in 30.95.
McCarthy says the conditions on the night were not suitable for the speedy greyhound and commented he is capable of improvement heading into the $31,500 decider.
"The heavy track affected Dapper – he got about five in front down the back but he felt the pinch running home and got run down on the line.
"Considering the conditions I was very happy with the run – we have just got to hope for a better track in the final."
All three drew poorly in the feature, with Rather Dapper in the five, Slick in box six and Aza Zeus to start wearing the black stretch vest.
McCarthy rate's the ultra consistent Outside Pass the one to beat off box eight and says he is thrilled to be in the race despite the box draw.
"We are over the moon to have three of them in there, it is great for us personally and for their dam.
"The box draw hasn't done us any favours, but we'll take what we've got and give it our best shot.
"I couldn't believe it when we got five, six and seven – but I have three in the final and it would be a bit remiss of me to be complaining."
The Group 3 City Of Ipswich Cup will be run this Saturday night.
Group 3 City Of Ipswich Cup – box draw
1. Outback Sunshine
2. Cosmic Capers
3. Alota Amy
4. Cyn's Magic
5. Rather Dapper
6. Slick
7. Aza Zeus
8. Outside Pass
Similar Greyhound Racing News