Mestrov: I will do what it takes to fix NSW track issues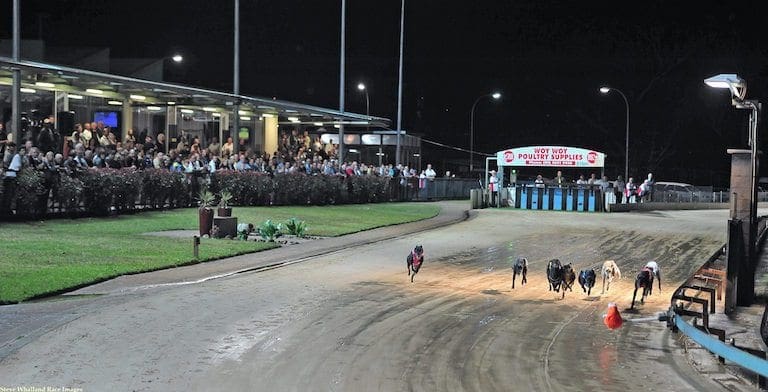 GREYHOUND Racing NSW CEO Tony Mestrov says he will work with the NSW Greyhound Breeders, Owners and Trainers Association (GBOTA) to rectify track issues after another controversial few weeks in NSW greyhound racing.
GRNSW, after consulting with track staff and GBOTA, called its November 30 meeting at Maitland off with only a few hours notice, with the controlling body making the deci-sion known to the public via a media release.
"Despite knowing of the problems in advance of today's race meeting, the club failed to amend their track preparation efforts and place more water onto the track via the club's water cart," it read.
The issues facing GBOTA doubled on Summer Cup final night on Saturday at Wentworth Park when GRNSW Stewards declared it was below par with it requiring remedial works to be carried out hours before the first race.
Australian Racing Greyhound can also reveal a third GBOTA-run track, Gosford, has its surface under the microscope with blue metal and stones working their way through the loam surface and under greyhounds' feet.
It's the same problem that saw the club closed to racing for three months earlier this year.
Mestrov, who only began his stint as the new boss of GRNSW on November 20, said the issues facing the tracks were being thoroughly investigated, but admitted it was concerning when entire meetings were being cancelled because of track issues.
"We are aware of the concerns and GRNSW has had contact with the GBOTA to work through the issues," he said.
"When meetings don't go ahead or there are track issues it is a concern.
"I don't think it's at the stage where we need to put them on notice, but we do need to have conversations to avoid track issues and having meetings called off – questions do need to be asked."
At 4pm prior to Saturday's meeting at Wentworth Park, which featured the Group 3 Summer Cup final and four heats of the Group 3 Christmas Gift, stewards inspected the track and deemed the surface at NSW's premier venue to be "uneven" and "bumpy".
Track staff then consulted with GRNSW and the decision was made to shallow harrow the track in order to "level it off".
Although some nippy times were recorded throughout the night, participants were quick to voice their concerns after several leaders — including champion greyhound Fanta Bale — seemed to be disadvantaged and were run down as the track appeared to favour stronger dogs coming from just behind the pace.
Additionally, two top-class grey-hounds fractured their hocks on Saturday night.
NSW GBOTA Operations Manager Ellen Harris said the organisation could not conclusively say the issues with the track did not contribute to Saturday's injuries, but explained the track was deemed safe for racing by GRNSW.
"[Harrowing the track] was very public and it arose some reservations with some people," she said.
"Stewards deemed the track safe and within the parameters of the set standards. Unfortunately, we had two hock injuries and it is my understand-ing that one of those greyhounds is now deceased.
"That is something we don't want and GRNSW will go through and review the contributing factors which led to those injuries.
"I understand the frustration of participants – I share the frustration as well – because we should be able to say hand on heart that the track was not a contributing factor."

Harris explained the Maitland situation came about because the main bore, which provides water for the track, blew up on the Tuesday prior, with a new pump required to be custom made and delivered from South Australia.
The track was then watered using a secondary bore, however track staff were unable to get enough water onto the surface due to the location of the second bore and the slower rate it took to fill the water cart.
"The issue arose on Thursday due to the heat and wind meaning the work undertaken to water the track couldn't keep up with the evaporation rate."
The latest controversies continued a horror run for the GBOTA with surface issues at Gosford culling meetings earlier in the year and flooding in the Northern Rivers region preventing racing at Lismore for several weeks.
Harris said aged infrastructure at many tracks has contributed to a range of problems over the past year and believes the issues are not limited to just GBOTA tracks.
In total in NSW there are 33 tracks with eight of them managed by GBOTA. Over the last year, 19 meetings (not including tracks closed for long periods because of maintenance issues) have been cancelled.
Fourteen of these meetings were at the tracks managed by GBOTA.
"There is heavy criticism at the moment that it seems to be just the Association tracks, but there have been a range of venues in the last six-12 months which have had issues," Harris said.
"That's no excuse and it's important that we do get it right, but these issues aren't limited to just the GBOTA."
Harris said her team is feeling the heat from participants and is aware higher standards are now required when it comes to preparing tracks and has vowed they are committed to overcoming its recent issues.
"There are questions being asked about our capabilities preparing tracks and that has been upsetting because we do take pride in what we do and we genuinely want to provide the best possible racing for participants," she said.
"People don't realise how much is involved in a lot of aspects of our industry.
"I have spoken to the tracks regard-ing what needs to be done to prevent these situations from reoccurring and nothing is off the table from our perspective."
The revelation track issues have returned at Gosford is particularly frustrating for GRNSW after expensive and time consuming remedial works were done between March and May of this year.
Harris confirmed "blue metal" is working its way to the surface of the track and that both the GBOTA and GRNSW are aware of the issue.
"It is an issue GRNSW and Assoc (GBOTA) are aware of and current advice is to closely monitor, be very diligent about removal every day (sic)," Harris said in a text message.
Australian Racing Greyhound understands Gosford GBOTA staff are being instructed to walk the track daily, removing any debris on the surface.
The question being posed by many participants who frequent the Gosford track, is what was used in the prior remedial work as the base of the track?
If NSW participants on the Central Coast are getting a case of déjà vu this sentence from a GRNSW press release on March 14, 2017, might ring some bells.
"GRNSW and the NSW GBOTA are working on remedial solutions to ensure racing can resume at Gosford as soon as possible," it read.
Gosford greyhounds did not race again until May 23, 2017 with 10 lost meetings.
Similar Greyhound Racing News