Mestrov proud of achievements as GRNSW CEO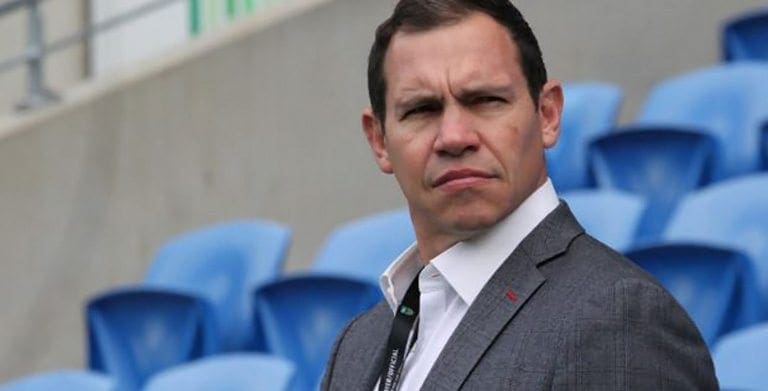 When you get a supportive phone call from talkback radio doyen Ray Hadley – the man widely known as being the saviour of the greyhound industry – you must be doing something right.
That moment was just one of many which brought a smile to the face of the outgoing Greyhound Racing NSW CEO, Tony Mestrov.
Mestrov – set to take up a sought-after role as the front-office boss of the Manly Sea Eagles from August 1 – has helped his sport overcome many obstacles during his time in the role.
Those obstacles included:
Helping the industry bounce back from its closure, which was announced by the Mike Baird Government in a reaction to the 2015 live-baiting saga.
---
Continuing to oversee racing at Dapto after the Dapto Agricultural and Horticultural Society (DAHS) closed down the venue in an objection to meetings being held on Saturday nights.
---
Navigating the industry through strict COVID regulations.
---
Getting rid of the notion that greyhound racing is only for a select few after bringing in record prizemoney increases.
---
Establishing an amicable working relationship with independent regulator Greyhound Welfare and Integrity Commission (GWIC) in the face of relentless pressure from animal welfare groups to have the sport shut down.
---
Reaching new fan bases after many lost faith in greyhound racing following the live-baiting scandal.
---
Closures of the Lismore venue due to continual flooding, but then working with NSW GBOTA and facility staff on the allocation of funds to keep the facility viable moving forward.
---
"I look back on my time with fondness. As a collective we've been able to achieve some unfathomable things," Mestrov told Australian Racing Greyhound.
"From a personal point of view, I look back at how tough it was. The business wasn't in great shape and it was personally taxing.
"There were some very difficult decisions which needed to be made around staffing. The sacrifices and decisions made over the five years were all well worth it considering the state of the industry today.
"I look back with fondness when thinking about the people I worked with. You need a reason to wake up every morning, and one of those reasons was the people who work for me.
"But it was also because of the industry – the participants. I've got a lot of pride that the industry is now on its way to being highly successful.
"I wasn't from the industry and I'm the first to admit that, but I was able to upskill myself."
To put his reputation on the line and ultimately continue to oversee racing at Dapto after the DAHS announced the closure of the venue in November 2019 is something that Mestrov is immensely proud of.
"When Dapto closed and was able to re-open, I proved to the participants to be a worthy leader for this industry," he said.
"From that time on they recognised that. It was a real challenge and I was blindsided. For the most renowned greyhound track in the world to shut was just not acceptable.
"So that day will always sit with me as a day I'll never forget. I woke up at 5.30 and had a call from Ray Hadley hugely supporting me for that day and I thought 'wow, this is going to be a good day'.
"We went to the Supreme Court and we won a court order to race that night. To see the face of the participants and the people who were hugging me and their joy made it well worth it.
"That was a watershed moment for the industry and me moving forward.
"That's been put to bed and we (Dapto Greyhounds and GRNSW) get along well now. We've got a very amicable working relationship and we've just re-signed a new lease."
After beginning as the GRNSW boss in November 2017, Mestrov walked into a storm regarding the future of the sport.
It had only been a little over two years since the bombshell live-baiting story was aired on ABC.
As a result, many people lost trust in greyhound racing and many also called for an immediate end to the industry.
Everyday was a fight to keep greyhounds going.
"The real challenge was I don't think anyone expected the industry to be around," Mestrov said.
"There was a real expectation that the industry was going to die on the vine because of the closure, and that was an everyday challenge.
"If felt like if you were playing tennis, we were down 0-30 every time we served. It felt like we were up against it all the time.
"We had to fight for our existence. That was a real challenge, and these challenges we're still overcoming.
"It was well worth it, but they were daily challenges that no one saw, and it's ongoing."
One of those ongoing challenges which the new GRNSW CEO will have to overcome is the relationship the organisation has with GWIC.
As part of the ongoing Select Committee Inquiry into GWIC's operations on June 30, GWIC boss Steve Griffin mentioned his organisation was not consulted by a GRNSW survey of its participants, including their feelings on how GWIC operates.
At the same hearing at Parliament House in Sydney, GWIC acting chief commissioner Chris Wheeler also asked for GRNSW representatives to be called to front the inquiry.
But Mestrov said progress had been made regarding the working relationship between both organisations.
"From a GWIC-GRNSW working point of view, we have a very amicable working relationship. The participants are free to say their views as they see fit. But our main issues were the financial parts of it (allocation of resources), which have been remedied," he said.
"From our point of view, it's much better than it's ever been."
GRNSW continues to work hard at re-homing greyhounds in an ongoing effort to change a perception among the public that many dogs are put down every year after they are retired from racing.
"It (animal welfare) is better than ever. You would've heard me say on countless times that welfare is at the forefront of everything that we do," Mestrov said.
"And it is – it's the No.1 thing. The advances we've made as an industry with welfare have been unbelievable.
"I think now greyhounds lead in welfare compared to the other racing codes. That wasn't the case a number of years ago.
"This year we're going to re-home over 2,000 dogs, which is a phenomenal effort. That shows where the industry is heading, and it's all about welfare.
"There wouldn't be an industry without it. We can keep improving it, but it's in a fantastic place.
"And I think the welfare processes have had a big impact on the wagering outcomes. People now do have faith in the industry and our welfare outcomes, and they've seen real success from a wagering point of view because people do view it as an accepted industry that has a future."
Mestrov believes that bright future for the sport also includes those trainers with smaller kennels.
Indeed, the stakes are now lucrative for Group 1 feature races in NSW.
It was Mestrov who announced a record 23 per cent increase in stakes funds last year.
That meant a total of $47 million in prizemoney was allocated over the 2021-22 financial year.
But Mestrov said GRNSW will continue to look at ways it can help those trainers with small kennels.
"It (the financial benefit) can't just be the higher end – it's got to be across the board," he said.
"And that's why we'll look at all options, mainly at the lower end.
"I think we've taken care of the upper end with the 715, Million Dollar Chase and The Thunderbolt in Grafton.
"We've got to ensure that we keep people in racing with our lower end, so we're really looking at that at the moment.
"That's what it's about – it's about providing prizemoney for everyone. We've seen huge growth over the past five years – that should continue.
"We want to keep bringing new people to the industry, and I think we're doing that. That's the key. We'll continue to grow the prizemoney for the future, but at the right level."
When Mestrov took up the CEO role almost five years ago, he said the industry at times had a tendency to be too insular from the rest of the NSW community.
He believed this prevented the sport from growing, while unfairly tarnishing the good people involved in the sport.
One of the ways Mestrov has gone about changing this has been the broadcast deal he struck up with Fox League.
Top Group 1 races are now beamed to a much bigger audience through GRNSW's agreement with the rugby league broadcaster.
At it has worked a treat because at greyhound meetings around the state you are destined to bump into many fans of the 13-man football code.
"There's unbelievable potential, and we've seen a real opportunity for public relations with NRL and greyhound racing to promote both industries," Mestrov said.
"I think it's important that we have relationships with more mainstream sports. There were a lot of synergies we saw.
"The Fox League relationship has been phenomenal. That will continue. I had a really good meeting with Fox and they want to continue that relationship, which is fantastic.
"It's been well-supported by the on-air talent of Nathan Hindmarsh, Bryan Fletcher and Matt Johns.
"It's a relationship that will continue to grow. It's about getting as many eyeballs as we can on greyhound racing, and we'll do that in the future."
Mestrov said the relationship GRNSW has with Fox League would not dilute its agreement with Sky Racing.
"As part of our broadcasting agreement we're allowed to do that. We needed permission from TAB, which they gave us. It's transparent and part of our broadcast deal," he said.
"They allow us to do that for our major events to get more eyeballs."
While greyhound racing continues to attract new fans across NSW, there has been conjecture about the future of the Lismore track after its most recent devastating flooding event in February.
New NSW GBOTA CEO Allan Hilzinger recently went on the record saying his organisation was 100 per cent committed to getting the track back up and running by September – in time for the Group 2 Lismore Cup.
Mestrov said it was important to balance the needs of getting racing back up at the Northern Rivers venue and the costs associated with doing that.
"At the end of the day, it's flooded up there before. And that is a concern for GRNSW. We do not want to be in a position to waste industry funds," he said.
"We just want to ensure we'll make the right decision, and that the facility up there is truly the right facility for Lismore.
"So we need to take all of that into consideration, as well as costs, before any formal decisions are made.
"We all know there's a future up there – it's an important stronghold. So it's about looking at the options moving into the future.
"There have been discussions with GBOTA. Casino is strong and there's the new Tweed track as well as Grafton.
"So we've got to weigh up the best option. We've got to ensure that we're spending the money in the appropriate way."
The Lismore greyhound-racing community is a resilient one, and on a number of occasions it has overcome its track being flooded.
Mestrov saw these qualities throughout NSW when the industry continued operating during strict COVID lockdowns in 2020 and 2021.
This will be an enduring memory of Mestrov's time in racing, which he will take with him to the Sea Eagles.
"It was huge. (Deputy CEO) Wayne Billett and I at times spoke up to 10 times a day in that COVID period," he said.
"I think Wayne did a phenomenal job to keep racing going. I think the participants played their part.
"The clubs were also unbelievable. So it really was an industry effort to keep racing, and we're still doing that today.
"It shows how close-knit the industry was and how we did bunker down. We assisted wherever we could from a participant point of view.
"No one saw the efforts of having to keep people racing without getting COVID. I think we were able to achieve that.
"I don't think there were any kind of outbreaks that we experienced through our processes.
"That was a major challenge that we got through."
Similar Greyhound Racing News