Nature's Gent a force to be reckoned with in Group 1 NZ Cup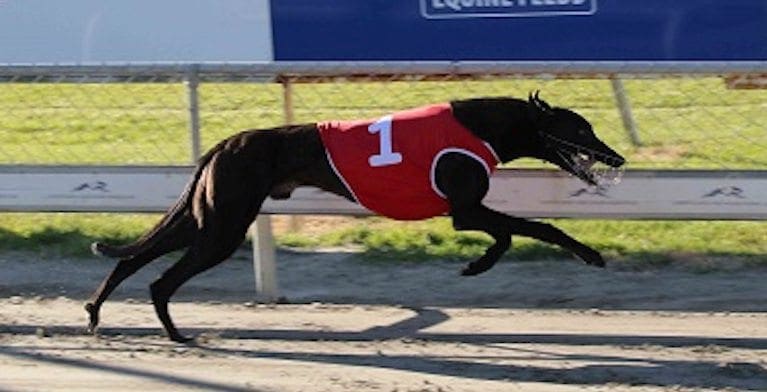 PAUL Freeman is hopeful former Australian chaser Nature's Gent (Shakey Jakey x Midnight News Jan '15) can deliver him and his training partner Angela Turnwald their first win in the Group 1 New Zealand Cup when he lines up from box four in the feature this Thursday.
The black dog debuted at Addington in his semi-final last week, showing good early speed to find the front off box one and kicking clear to defeat Cactus Jack (Barcia Bale x Size It Up Apr '14) by four lengths in 30.11 over the 520m sprint.
Freeman said he was happy with the victory; the third win Nature's Gent has recorded in four NZ starts.
"Since we've had him he's had a few niggling injuries, so in all fairness to the dog he has never been fully fit and he is still probably only 70 per cent fit now," Freeman told Australian Racing Greyhound.
"He was still able to run the fastest section time to the back in his semi-final and although his run home was only fair I do think he can tighten that up – and if he can begin he is certainly going to be a force to be reckoned with."
It was a stroke of luck that Nature's Gent came to join the kennels of Freeman and Turnwald. Freeman has a good relationship with Aussie breeder Dave Pringle and happened to call him at exactly the right time – securing Nature's Gent which he now races with some friends and owners.
"It was a fluke that we were able to get hold of him – he was with Jason Thompson in Victoria when he got a shoulder injury so he got sent back to David Pringle's place to spell.
"I happened to randomly call David, who has supported us a lot, while he was there. I have been pushing him for one of his high end dogs and while we were on the phone he mentioned that this dog was there.
"He has a lot of ability. David told me Jason actually wanted this dog back for the Melbourne Cup so that just shows the opinion they had of him."
Freeman and Turnwald train at Foxton which is located on the lower west coast of the North Island.
Although they are prominent trainers in their own right, the duo will face stiff opposition in the NZ Cup up against some of the biggest conditioners in the country.

Craig Roberts, who won the race in 2015 with Dyna Vikkers, has the Paul Wheeler-owned Avenger Bale (Fernando Bale x Langi Bale Aug '15) set to start favourite off box two.
The red fawn dog is unbeaten in eight starts over the track and trip with a brilliant 29.82 personal best.
Also with a strong hand in the final are perennial NZ Cup winning trainers Dave and Jean Fahey, who have trained seven of the past 11 winners.
Team Fahey will be represented by four greyhounds in the final – Cactus Jack, He's All Power (Jagger Swagger x Zipping Venus Sep '14), Shantui (Djays Octane x Witch's Potion Nov '14) and Opawa Timo (Fabregas x Opawa Eye Dec '14).
"It's called the NZ Cup – but it should probably be called the Christchurch Cup because Dave Fahey and Craig Roberts are the big trainers there and they have a lot of success," Freeman said.
"Dave Fahey is a bit like the Cups King of New Zealand. The thought of beating the big trainers on their home track is probably just as exciting as actually winning the Cup would be.
"It would be a massive thrill. To even have a dog in it is great – these big league dogs are hard to come across and money can't buy them most of the time."
Nature's Gent will jump from box four in the $100,000 decider, looking to secure his 11th win at start 24. Freeman gives his charge a big chance in the feature, although he concedes there will no room for error.
"He hasn't been put into a situation yet where he gets a bit of pressure and the racing gets tight.
"At his starts here he has either begun well or began slowly, found the rail and gotten a nice run through so he will need to begin off box four, but the dogs on his outside don't have a lot of pace and a couple of them want to get off the track so hopefully that works in his favour.
"The dog in box three has a lot of pace and Avenger Bale is going to be very hard to beat off box two, but I still give him a royal chance.
"If he wins can start calling him a Kiwi?"
Nice try, Paul.
The Group 1 NZ Cup is race nine at Addington this Thursday night and is set to jump at 9.12pm local time.
Group 1 NZ Cup – box draw
1. Cactus Jack
2. Avenger Bale
3. Nozzno Fear
4. Nature's Gent
5. He's All Power
6. Shantui
7. Tom Tee
8. Opawa Timo
Reserves
9. Harry Fields
10. Allen Ablett
Similar Greyhound Racing News