Ninth annual Pink Ribbon fundraiser at Gosford fast approaching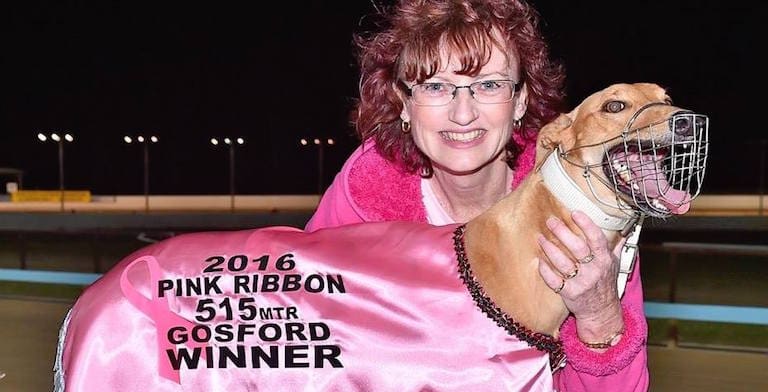 THE ninth annual Pink Ribbon Fundraiser will be held at Gosford greyhounds on October 3, with event organiser Raelee Shearer calling for all greyhound racing enthusiasts to get behind the cause.
The night will include an 11-race program highlighted by the Pink Ribbon Stake, a best eight event for bitches only with no city wins, with additional prizemoney as well as a trophy and presentation rug going to the winner.
Shearer, who has a small team of greyhounds in work at Lake Haven, says the event is special to her, having been through a battle with cancer just over a decade ago.
"I was diagnosed with breast cancer back in 2005 so it is a cause close to my heart and this is a way for me to give back," Shearer told Australian Racing Greyhound.
"Last year's event was a quiet one because of the state of the industry, but the previous year I raised just under $12,000 with this one event alone which can make a big difference to a lot of people suffering and their families."
In addition to the Pink Ribbon Stakes there will also be plenty of entertainment for the whole family including a raffle, pink hairspray, a colouring in competition, dartball, snow cones and lucky dips.
Leading up to the night there will also be a number of items auctioned on the Facebook page for the event including stud services and a breeding analysis by Pedigrees by Design.
All money raised from the event will go to the Cancer Council NSW, with the vital funds specifically going towards the fight against breast and gynaecological cancers.
Shearer is also calling for Race Sponsors on the night, with anyone unable to be there able to make tax deductable donations by clicking here.
"I'd like to see everyone come down for the night – its during the school holidays so hopefully people can bring their kids and family to enjoy a great night at the dogs and to raise money for this worthy cause."
More Greyhounds News