Abandoned meeting could be a hidden blessing for Megalodon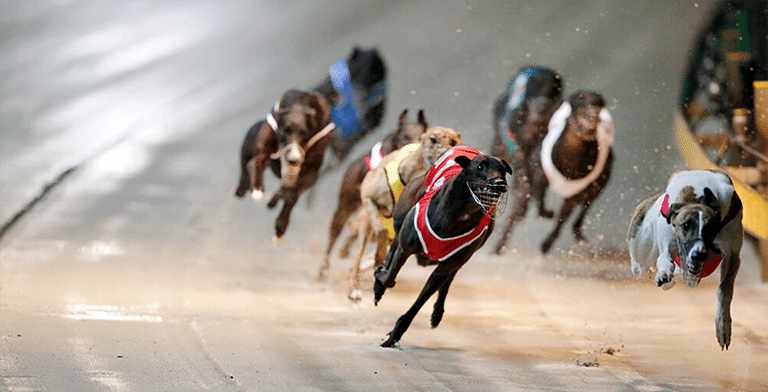 LYNNE Aldous is hoping the re-scheduling of the Group 2 Richmond Oaks (535m) heats to this Friday night will be a blessing in disguise for her classy bitch Megalodon.
Despite the disappointment of the heats being canned when the original meeting was abandoned last week due to bad weather, Megalodon will be assisted this week after moving from box seven into box three when the heats were re-drawn.
The daughter of Glen Gallon and Blu Evening has a terrific record from box three, with two wins and one minor placing from her three appearances wearing white.
Although taking on a talented field including Mumma Josie (box one), Two Jay (box two), Utah Miss (box five) and Nymeria (box six), Aldous says her bitch has the speed and ability to mix it at group level.
"She is a really nice girl – she always puts in and tries her best," Aldous told Australian Racing Greyhound.
"I think she is good enough to compete in a series such as this, but she needs to be leading at the first turn because she is a frontrunner.
"It's not an easy race, but I am relived she is on the inside this week instead of the outside – she tends to go better closer to the rails.
"It is a group heat so it is still going to be very hard, but being closer to the inside definitely helps her."

Megalodon has proven to be a handy performer for Aldous, her husband John and son Brandon, who brought the black bitch as a Christmas present for his mum.
From 24 starts, the 27-kilogram rocket has won eight races with 10 minor placings, with just under $30,000 in prize money earnings.
But it hasn't all been smooth sailing, with Megalodon spending just under half a year on the sidelines throughout late 2016.
Since resuming in January, Megalodon has bounced back to her best winning two from four including a slick 29.62 performance at Gosford.
"She had a very bad hip injury and that put her out for the best part of six months – we thought her career was over," Aldous explained.
"It was hard and frustrating because we knew she had a lot of ability, so it is a relief to have her back racing well.
"It makes you realise that you have to take it one day at a time in this industry."
A win in the Group 2 Richmond Oaks series would be a career highlight for Aldous, who has been involved in the industry for more than four decades.
"My husband John and I were on the way to buy a new car, but instead we ended up at the puppy auctions where we brought two greyhounds.
"Since then we have always had a greyhound in the backyard, either a race dog or a pet.
"We don't have many dogs; we only normally have one at a time – but we have been lucky over the years with a few city dogs which makes it much easier to get up in the morning."
The Group 2 Richmond Oaks heats are races two, three, four and five at Richmond on Friday night, the first of which is scheduled to jump at 7:38pm.
More greyhound news