Aqua Cheetah on the prowl for 2017 Megastar title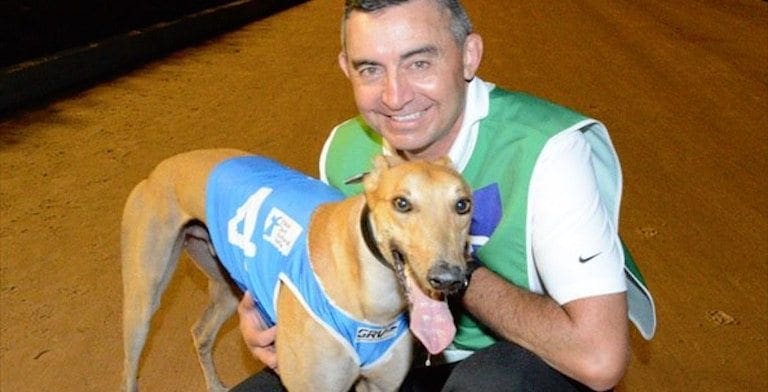 AQUA Cheetah (Cosmic Rumble x Dalta Bale Mar '14) has been installed as the $2 favourite with Bet365 to win this week's Group 1 Megastar (520m) at Dapto after a sensational victory in his heat of the feature on Thursday night.
Jumping from box eight, the red fawn greyhound was only fairly into stride but got a clear run in the early stages. As the field bunch around the first turn, Aqua Cheetah circled his competitors to slip into second spot behind Bombshell Bandit (Collision x J's Robin Jul '15) before hitting top gear down the back, racing to the lead and kicking clear.
In the charge to the line Aqua Cheetah was able to hold off the fast finishing Riley Tokaam (Don't Knocka Him x Skyela Tokaam Mar '15) to score by one length in a best of night 29.71.
Co-owner Ian Robertson was stoked with the run and is thrilled to be heading into yet another big race final.
"It was a big run. It was his first look at Dapto so he went enormous and even though he always tends to go well first-up at a track you'd expect him to derive some benefit from the run," Robertson told Australian Racing Greyhound.
"We have been fortunate with him because he has made a few group finals so we are rapt just to be there."
Aqua Cheetah is trained in Victoria by Jason and Seona Thompson but has been racing in NSW since mid-August when he contested the Group 2 Black Top series at The Gardens, running second in the final behind Mister Twister (Collision x Double Twist Jan '15).

Whilst he has been in NSW Aqua Cheetah has been prepared by leading conditioner Jason Mackay, with Robertson praising all involved for getting the best out of the 33.5-kilogram chaser.
"Jason and Seona Thompson have done a fantastic job with him and he is going really well up here with Jason Mackay at the moment.
"They are the best trainers in Australia and they know how to get the best out of a dog so we very grateful for what they've done with him."
Aqua Cheetah, which won last year's Group 1 Adelaide Cup, is the winner of 24 of his 65 starts with 20 placings, his prize money earnings now in excess of $227,000.
Robertson, who owns and bred the ultra-consistent greyhound with his wife Tia and childhood friend Mark Morgan, says Aqua Cheetah has always shown enormous potential.
"He has always been a bit special and it is just great to have a dog like him – it's been a big thrill to watch him race and to own him with a friend of ours.
"It has been a great ride – he won his first race at Wentworth Park 18 months ago and he won the Bathurst Cup at start four."
A nine-time group finalist, Aqua Cheetah is undoubtedly the class runner of the final, however it won't be a case of times and margins coming up against a quality field including Gosford Cup winner Barking Bad (Bella Infrared x Ebby Miss May '14), the regally bred Rohan Hill (Brett Lee x Cawbourne Whip Mar '15) and the super strong Where Art Thou (Where's Pedro x Amnesia Mar '14).

Robertson said he is hoping Aqua Cheetah will run a bold race on Thursday and believes he is well boxed to put his best paws forward.
"He should like being in box eight – I think it will definitely suit him and although he probably won't jump in front it would be nice to see him zoom along the outside.
"His box manners let him down – if he came out well there would be few times that he got beat.
"But there isn't much you can do about that – it's just how he is – but he is still very consistent and he is always thereabouts.
"If he can get around the first turn untouched and in a good position he will be chasing after the leaders and will be a good chance – but the main thing is that he makes it around safe."
Although they would love to win, Robertson says win, lose or draw they are incredibly proud of what Aqua Cheetah has been able to achieve throughout his career.
"He has already won us a group 1 so you don't want to get greedy, although it would be nice to win another one," Robertson said.
"It's fantastic to have a dog good enough to contest these series' let alone make the finals and win them.
"To be honest he's done more than enough – if he never wins another race it doesn't matter to us – but as long as he's fit and healthy and loving his racing we'll keep enjoying the ride and watching him go around."
More greyhound news