Association Cup stays the goal after Gunnadoo Cove's Gold Cup win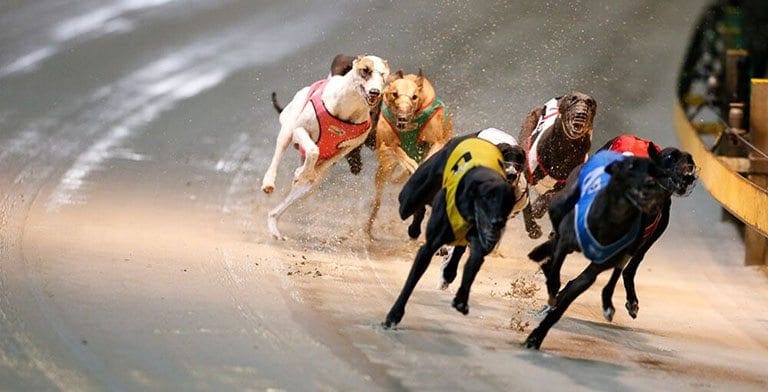 JOHN Heard confirmed his bonny bitch Gunnadoo Cove will contest next month's Group 1 Association Cup (720m) at Wentworth Park after scoring a sensational win in Saturday night's Group 3 Gold Cup over the same track and trip.
Stepping from box one, Gunnadoo Cove settled in third position throughout the early stages, stalking leader Miss Foxy Lee (box two) and rave favourite Starza Light (box five).
Down the back the daughter of Shakey Jakey and Cruz began grinding back the margin, circling her opponents around the home turn and sprinting clear to score in 42.09.
Ebby Ripper (box six) ran on well to grab second, with Starza Light finishing third.
Heard said he went into the race knowing he had the greyhound capable of winning, but admits he wasn't overly confident.
"I knew she was as good as the other dogs in the race, but she doesn't like being crowded in her races," Heard told Australian Racing Greyhound.
"I wasn't too sure if she wanted the one box or the eight box – I actually thought she might have been better suited out wide but as it turned out I was wrong.
"She got a bit of a bump going into the first turn which cost her a few lengths but then she got into some open space.
"I got a bit excited when they got half way up the back straight – I thought 'she'll win this' because she is a strong greyhound and I knew she would run past them.
"I am a bit tired today – I didn't get home until 1am and the dogs started barking at 4am so I only got three hours sleep.
"But the win last night definitely made it all worthwhile."
Heard, who has trained numerous top class chasers such as General Brett, Pororoca, Westend Prince, Forty Twenty and Princess Black, says the victory was especially rewarding as his first major title within NSW.
"I have won big races in Queensland, Victoria and Western Australia – but despite all the racing I do at Wentworth Park I have never won a group race there," he said.
"I have finished second and third in group 1s there but never cracked it for the win – so it is a special feeling to have finally won a feature in my home state.
"She has always shown ability so it is nice to get feature race win with her – she is owned by Ben Howe who is a very good breeder so it is good for him too."
Now a winner of nine from 24 with $57,628 in prize money earnings, Heard said the target for the 26.7-kilogram pocket rocket will now be the $75,000 Association Cup, heats of which are set to be held on April 8.
After that series the possibilities are endless for Gunnadoo Cove, which Heard says has always shown enormous potential.
"I think she will go good in the Association Cup – she run the fastest time of the year at Wentworth Park on Saturday night so if she can carry that form into Association Cup series she should go well.
"After the Association Cup I plan on spelling her for six weeks and then I'll get her going again – I am hoping that by doing that it helps to mature her and that she comes back a little bit stronger.
"She is only two-and-a-half so she has plenty of time on her side."
More greyhound news