Blue Sky Riot breathtaking in 2018 Group 1 National Futurity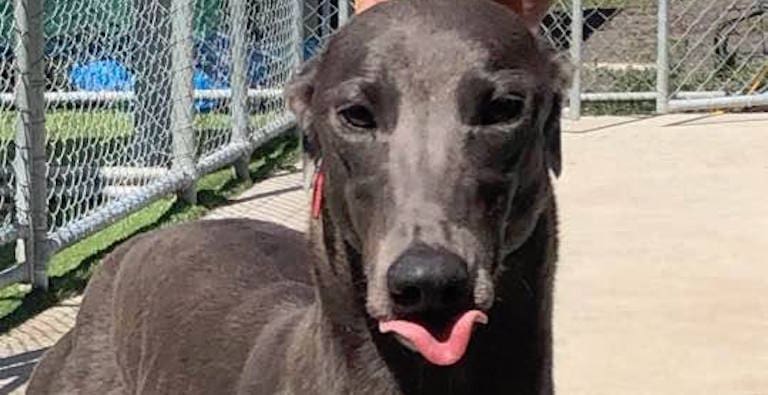 BLUE Sky Riot (Barcia Bale x Ready To Riot Feb '16) continued Anthony Azzopardi's hot run of form in Wentworth Park feature races when saluting in the Group 1 National Futurity (520m) on Saturday night.
Sent to the boxes as the $3.50 third favourite, Blue Sky Riot began well, settling second behind fellow Victorian Slingshot Gypsy (Fernando Bale x Paw Sa Prize Feb '16) which shanghaied to the lead off box eight.
Balancing up down the back, Blue Sky Riot began taking ground off the leader, hitting the front approaching the home turn and bolting clear to win in a slick 30.04.
"I gave her a pretty good chance in the final – I thought she was unlucky not to win her heat but she was beaten by the post and inexperience," Azzopardi, who won the Paws of Thunder at Wentworth Park in January, told Australian Racing Greyhound.
"She has always had a lot of ability. I train two of her sisters and she isn't the quickest, but she has plenty of guts and she is a real little race dog."
Blue Sky Riot has now won five races from 12 starts with two seconds and one third – her prize money closing in on $90,000.
She is owned and bred in NSW by Sandra Camden-Bermingham and Colin Bermingham and their family. They also raced Blue Sky Riot's mother, Ready To Riot (Collision x Punk Angel Sep '11) which won eight of 26 starts and was trained throughout the later stages of her career by Azzopardi.
"Her owners were the main reason I wanted to win the race on Saturday night," Azzopardi said.
"They are such great people. We raced the mother together and her first litter to Fabregas. There were some nice dogs in that litter, but they were very injury prone.
"So for her to come out and win a group race for them – it's just incredible. They are still out celebrating, that's how much the win meant to them."

Azzopardi says Blue Sky Riot – and her sisters La Bella Riot and Mystic Riot – should all have bright futures on the racetrack and he expects them to continue to improve with more age and experience.
"The breed is probably more known for its strength, but they can begin too. I think when they get a bit older and with some more experience they will balance out a little bit.
"But if they can keep stepping safely they are going to win a lot of races and we should have quite a bit of fun with them."
Having already won two group 1s in 2018, Azzopardi doesn't plan on slowing down anytime soon. The Baccursh Marsh conditioner will have a leading chance in this year's Group 1 Temlee and Australian Cup with his star performer Raw Ability (Barcia Bale x Bugatti Flyer Mar '15).
The black dog hasn't been sighted since taking out the Paws of Thunder, his second win at group 1 level, but Azzopardi said he is feeling enormous and should be spot on for the invitation-only Temlee on February 17 at The Meadows.
"He is starting to scratch the ground up – he is getting a bit edgy which is good because it means his energy levels up and he is ready to go," Azzopardi explained.
"He really needed that short break. He has done a lot of travelling the past few months and it takes a lot out of me so I can only imagine what it does to the dogs.
"I'm going to trial him on Tuesday and then he'll head to The Meadows this week for a run – so it's an exciting feeling.
"Obviously it won't be a walk in the park, but he is right in there."
2018 Group 1 National Futurity results
1st – Blue Sky Riot (4) – Anthony Azzopardi – $3.50
2nd – Slingshot Gypsy (8) – Robert Britton – $3.20
3rd – Sheez My Chicki (5) – Christine Proctor – $26
4th – Winsome Currency (6) – Marie Burton – $11
5th – Dreaming Time (3) – Ronald Lambert – $11
6th – Zinkey (1) – Lindsay Davis – $16
7th – Dyna Yami (2) – Samantha Ferguson – $16
FELL – Poco Dorado (7) – John Finn – $3.20
Margins: 2.25 x 5.25
Time: 30.04
1st section: 5.39 (8)
2nd section: 18.06 (4)
Run home: 11.98
More Greyhounds News