Have the politicans learned their lessons from NSW greyhound ban?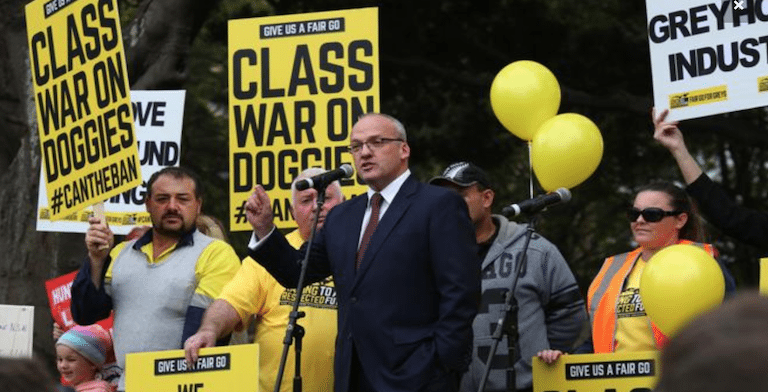 ANOTHER week, another contradictory comment from a politician about animal welfare in Australia.
New England MP Barnaby Joyce dismissed suggestions this week that live sheep exports should be shut down, saying it would be a "disastrous" decision.
He made a series of statements that must have sent shivers up the spine of people in the greyhound industry as they recall eerily similar words when the Liberal Party tried to swiftly destroy the sport in NSW, which was the catalyst to allow the Labor party to succeed in doing so in Canberra.
Joyce went into bat for the sport in strangely similar circumstances in 2016, when he linked the NSW greyhound racing ban to the Federal Labor government ban on live cattle exports. A ban that was also overturned. This time around it's live sheep exports.
After reports emerged in recent weeks about inhumane conditions within the live sheep export industry, Joyce, enjoying the break from being questioned about his embarrassing private affairs, said that the vision and information released was "abhorrent and had to be dealt with", but refused to say closing it down was the best solution.
"The solution to the problem is not to stop it," Mr Joyce said.
"The solution is to regulate it in such a way that these sort of things happen rarely and are punished swiftly. We manage problems by fixing them, not by closing them down."
Mike Baird and his NSW State Government did think the best solution to the exaggerated problems in the greyhound industry was to get rid of the sport all-together in 2015. Hastily pushing through a ban on greyhound racing was a decision that was eventually reversed — a decision that cost the Liberal party its majority in NSW and led to Mike Baird's resignation.
"I'm sick of hearing people say the solution is to close something down when something bad happens," Joyce added
"If that was the case, we would be closing down highways every time a car crashed, or closing down airports every time a plane was grounded."
Joyce did reference the NSW government's capitulation at the hands of the greyhound racing industry, pointing out that the decision had huge unintended consequences.
"I've been around the political game long enough to know you don't react to your first emotion, you calmly sit back and think about it," he said.
Ban on ACT greyhound races implemented
Of course, Barnaby Joyce was oddly silent when it came to an industry ban that had recently taken effect in his own workplace backyard in Canberra.
Last week legislation that banned greyhound racing in Canberra came into effect, making the ACT the first state to outlaw the sport in Australia. The legislation was pushed through by a Greens-enabled Labor party that oddly have the distinction or allowing so many unique experiences in their territory, but have singled out greyhound racing.
While greyhound racing has been banned in Canberra, it is still legal to train greyhounds as long as no racing occurs.
With moves to ban greyhound racing South Africa and the UK gaining momentum, the sport will continue to face attacks to its integrity and will need to continue to fight back on the public relations front.
One thing is clear in politics and life: when it comes to animal welfare, hypocrisy is accepted every day.
Highlighting that hypocrisy, continuing to clean up the industry and fighting that PR battle with the quality people throughout the industry is the only way forward for greyhound racing.