Knight Sprite ready to tackle another Group 1 Golden Easter Egg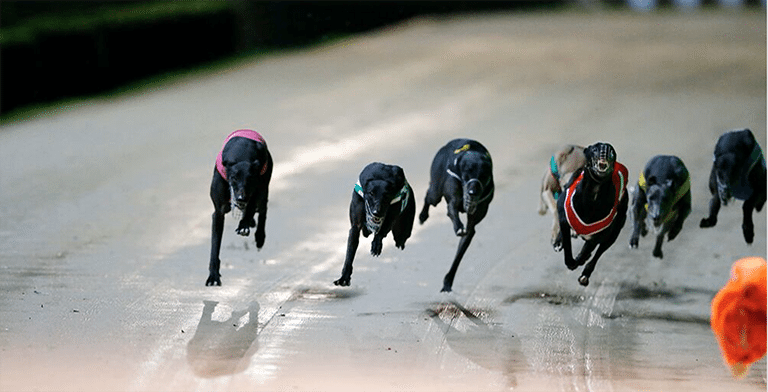 GRAND veteran Knight Sprite will be aiming to return from retirement with a bang when he contests a heat of the Group 1 Golden Easter Egg (520m) at Wentworth Park this Saturday night.
Trained in the Hunter Valley by Gayle Masterson, two-time group winner Knight Sprite was retired at the beginning of the year due to a problematic injury.
However, the black dog, which ran third in last year's Egg, was evidently not ready to be retired.
"I decided I was going to retire him in January because he had a re-occurring hock injury and I couldn't get it to settle," Masterson told Australian Racing Greyhound.
"After the Easter Egg last year we watched the replay and noticed he didn't drive through the first turn and he drifted up the back straight.
"When I went and got him checked we got an x-ray done and it showed decalcification in his hock.
"Even with the injury he was still racing well, but I took him to Redhead after his last race in January and he ran brilliant time but four days later I took him back and he lost three tenths.
"He pulled up lame and I just didn't want to push him by keeping him racing – it wasn't fair to the dog.
"But he soon decided that he didn't like being retired – he was doing things to let me know he still wanted to go.
"I sat down and started researching some more because I have never had a dog with that type of injury before and I found [a treatment] which seems to have worked.
"Since getting it right he has had five trials and two races on it and it hasn't been a problem – hopefully it continues to stay the same – touch wood."
Knight Sprite commenced his comeback on March 18 at Wentworth Park, finishing sixth behind Cosmic Bonus.
He followed up that run with a third placing behind Royal Turbo from box one, with Masterson expecting further improvement this week from box three.

"His first week back he was racing under the new water rule and he drank all the water in his kennel and was sick after the race.
"I took the reprimand last week and he seemed to race much better.
"I am happy with the box – he loves the inside although I don't like drawing box one at Wenty because if the two dog steps sideways it forces the dog in box one off the mat in front of the boxes.
"The track is like clay so when they step off the mat they lose their footing – that's what happened last week.
"Last year going into the Egg he had seven weeks straight of group racing – this year he hasn't had that so he is going to be a lot fresher.
"With that being said he hasn't had an easy race since coming back – he has been up against some good dogs – as long as he comes back safe I will be happy."
A winner of 30 from 77 with 29 minor placings, Masterson said it is a massive thrill to have Knight Sprite back on the track, with the Richmond Derby and Gosford Cup winner the best dog she has ever trained.
"It is a huge thrill to have him back racing – he has a big fan club so everyone is excited.
"Someone asked me if I missed the money when I retired him – and don't get me wrong I enjoyed the money he won but most of all I just missed watching him race because it's what he loves to do.
"I think he is loving being back racing – after one of his first trials back I went into his kennel just to check on him and I sat down on his bed with him – he kept jumping up and giving me kisses and he doesn't normally do that so I think he is happy.
"He is a very special boy. You know he is going to go out and do his best all the time – he just doesn't know how to give in."
Knight Sprite will jump from box three in the third heat of the Group 1 Golden Easter Egg this Saturday night. The race is scheduled to jump at 8.30pm.
More greyhound news