Litter mates both in the running to secure $100k Richmond Riches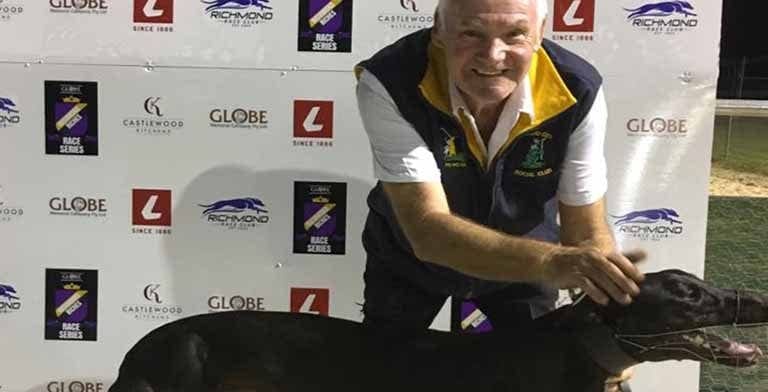 HOBBY trainer Brian Tuft only has two greyhounds in work, however both are in contention for a lucrative prize as they prepare to line up in the semi-finals of the Group 2 Richmond Riches Puppy Classic (535m) on Friday night.
Tuft puts the polish on litter mates O'Leary and O'Hara which both progressed through the heats last week and need to finish in the first two this week to qualify for the $100,000 final on May 26.
By Fabregas out of Stunning Chloe, O'Leary looks the leading contender of Tuft's pair, coming into the semi-final after running a solid second in his heat behind fastest qualifier Mister Twister.
It was O'Leary's first race beyond 450m and his first appearance around a two turn track, however he still managed to clock a handy 30.92.
Tuft now has his fingers crossed O'Leary can shave some time off that effort heading into the next round of the series.
"I was very happy with his run – how could you not be?" Tuft said.
"It was a great effort – he was three wide the whole way and I think if he had of drawn closer to the fence then he would have finished a lot closer to the winner.
"I knew he'd need the run because I never pushed him in the lead up to the series – I worked him up slowly from the 400s and he only had two 450m races prior to the heats.
"I am just hoping he can improve off that run and that it hasn't flattened him because it was his first 500 – but he doesn't seem to be flat – he is still his usual self around home."

O'Leary will jump from box four in the fourth semi-final this Friday, his biggest threats appearing to be Kong (box two) and Bold Opal (box seven).
However, Tuft is optimistic his charge, a winner of four from 13 with five minor placings, can make an impact.
"Kong is a good dog, but I do think the race is a lot easier than last week. The thing against him is that he has drawn box four – but if he can jump and lead I give him a chance.
"If he is going to win he has to find the front – his last section is his worst section but if he improves like I am hoping he does I think he can get down around the 30.70 mark."
Meanwhile, litter sister O'Hara will contest the third semi from box eight. Despite the wide draw, Tuft is hoping she can also put in an improved run after running fourth in her heat behind Fast Times.
"She actually jumped well last week, but she got squeezed out of it by the big dogs and she dropped back. I think it cost her a fair bit of ground.
"I was a bit unlucky last week – they both drew the hardest two heats last week but luckily they both made it through to the semi-finals."
The Richmond Riches semi-finals are races two, four, six and eight at Richmond on Friday night, the first of which is set to jump at 7.38pm.
More greyhound news