O'Brien looking a grand chance in 2017 Ladies Bracelet series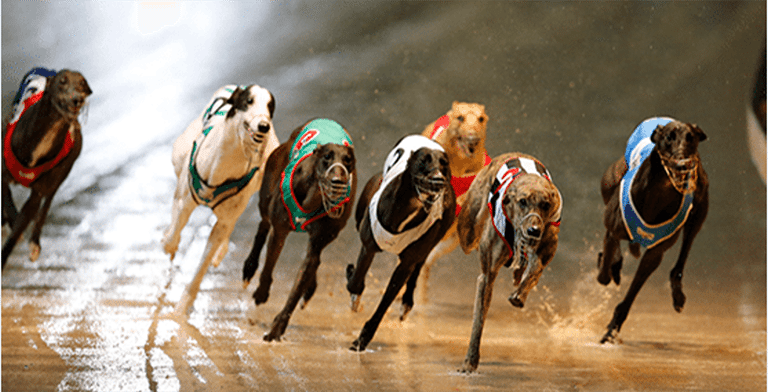 RODNEY O'Brien has been trying to win the Group 3 Ladies Bracelet for more than three decades and looks to have his best chance yet in 2017 with his talented bitch She's Grand.
A daughter of El Grand Senor and Maple Syrup, She's Grand has faced the starter 54 times for 16 wins and 19 minor placings including victories at her last two starts, both of which have been at Wentworth Park.
The two wins follow a campaign in the Golden Easter Egg series where she ran third in her heat behind Striker Light before finishing down the track in her semi-final won by Up Hill Jill.
With solid form lines to her name, She's Grand will be tough to beat in her heat of the Ladies Bracelet on Saturday night when she jumps from box six.
O'Brien says he is extremely proud of his earnest chaser and is hoping this year is finally the year he can annex the $25,000 to the winner feature.
"I have been trying to win this race since 1985 – I had a bitch called Alias Sue which was so unlucky in the final and after that I always said I would win the race one day," O'Brien told Australian Racing Greyhound.
"This girl will give me my best chance – but just to be in the final would be really good.
"She gives her all every time; I haven't seen such an honest little greyhound in my life.
"On top of that she is my best mate too – I will be sitting down on the lounge and she will walk through the back door and come over and start biting me on the hand trying to play – she is just a beautiful little girl.
"I treat all my greyhounds as pets – at the end of the day they are dogs and they all love cuddles."
O'Brien, who trains from his residential Blacktown property, explains he has given She's Grand an easy lead up to the race to freshen her up for the challenge.
"I have deliberately freshened her up for the race – after last Wednesday's run I toyed with the idea of giving her a 400m somewhere, but I decided to put her up behind my drag at Richmond instead and then I gave her a hand slip [on Wednesday]," he said.
"She is feeling great and ready to go. I walk her for three quarters of an hour in the mornings and she has been pulling my arm off.
"She is a relaxed girl at home, but as soon as she gets to the track she is all business.
"She knows what its all about now and she just wants to go."

O'Brien says he would rather be starting from the inside on Saturday night, but says She's Grand has proven at her most recent runs that she can handle a wide draw.
"I would have preferred an inside box but she has been jumping well out of the outside boxes so I can't complain.
"There is not a lot of pace around her. Utah Miss in box one is probably the dog she has got to cross and meet up with at the turn, but I think she has the outside brigade covered – although we wont know until the night."
With more than $30,000 in career earnings to her name, She's Grand has been a bargain buy for O'Brien who purchased the light brindle speedster for just $3,000 whilst he was waiting to breed with another greyhound, Rubelly Magic.
"My son rang me one day and asked me when we were going to have pups with Rubelly Magic and I told him one day after she turned three.
"He told me that a breeder had some Fabregas pups for sale which were six months old and asked me if I wanted to buy one which we could race when Rubelly Magic was ready to go off and have pups.
"When my son told the breeder that I was going out to look at the pups he told me there was a brindle bitch out on the farm which was 13 months old.
"He told us that she hadn't been tried and that the bloke that owned her had run out of money.
"When I got to the property to have a look at her she was out on her own down the back and she was barking her head off.
"I went into the yard with her and it was love at first sight and since that time she has done everything right."
All up, four heats of the Group 3 Ladies Bracelet will be run and won at Wentworth Park this Saturday night, the first of which is race four and is set to jump at 8.35pm.