Ritza Millie ready to make magic happen in GEE night final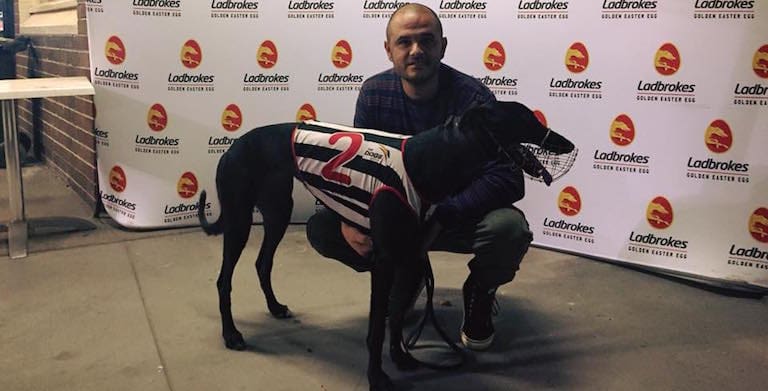 BLUE BLOOD youngster Ritza Millie (Collision x Ritza Hattie Jul '16) looms as one of the major chances in the Group 3 Magic Maiden (520m) which will be held at Wentworth Park on Golden Easter Egg final night.
Trained by Mark Gatt, Ritza Millie has remained unbeaten throughout her short career, winning her heat and semi-final of the $25,000 to the winner series at headquarters.
Her most recent performance saw her settle second off box two before working home strongly to defeat Midnight Starlet (Buck Fever x Midnight News May '16) and Velocity Liberty (Fernando Bale x Velocity Sofia Apr '16) in 30.47 on a rain affected track.
The week prior the black bitch had jumped beautifully off box one, leading all the way in a fast 30.12 at her race track debut.
Gatt, who trained Ritza Millie's group winning dam, said his youngster is doing everything right at this stage of her career.
"She is going well – so far she has just been a real little professional," Gatt told Australian Racing Greyhound.
"She does things right, but with that being said there are some good dogs in this race so she is probably going to have to keep improving to really match it with them in the final."
TWO ON THE TROT
RITZA MILLIE is emerging as a mega talented youngster after last nights victory in the semi final stages of the Magic Maiden series. She now sits at two starts for two wins having claimed the win in the heat stages of the series! pic.twitter.com/CD4xzq2BHQ
Ritza Millie, which is named after Gatt's daughter, is bred to run. Her dam Ritza Hattie won 19 races from 50 starts with over $240,000 in the bank.
Her major career wins were in the Group 2 Gosford Cup, the Group 2 Laurels Classic, the Group 3 Ambrosoli and the Group 3 Nowra Puppy Classic.
She also finished second in the Group 1 Dapto Megastar, the Group 3 Ladies Bracelet and the Group 3 Laurie Healion, third in the Group 2 Bob Payne and was a finalist in the Group 1 National Futurity.
Gatt says Ritza Millie has to show a bit more on the track to forge a similar career to her mum, but explained she has shown potential from the start.
"She broke in well and she has always done everything right," Gatt said.
"She will keep improving with more age and experience, but I think we will find out soon whether we have a city dog or a group class bitch.
"She will have to keep improving to be a group dog, but this line tends to get better with maturity so hopefully she can take that next step."

Ritza Millie will meet a handy field in the final including fellow semi-final winners Nangar Jill (Where's Pedro x Bella's Fancy Feb '16), Winlock Huddy (Fernando Bale x Crackin Sort Jun '16) and My Mate Fox (My Bro Fabio x Reservoir Time Jun '16).
However, she looks ideally positioned in box two to give Mark Gatt his first win in the lucrative series.
"I think she is boxed perfectly – she shouldn't have any excuses," he said.
"She looks like she is going to get every chance, fingers crossed she is good enough."
The final of the Group 3 Magic Maiden will be run and won on Saturday March 31.
2018 Group 3 Magic Maiden box draw
1 – Nangar Jill
2 – Ritza Millie
3 – Embye
4 – Winlock Huddy
5 – Sunburnt Highway
6 – Nangar Ace
7 – Midnight Starlet
8 – My Mate Fox
Reserves
9 – Velocity Liberty
10 – Rockstar Romeo
More Greyhounds News