Up Hill Jill's baby brother to tackle National Derby series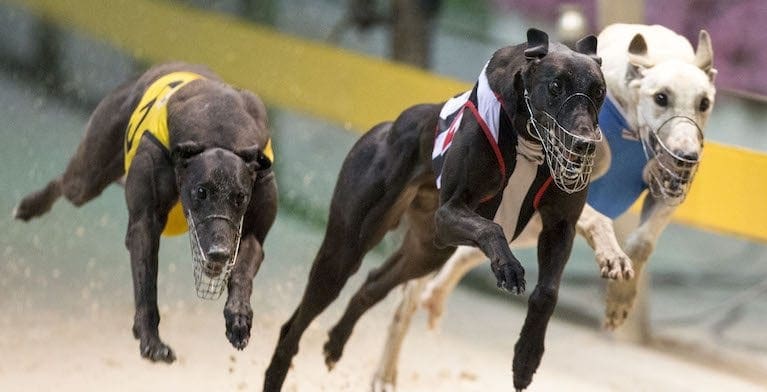 THE action heads back to Wentworth Park this Saturday night for the running of the Group 1 National Derby and Futurity heats, with some explosive talent expected to line up for their shot at the $75,000 winner's prize for each series.
After running second in the Futurity last year with his star bitch Up Hill Jill (Premier Fantasy x Where's Demonica Feb '15), Victorian trainer David Geall will be aiming to go one better in this year's Derby when he lines up with the promising My Redeemer (Fernando Bale x Where's Demonica Apr '15).
My Redeemer made his race debut at Wentworth Park last Saturday, accompanying his big sister which finished third behind Raw Ability in the Group 1 Paws of Thunder.
Jumping from box four, My Redeemer barged his way to the front of the pack and kicked on strongly to defeat Ledekey (Keybow x Zipping Yoko Nov '15) by four and three quarter lengths in 29.96.
"He did what we knew he could do and I am just glad he showed that on Saturday night," Geall told Australian Racing Greyhound.
"I know he can go a lot quicker down the back so if he draws well in the heats we might get to see that – his second section the other da was only 18.14 but I have no doubt he can improve.
"He can really move and he is stronger than Jill in the run home so I think he is going to be a nice dog."

My Redeemer has now won four of his nine starts with three placings and almost $17,000 in prize money.

He will take on the best eligible male greyhounds in the Derby series which is open to dogs whelped after October 1, 2015.

Geall concedes My Redeemer is giving away plenty of experience to his rivals, but says his chaser has plenty of natural ability.

"The series is probably half a dozen starts too soon for him – he has the ability, but he is still very green and personality wise he still hasn't come out of his shell yet.

"But you only get one go at the National Derby and he is a very fast dog so we decided to have a go.

"I think he will be a very serious race dogs in two to three months' time."

Even though he is only a newcomer, Geall said it won't be a surprise if My Redeemer is able to claim his heat this week and progress through to the $75,000 to the winner final.

"There are going to be some very smart dogs in there – some Victorians and quite a few from NSW.

"I have noticed he is similar to Jill in that he is very competitive and he doesn't like to be led – so if if he draws well I think he can go pretty fast and they will know he's there."

Others to watch out for in the National Derby series include Aston Duke (Go Wild Teddy x Aston Elle Jan '16) and Little Digger (Fernando Bale x Solar Pak Nov '15) which both won at Wentworth Park on Saturday night.

Victorian trainer Will McMahon is also headed towards the feature with Degani (Kc And All x Surfonic Nov '15) which ran second on debut at Wentworth Park last Wednesday and brings strong form into the series after finishing second in the Group 1 Silver Chief Classic earlier this year.

The heats of the Group 1 National Derby and National Futurity will be held at Wentworth Park this Saturday night.


Warning: count(): Parameter must be an array or an object that implements Countable in /home/australianracinggreyhoundzzz/webapps/app-australianracinggreyhound/wpress/wp-content/plugins/Odds-Compare/vendor/guzzlehttp/guzzle/src/Handler/CurlFactory.php on line 67