Dirk Bale breaks through for maiden group 1 in 2018 Auckland Cup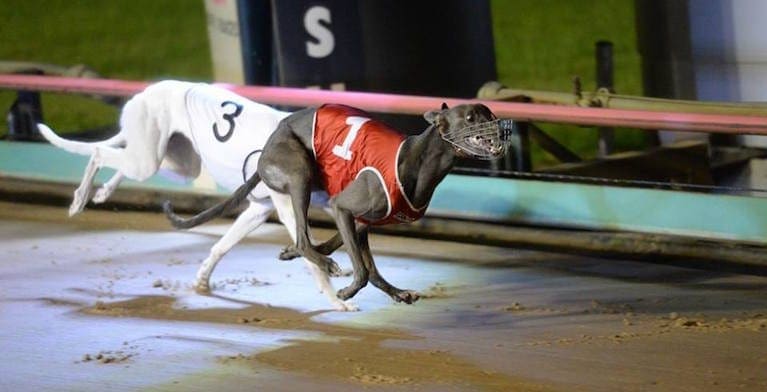 DIRK Bale (Fernando Bale x Langi Bale Aug '15) stepped out of the shadows of his star litter brother Allen Ablett when recording an all the way victory in the Group 1 Auckland Cup (527m) at Manukau on Sunday night.
Trained by Craig Roberts, Dirk Bale began brilliantly off an awkward draw in box six, slipping straight to the front of the pack. Out on the bunny the blue dog never looked in danger, cruising to line to score by two and a half lengths in a fast 30.06.
Shallay Pallay (Barcia Bale x Set To Shine Jul '15) ran on well to finish second ahead of Allen Ablett back in third.
Roberts, who had litter brothers Dirk Bale, Allen Ablett and Avenger Bale in the $88,000 feature, said boxes four, five and six made things tricky for his runners, but he was optimistic with a clean beginning Dirk Bale could make the race his own.
"My kennel foreman went up for the heats and drew the boxes for the final – so we were blaming him all week," Roberts quipped.
"It really evened the race out – I couldn't pick between my three. I thought Dirk Bale could still lead though and that was his only chance – he had to lead to win against that field.
"Once he carved to the front and run those fast sectionals I knew down the back they wouldn't catch him."

Dirk Bale has now won 12 races from 21 starts with three second placings, with his earnings now sitting just above NZ$100,000. Prior to Sunday's win he had finished second to Allen Ablett in the Group 1 Spoin Rose final and down the track behind his brother in the Group 1 Hatrick Classic.
Roberts said it was great to see the 31-kilogram racer finally get his turn in the spotlight on Sunday.
"Dirk Bale and Avenger Bale have lived in Allen Ablett's shadow a fair bit – but I guess that's fair enough considering he has won two group 1s.
"It was good to see him step up though because he has always had the ability there and he really showed that [on Sunday].
"His first couple of sections were sensational and his run home was super too – for a dog which is not noted for his strength it was a huge effort to run 30.04.
"I can't remember the last time they broke 30.10 – so he has really stepped up and proven what he can do."
The three brothers will now be aimed at the Group 1 NZ Derby later this month, with heats to be run at Waikato on Thursday March 22, 2018.
2018 Group 1 Auckland Cup results
1st – Dirk Bale (6) – Craig Roberts – $11.90
2nd – Shallay Pallay (2) – Jean & Dave Fahey – $3.20
3rd – Allen Ablett (5) – Craig Roberts – $4.50
4th – Tom Tee (8) – Ray Adcock – $9.90
5th – Quistis Bale (1) – Matt Roberts – $17.80
6th – Opawa Timo (7) – Jean & Dave Fahey – $36.50
7th – Avenger Bale (4) – Craig Roberts – $4.80
8th – Bigtime Paddy (3) – Lisa Cole – $5.40
Margins: 2.5 x 1.8
Time: 30.06
First section: 4.59
Second section: 15.24
Run home: 14.82
More Greyhounds News