Our Amelia and Oscar Moses headline huge Saturday for Jason Magri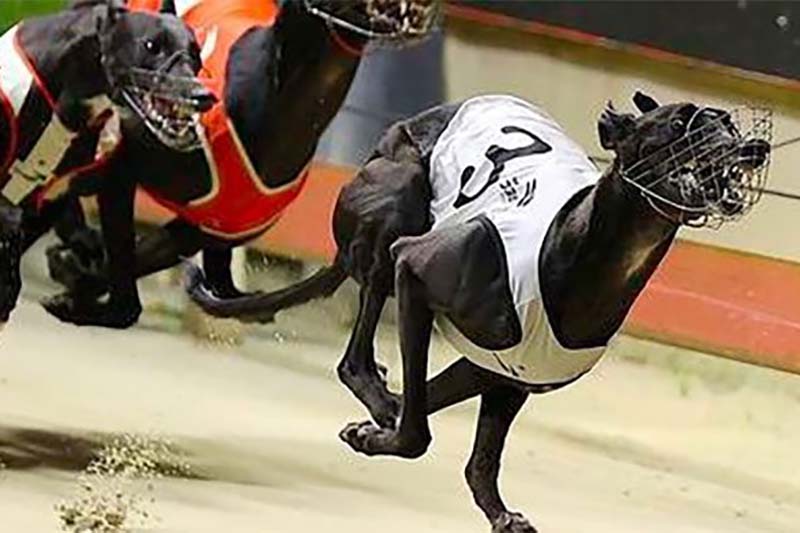 It was only in December when Jason Magri told this publication he was disappointed with Our Amelia's third place in her Newcastle Cup heat.
Fast forward two months and the 35-month-old has reinvented herself as a 600m runner going into the Six-hundy Series Final worth $34,100 at Gosford on Saturday night.
With nice $6.50 odds with greyhound bookmakers, the middle-distance bitch was an impressive winner in her heat last Tuesday night, taking out her 603m event in 34.30 seconds and 2 ¾ lengths ahead of Silver Luck for Jodie and Andy Lord.
Zipping Kyrgios was the $1.90 favourite and finished third.
Drawing another inside lane of box three, Our Amelia will be one of the chasers to beat in the final after finding the front and comfortably holding off the pack last week.
"That's the key with her – she's got to lead to win," Magri told Australian Racing Greyhound.
"She's never come from behind – that's not her forte.
"She's there to lead, and that's when she puts her best foot forward.
"Her run in the heat – you couldn't have asked for anything more.
"She put a good time on the board and beat a couple of nice dogs."
Magri said he was disappointed with Our Amelia's effort over 715m in her Newcastle Cup heat on December 2, finishing third in a time of 42.16 seconds.
She slightly improved to come fourth in 42.09 seconds in the final the next week.
Since then, Magri has dropped her back in distance and her results have shown that was the right call.
Our Amelia has won two of her four subsequent starts, her other victory coming over 622m in 35.39 seconds at Richmond on December 16.
"She's come back in distance and it's less pressure for her, so she can find the front a bit more easy," the top Sydney conditioner said.
"She can just roll along and do her thing. She's more of a 600m bitch.
"We'll try again over 700 and see if she can run it out again, but that'll be in a couple of weeks to a month's time.
"She's better with the middle distance because it's less pressure than 500m – she can just find the front."
Earlier on Saturday at 11.52am, Magri will oversee another fancy of his – Oscar Moses – in the Richmond Straight Cup Final.
The fellow two-year-old with seven wins from 12 starts also showed a clean pair of heels when leading all the way to salute in his heat last Saturday, crossing the line in 17.32 seconds.
Starting from box five, Oscar Moses swiftly cut across to find the rail and clear air early, going on to prevail by 4 ¾ lengths ahead of Saturday's 324m final worth $34,100.
The talented young straight sprinter starts closer to the rail this time, drawing box three.
"He went nice in his heat, so I'm just hoping he can reproduce that run," Magri said.
"With a bit of luck maybe he can put the same run on the board.
"He wants to get to the fence. That's where he wants to be.
"Closer to the fence would've been better, but he got box three so we've got to deal with that.
"What happens happens, but I'd like him to get straight on the pace if he could and be there at the end firing."
Oscar Moses will have fellow highly-rated dogs Gatlin (box one for Minnie and John Finn) and Wells Of Silence (box four for Frank Hurst) in close proximity.
But Magri said he was worried about what Doonside Andy could do for Lewis Galea from the No.2 lane.
"Wells Of Silence will stay where he is. He might come in a little bit," he said.
"And Gatlin, I don't really know much about him up the straight.
"He went pretty straight last week. He might want to move up to the middle.
"I'm just more worried about the two dog because he'll want to go to the far side to the middle of the track.
"So I'm hoping we can miss him, get a clear run and see what happens."
Magri said Oscar Moses was back to full health after overcoming some injury setbacks.
"I've only had him for about six months now, and he's going all right," he said.
"He's improving all the time. He had a few little injury problems and we ended up with him.
"But he seems to have got over all of that. I'm just hoping he can hold it together.
"He had a bad wrist. I got it right and he's been good so far.
"(Richmond straight) is good for dogs who have a few injury problems, or who have lost a bit of confidence."
If Doonside Andy was to veer right and into the path of Oscar Moses, Magri said his chaser had the size and strength at 37.6kg to fend off any potential trouble.
"He's a big lump of a dog," the star New South Wales trainer said.
"I wouldn't want to be running into him, I know that.
"He'll keep coming, which is good."
With a runner in two separate finals starting in Richmond and then Gosford at 8.28pm, Saturday is set to be a big one for the Magri kennel.
"We're going to Richmond Saturday, and depends how I pull up from that," he said.
"That (travel) is the hard part."
Similar Greyhound Racing News