Out Of Range clinches 2018 Group 1 National Derby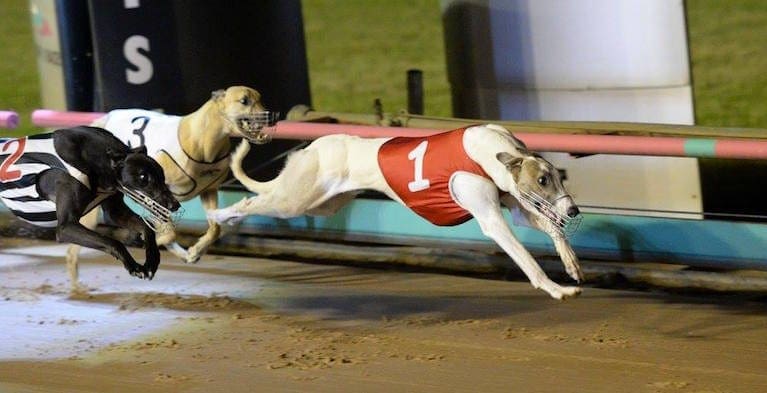 OUT Of Range (Fernando Bale x Nicki Fields Dec '15) stamped himself as the next superstar of Australian greyhound racing when taking out the Group 1 National Derby (520m) at Wentworth Park on Saturday night.
Trained in Victoria by Seona Thompson, Out Of Range started the odds-on favourite off box four, jumping reasonably well and settling third down the back behind One Hour Parking (Fabregas x Makedonia Apr '16) and on the inside of the classy Fernando Express (Fernando Bale x Tears Siam Feb '16).
Coming off the back the white and brindle dog looked to have the race at his mercy, but he was checked and lost momentum when he went to make his move on the rail.
Balancing up once again, Out Of Range got a beautiful run through along the fence swinging for home as the leader shifted off, assuming the lead and bolting clear to win by one and three quarter lengths in 30.20.
Rostered On (Kc And All x Subway To Venus Dec '15) and Little Digger (Fernando Bale x Solar Pak Nov '15) both ran massive races to finish second and third respectively.
Thompson had nothing but praise for her emerging star which is owned by respected breeders Darren and Michael Puleio.
"He was absolutely awesome and that win proved he is definitely a genuine group 1 quality dog," Thompson told Australian Racing Greyhound.
"He was down in the boxes and he came out with them – I gave him a chance when he got just behind them around the first turn but then he ran into the back of them. He was trying to get out in the clear but it wasn't really happening for him.
"When he got into trouble I thought he would be the hard luck story of the race and gallant in defeat, but he still managed to get there on the line. I couldn't have been happier with his run."
Out Of Range, which also won the Group 1 Silver Chief Classic at The Meadows in January, has now won 11 races from 16 starts with two placings and more than $220,000 in prize money earnings.

Thompson is confident the 33-kilogram powerhouse has now done enough to earn a spot in the invitation-only Group 1 Temlee which will be run at The Meadows on February 17.
"I'd like to think he'd be guaranteed a start in the Temlee now. He won the last group 1 at The Meadows (The Silver Chief Classic) and I thought he'd be a really good chance of making the Temlee just from making the National Derby final.
"Now that he's come out and won it I'd be extremely disappointed if he didn't make the field – his won two group 1s in a matter of weeks so he has definitely proven himself."
Although he will face another jump in class against open class dogs such as Aston Dee Bee, Up Hill Jill and Raw Ability, Thompson said there is no reason to suggest he can't compete well.
"He is only a baby but he has taken it all in his stride.
"This was his first time travelling away which is massive for a young dog and he handled himself beautifully – he just keeps stepping up and doing what I ask of him.
"He hasn't really put a foot wrong yet – I couldn't be happier with him."
Thompson also trains Out Of Range's litter brother Poke The Bear which will be looking for his second group win after winning his heat of the Group 2 Cranbourne Cup (520m) on the weekend.
The youngster has already won the 2018 Group 2 Traralgon Cup, with Thompson holding a big opinion of him and rating him a big chance in this week's Cranbourne decider.
"I have thought from day one that Poke The Bear was faster, but I elected to keep him home for the Cranbourne Cup to try and separate them a bit and it has worked well so far," Thompson explained.
"He has drawn the pink for the final this week, but it's not too bad of a draw with Up Hill Jill in box seven.
"She has a lot of early pace, so hopefully he can get a cart across with her and settle just behind her and Monster Fish.
"If he can sit third or fourth behind those two he'll be a big chance – hopefully they can go hammer and tong out in front early and he can come home nice and strong."
2018 Group 1 National Derby results
1st – Out Of Range (4) – Seona Thompson – $1.70
2nd – Rostered On (5) – Christopher Carl – $19
3rd – Little Digger (3) – Raymond Smith – $14
4th – Fernando Express (7) – Robert Britton – $4.40
5th – Two Times Twice (2) – John Finn – $5.50
6th – Mount Brown (6) – Charlie Micallef – $61
7th – One Hour Parking (1) – Mark Knowles – $17
8th – Off The Leash (8) – Amanda Brunton – $16
Margins: 1.75 x 0.25
Time: 30.20
1st section: 5.52 (1)
2nd section: 18.15 (1)
Run home: 12.05 (4)
More Greyhounds News