Spring Time Girl a leading local shot in Brisbane Cup heats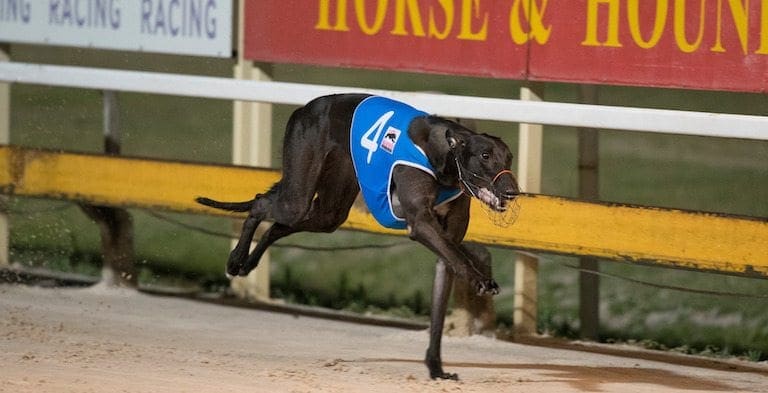 JEAN Hose has been involved in greyhounds for many years and has had her share of handy dogs during that time, but the Queensland conditioner could experience her biggest thrill yet when her consistent chaser Spring Time Girl (Spring Gun x Just Itchin' Sep '15) lines up in a heat of the Group 1 Brisbane Cup at Albion Park this Thursday night.
Spring Time Girl is arguably the Sunshine State's most in-form chaser, having won her past six straight races including the $15,100 Molly Campbell Silver Dollars final in October.
During her winning streak she has faced some of the best greyhounds in Brisbane, but there is no doubt Thursday's event will be her acid test up against Young Guns winner Joyce Rumble (Cosmic Rumble x Dulcinea Jul '15), talented Victorian Aston Dinnigan (Barcia Bale x Aston Elle Apr '15) and the Queen of Albion Park, Cyndie's Magic (Magic Sprite x Regal Silver Mar '13).
Hose, who only has three greyhounds in work at her Chambers Flat property, said she couldn't be happier with her bonny bitch heading into the race.
"She has improved out of sight – she has surprised us a bit to be honest," Hose told Australian Racing Greyhound.
"I don't know what to put it down to. We haven't changed anything with her, she loves to run and I think she is just happy doing what she is doing.
"She is up to best eight grade now so it makes it a little bit harder – but we are happy with the way she has been going and decided to have a go in the heats this week because she has been running good times."
Spring Time Girl will jump from box three in her Brisbane Cup qualifier, a box from which she boasts two wins from two starts. If she can reproduce her dazzling 29.83 personal best over the track and trip she is sure to be hard to beat.

Hose said she is happy with drawing box three, but said Spring Time Girl will have to be at her best to qualify for next week's $75,000 to the winner final.

"She has won from every box so I don't know whether she prefers it on the inside or the outside – but I do think it is a bit easier to win when you are drawn closer to the rails.

"Box three isn't too bad for her this week – I would rather her there than in box five.

"There are some good dogs in the series so it won't be easier for her – but if she were able to make the final it would be a terrific thrill. I have never had a dog in the Brisbane Cup before."

Hose has had a fair amount of success during her time in the sport – her biggest win being in the 1990 Darwin Cup.

"We lived in Darwin for a long time and I won trainer of the year five years in a row. I won the Darwin Cup in 1990 so it's fair to say I have been in the dogs for a while.

"Eventually we decided to move down to Queensland because it was getting a bit too hot up in the Northern Territory and they decided to cut the prize money at Darwin so it was making it a lot harder to train up there.

"We only have a few dogs now which is enough – as you get older you tend to slow down a lot.

"We are fortunate to have this girl though – she has been very good to us. We picked her out as a pup – actually she was the only one left in the litter at the time – but it's worked out pretty good."

Spring Time Girl will jump from box three in the second heat of the Group 1 Brisbane Cup.

Other notable dogs to watch will be Watch The Wasp (Shakey Jakey x Midnight News Jan '15), Outside Pass (Head Bound x Tina's Show Aug '13), Cyn's Magic (Magic Sprite x Tuscany Sally Feb '15), Fast Times (Barcia Bale x Clockwise Apr '15), Not Available (Barcia Bale x Lochinvar Vogue Apr '15), Jury and (Cosmic Chief x Velocity Sheba Mar '15) and Terra Torra (Don't Knocka Him x Kingsbrae Sam Nov '14).


Warning: count(): Parameter must be an array or an object that implements Countable in /home/australianracinggreyhoundzzz/webapps/app-australianracinggreyhound/wpress/wp-content/plugins/Odds-Compare/vendor/guzzlehttp/guzzle/src/Handler/CurlFactory.php on line 67