Thirty Talks recovering after sustaining career ending injury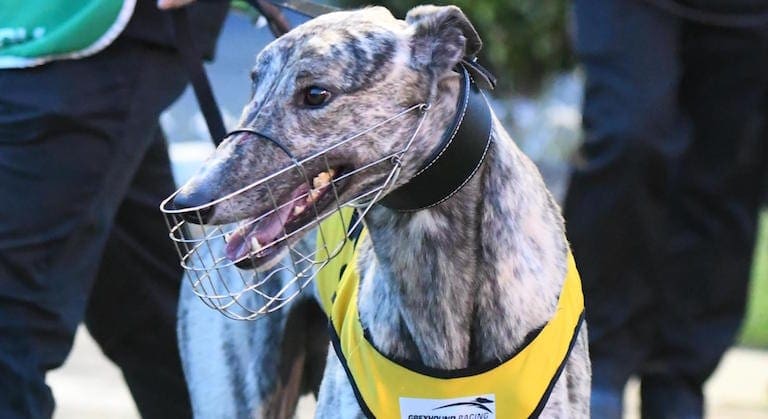 THIRTY Talks (Where's Pedro x Unfinished Jun '14) is recovering well and is back to his normal, happy self after sustaining a career-ending hock injury at Sandown Park last Thursday night.
Queensland trainer Tony Brett says his brindle powerhouse will recover in Victoria for at least another week before making the trip back to the Sunshine State where he will live the life of luxury as a house pet.
"It wasn't a nice way for him to go out – it broke my heart when I saw him do it," Brett told Australian Racing Greyhound.
"He broke two tarsal bones in the hock, but they will heal fine. He is in a cast now, which he is a bit annoyed about – but that's not forever and he is good within himself which is the main thing."
Thirty Talks retires with 51 starts for 30 wins and six placings and over $366,000 in prize money. His major wins were in the 2016 Group 1 Brisbane Cup, the 2016 Group 2 Ipswich Cup, the 2017 Group 2 Geelong Cup and the 2016 Group 3 Richmond Riches.
"Packer" also finished third in the 2016 Group 2 Queensland Derby and was a finalist in the 2017 Group 1 Winter Cup, the 2017 Group 1 Silver Chief Classic, the 2016 Group 2 Vince Curry Maiden and the Group 3 Gold Coast Cup in both 2016 and 2017.
His record is particularly remarkable given he spent almost eight months on the sidelines after dropping a back muscle when leading the Group 1 Silver Chief Classic at The Meadows in January last year.
He returned to the track in late July and went on to win another seven races including the Group 2 Geelong Cup in October.
"You don't plan to get them back from an injury like that – especially good dogs like him," Brett said.

"For him to come back and win the Geelong Cup after doing his back muscle just shows how good of a dog he was and how determined he was to race.
"Unfortunately he missed more than six months of racing and when he did that he was in his prime.
"He looked like doing what Aston Dee Bee is doing now – breaking through for his first group win and then dominating and stamping himself as the best in Australia.
"He never got that chance, but we couldn't have been prouder of how he did come back."
Once he is fully recovered, Thirty Talks will return to stud and Brett is hopeful breeders will utilise him.
"His temperament and personality are exceptional – I rate that very highly in a stud dog," he said.
"He was also a very good chaser. He didn't lead about 75 per cent of his races, so he quite often had to come from behind so that shows he had good chase instincts and he was also very smart in a field, which is rare."
Brett said Thirty Talks could stay in Victoria long enough to extract a couple of straws once he has made a recovery, but explained he won't be down there long term as he and his family are looking forward to having their mate back home.
"I'd love to see people use him at stud, but at the end of the day the dog doesn't owe us anything, so even if they don't he will get the retirement he deserves.
"We have a Cavalier King Charles spaniel, a cavoodle and old Mac [Glen Gallon] already living inside so we've got to work out how he'll fit in – but no matter what he's going to live the life of luxury.
"Packer and Mac are both beautiful dogs. Throughout my entire career they are the two dogs which are as close to human as you could get – if they could talk to you they would!"