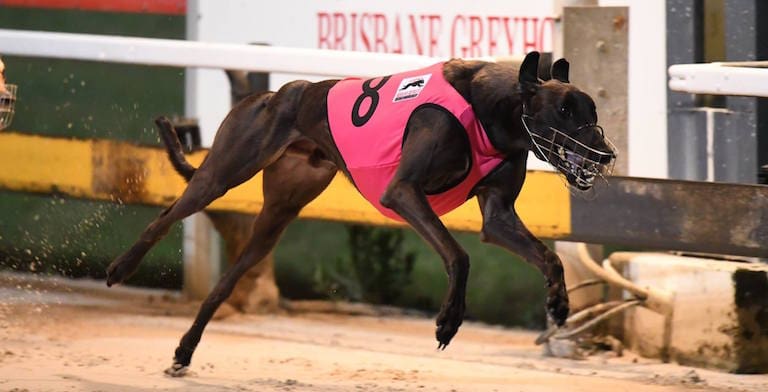 TONY Brett has paid tribute to his star sprinter Opal Nera, which was euthanised after sustaining an injury to his femur in a heat of the Group 1 Golden Easter Egg (520m).
Brett rushed the black dog to an after hours vet following an initial diagnosis on track, however x-rays revealed the worst-case scenario and he was humanely euthanised.
"I have only had one other broken femur in 40 years and that was a pup in a paddock which got pushed into a tree," Brett said.
"You don't expect that type of injury just coming around the home turn. We initially thought it may have been his hock, but we soon realised it was his femur.
"I rushed him to Ted Humphries and they did an x-ray. I knew I had to try everything to fix him – I just wanted to be able to bring him home.
"Unfortunately the vet said there was no way to fix it."
REPLAY: HECTON BALE (B8) claimed the 2018 G1 #AustralianCup in 29.53 for trainer Andrea Dailly over HASTEN SLOWLY (B7) and OPAL NERA (B6) @themeadowsdogs #AusCupCarnival pic.twitter.com/U6hinW97J1

— Greyhound Racing Vic (@GRV_News) March 3, 2018
Opal Nera faced the starter 32 times, winning 13 races with nine placings and $121,000 in prize money earnings.
The son of Dyna Tron and Black Sambuca won the 2017 Group 3 Gold Coast Cup and ran third in the Group 1 Australian Cup on March 3.
He also made a further six feature race finals including the Group 1 Maturity Classic and the Group 2 Lismore Cup.
Brett said the loss has hit hard, with Opal Nera his family's favourite dog.
"We have lots of dogs and to others they might just be animals, but we spend that much time with them that they really do become part of the family.
"We love all of them, but some of them have that little bit more personality which makes them even more special and he was one of them – we all just loved him.
"We planned on keeping him after he retired, so it was really tough trip home alone on Sunday and then taking his name off his kennel was very sad."
Champion Queensland trainer Tony Brett will be looking to win his 2nd G1 Australian Cup after Opal Nera's impressive go-to-whoa victory in the second of last week's heats over 525 metres. MORE: https://t.co/Ql1xwDASU0 @SkyRacingAU @GRV_News pic.twitter.com/wXTFOpJ4Tk

— The Meadows (MGRA) (@TheMeadowsDogs) February 28, 2018
Brett acknowledged the on-track vet and Wentworth Park staff for helping to take care of Opal Nera after the race, as well as leading trainer Seona Thompson who gave him plenty of love and attention.
He said he takes solace knowing Opal Nera didn't feel any pain and went out doing what he loves.
"He wasn't in pain and he was very relaxed which allowed me to spend some time with him and give him plenty of cuddles.
"They all get so much joy out of what they do – when you go into the kennels they all get excited thinking its their turn to go to the track.
"He loved to run and he loved racing – it's what he was born to do."
Brett said he rates Opal Nera's third in the Group 1 Australian Cup two starts ago as his finest performance, holding off some of the nation's best to finish on the podium.
"We couldn't have been prouder of him. He wasn't the fastest dog or the prettiest of gallopers, but he got the job done and he was very special to us.
"We certainly wont forget him, that's for sure."
More Greyhounds News