Queen of Albion Park retired after 45th career win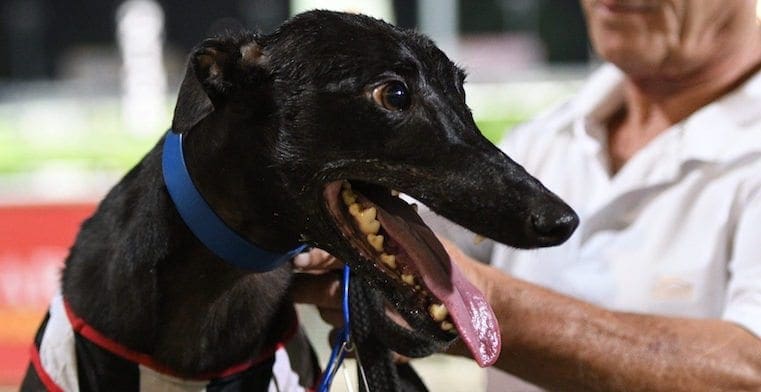 QUEENSLAND star Cyndie's Magic (Magic Sprite x Regal Silver Mar '13) has been retired after a career spanning 152 starts.
Trainer Bill Elson and owner Cynthia Elson decided to pull the pin on her racing career after she recorded another trademark come-from-behind win at Ipswich on Thursday night.
The victory was the 45th time she has saluted the judge in the top spot, having also run 41 seconds and 26 thirds.
"It's bittersweet," Cynthia Elson said.
"She is due to come on season soon. We were actually going to retire her and breed from her last season, but they brought in the new pink card rule and we didn't have that organised in time so she raced on another year."
Often labelled the Queen of Albion Park, Cyndie's Magic is renowned for her barnstorming finishes, dropping out of the race in the early stages before weaving her way through the field and flashing home in the final straight.
While she never won a group 1 race, Cyndie's Magic often competed at the top level. Among her finest performances was a win in the 2017 Group 3 Queensland Cup, the 2017 Rockhampton Cup, the Winter Chase, the President's Cup, the Clem Jones Cup and the Winged Runner Trophy.
She also ran second in the Group 1 Gold Cup (twice) and the 2015 Group 1 Brisbane Cup, third in the 2016 Group 1 Winter Cup and the 2017 Group 2 Lismore Cup and was a finalist in the 2015 Group 1 Gold Cup, the 2015 Group 2 Queensland Futurity, the 2016 Group 2 Topgun Stayers, the 2016 Group 3 Ipswich Cup and the 2018 Group 3 Queensland Cup. Amazingly, she retires having earned over $425,000 throughout her career.
"She has done us proud – you couldn't ask for anything more from her," Elson said.
"She was absolutely brilliant at racing and she gave her best all the time. She used to give them a big start every week which made what she achieved even more remarkable. If she ever jumped who knows what she would have done!"

Cyndie's Magic will now be served by champion racer turned sire Fernando Bale (Kelsos Fusileer x Chloe Allen Mar '13).
Despite his oldest offspring being just two and a half years of age, he has already produced the winners of eight group races – Allen Ablett (x Langi Bale) winning the Group 1 Hatrick Classic and the Group 1 Spion Rose, Out Of Range (x Nicki Fields) winning the Group 1 Silver Chief and the Group 1 National Derby, Dirk Bale (x Langi Bale) winning the Group 1 Auckland Cup, Hecton Bale (x Searle Bale) winning the Group 1 Australian Cup, Poke The Bear (x Nicki Fields) winning the Group 2 Traralgon Cup and Mossimo Bale (x Searle Bale) winning the Group 2 Cranbourne Cup.
"People say all the time that a champion greyhound or race horse won't thrown, but I am hoping she is different," Elson said.
"Time will tell, but hopefully she and Fernando Bale click. We'd be over the moon to end up with one half as good as her."
And Elson already has plans for Cyndie's Magic once she has had her pups – even if Bill isn't totally on board yet.
"She will stay in the whelping room and get pampered for 62 days like all the others, then after she has her puppies I think I will bring her inside," Elson said.
"She is such a little sweetie and she deserves it. Her mum Regal Silver lives on a great big lounge inside the house and I reckon there is a spot right there next to her.
"Bill says no, but I will have the last say!"
Similar Greyhound Racing News