Refined give Shinners family a treble with WA Oaks victory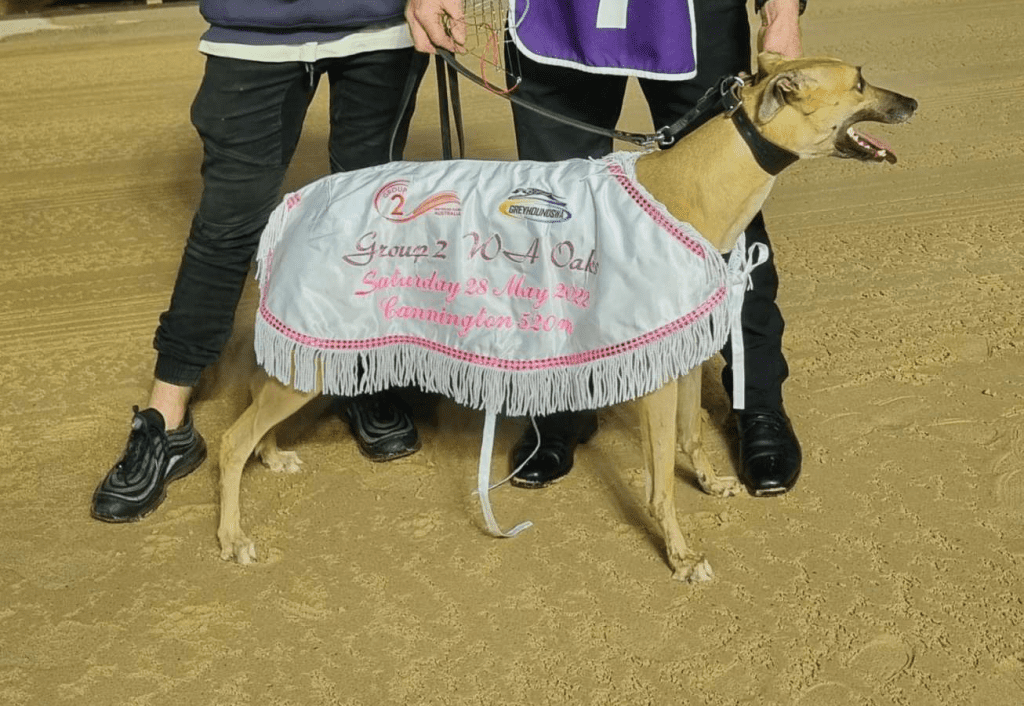 You wouldn't have thought Refined had so many recent issues jumping out of the boxes after her brilliant victory in the WA Oaks at Cannington on Saturday night.
But it wasn't long ago when co-trainer Steve Shinners had plenty of headaches managing the talented almost two-year-old and her misfiring starts.
That was why it was so satisfying for Shinners, and his wife and fellow trainer Krystal Shinners, to witness the classy nature of the bitch's triumph in the Group 2 feature worth $57,000 over 520m.
Starting from box seven, the second favourite with greyhound bookmakers at $3.30 to win crossed early and efficiently from her lane, getting in front of eventual fourth-place getter Danni's Gem by the first turn.
There was no stopping the young chaser from there, going on to salute by seven lengths, with the Shinners recording a memorable treble for the evening.
Kennelmates Major Sacrifice and Exhilarate also prevailed.
"She's a very good little bitch. We had high hopes for her when we got her, and we had to do a fair bit of box work," Steve Shinners told australianracinggreyhound.com.
"Her box manners weren't great, and you probably wouldn't believe it the way she comes out now.
"She was missing the kick and running wide and doing silly things.
"As a young dog, she didn't have a lot of preparation after her breaking-in. She only had a couple of runs and then came on season."
Shinners acquired Refined from his long-term friend Harry Manolitsis – a Victorian breeder, owner and trainer who has enjoyed plenty of success over the years.
"Harry hadn't done a lot with her, and then he had to go for an operation, so I took three or four of his dogs for him," Shinners said.
"And then I just started from scratch. I was breaking in my own dogs and I took her back to the trial track and re-educated her out of the boxes.
"It certainly paid off."
Despite putting in the hard yards, Shinners always knew how much talent Refined had from day one.
"It was a big thrill. We had a lot of people saying 'she's too young and she's inexperienced'," he said.
"(But) she's got early speed – 5.40 seconds (in the first section) for young dogs is elite, and she's trialed at 5.38 before.
"So that's getting up there with all the really good dogs for that section.
"She's just got to get a bit stronger around the track and hopefully she can go on to bigger and better things."
2022 WA Oaks (Cannington, 520m) – Refined (29.92)
Saturday night's victory was only the fourth start for Refined. She now has three wins and her future looks bright.
"She's only a baby and she hasn't had a lot of experience over 500m yet. So with natural maturity she should get a bit stronger in that last section and she could end up a really nice little bitch," Shinners said.
"She'll go back to winning a couple of novices at Cannington. Then we might have a look around for some young bitch races around the country.
"We'll probably target the (South Australian) Oaks in September as her main one. There's one coming up in Queensland, but she's probably not experienced enough at the moment.
"It'll be too rushed, but we're definitely looking at Angle Park to have a crack at."
Refined has the benefit of strong pedigree.
Elevated, trained by Manolitsis, is her dam. She won 12 from 30 starts with over $152,000 in prizemoney, before retiring in May, 2019.
"Elevated has been a great mother. We've got Amplified out of her before as well, and she's won 12 of 20," Shinners said.
"Levitation, Revolution and a couple of smart ones were in this litter as well.
"The other sister (Starling) is nowhere near as good as her, but she's won three out of four. She won again at Mandurah (on Sunday night).
"So she (Elevated) has been a good little producer. She had three winners in two days this week.
"She's doing a great job, the mother, and it's very satisfying."
Shinners won't forget having three winners on WA Oaks Night anytime soon.
"That was really satisfying. Major Sacrifice dropped a back muscle at Christmas time," he said.
"I spent about eight or nine weeks on him getting him right. And then he had four or five runs up the straight and pulled up super.
"First run back he re-tore it. He was out another six or seven weeks. They don't often come back from that.
"I've spent a lot of time working on him. It was a big effort. That was his first 600m run back from the injury. He was very impressive.
"Hopefully he can stay sound for another few months.
"The other dog who won, Exhilarate, he's a brother to Amplified in the litter before Refined.
"So it was a big night for Harry and (his wife) Adean as well. (As owners of Exhilarate and Refined) they loved it."
---
Similar Greyhound Racing News