Retired greyhound races into the hearts of his forever home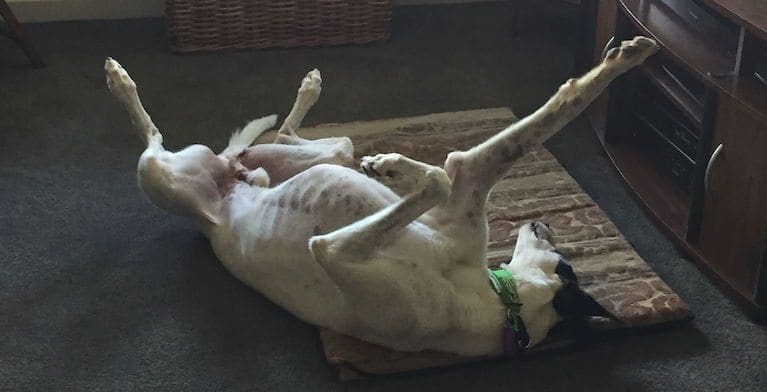 KERANG local Sue Jordan is thrilled she had a change of heart and decided to adopt another dog with her husband, Steve.
The retired husband and wife have recently welcomed 'Racer' the greyhound to their family after attending the Greyhound Adoption Program (GAP) day at Bendigo on February 25.
Known on the track as 'Don's Racer', a winner of six races, Racer was one of thirty-four greyhounds which found a forever homes on the adoption day attended by 170 people.
Jordan, a self-confessed dog lover, said it was only a matter of weeks ago she remained adamant that their household would not be getting another furry-companion.
"We were a family who have always had dogs. Our last dog was a Labrador which I was given as a birthday present. Unfortunately, she was put down last April and it broke my heart – I put my foot down after that and said that I didn't want to get another dog," Jordan said.
"But my husband started saying that he really wanted a dog now that he has retired, over time I relented on the condition that our new dog was either a rescue dog or a greyhound.
"He wasn't overly keen on a greyhound, but I showed him the GAP website and he saw that there was an adoption day at Bendigo. We weren't doing anything so we decided to put in an expression of interest form and I guess the rest is history!"
Don's Racer winning off box one.
Jordan concedes she wasn't always keen on getting a greyhound, but an interview she heard several years ago with leading Melbourne Vet Dr Hugh Wirth had convinced her a retired racer would be the perfect dog for her family.
"A couple of years ago I heard Hugh Wirth on the radio talking about greyhounds. Like a lot of people, I had the perception that they needed a lot of exercise and probably weren't family friendly.
"He dispelled a lot of those stories and since then it's been something which has always been in the back of my mind.
"You read that they are couch potatoes and that's exactly what they are."

Despite short-listing a number of dogs they felt would fit into their lifestyle prior to heading to Bendigo, Jordan said her husband was instantly smitten when meeting Racer.
"There were a few dogs we had looked at online, but we tried to go there with an open mind thinking that the right dog would pick us.
"Virtually straight away my husband found Racer and he wouldn't look any further – he knew he was the one for us.
"As it turns out he was born on our wedding anniversary – so it's almost like it was meant to be."
Jordan says Racer has fit in well, having already mastered the stairs and winning over the entire family with his charm.
"So far he is the perfect dog for us," she said.
"We could not be more in love with him, he is so relaxed and quiet. He has already met our grandkids and he was a superstar with them which was just magic considering we have four under four.
"He loves all the pats and cuddles – he is so gentle with them and I truly don't think there is a mean bone in his body."
Jordan is now urging everyone she meets to consider a retired racing greyhound as a pet. She said by more people meeting and understanding the breed, she is hopeful that some of the stigma and misconceptions surrounding greyhounds are quashed.
"The perception is that they are just there to make people money, but I don't think that's entirely true.
"Racer has in no way been mistreated – he is a very loveable and well adjusted boy – and someone obviously cared for him enough to put him into the GAP program.
"It shows the good side of the industry and we are so glad his owner decided to re-home him as a pet because we love him already and can't wait to make lots of memories with him."
Have you adopted a greyhound and have a story to share? Feel free to send us the details through to [email protected]
More Greyhounds News