Retired NSW greyhounds to support US law enforcement officers' welfare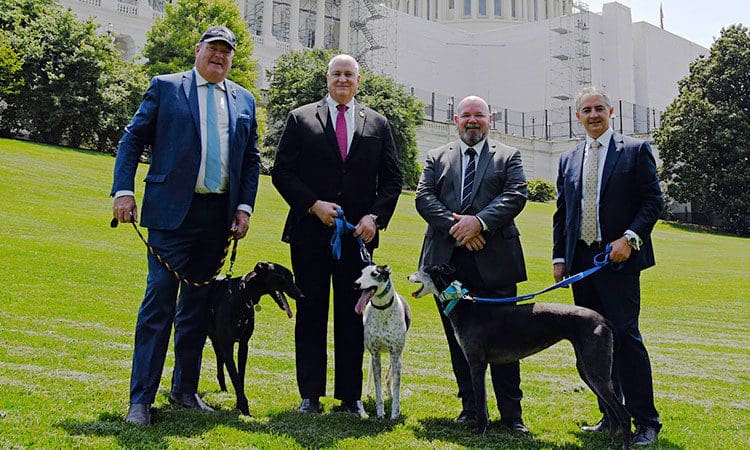 In a groundbreaking stride towards enhanced welfare for both retired racing greyhounds and former US law enforcement officers, a unique partnership has been established.
Forged by Greyhounds Australasia (GA) and Greyhound Racing New South Wales (GRNSW) in tandem with the US Fraternal Order of Police (FOP), the agreement promises to carve out a new life for these retired Australian racing dogs as therapeutic companions in the United States.
This innovative initiative will see the immediate establishment of a supply channel, dedicated to transporting these greyhounds from Australia to the US, ensuring their smooth transition to their new homes among the members of FOP.
These greyhounds will undergo training to serve as companion animals, a role akin to the one they already play in programs currently being run in Australia with the Australian Federal Police Association and the Police Association of NSW.
Patrick Yoes, the FOP national president, shed light on the necessity of such programs, pointing out the harsh and traumatic situations that US law enforcement officers are exposed to regularly, often leading to severe mental health conditions such as PTSD and acute stress disorder.
Yoes further emphasized the proven positive influence that therapy animals have had on individuals in such predicaments, referring to the substantial impact visible in case studies from Australian programs.
Rob Vellar, the chairman of GA, conveyed his enthusiasm and optimism about the immediate implications of this agreement for greyhound racing.
He encapsulated this partnership as a harmonious blend of human and animal welfare, expressing his conviction that, similar to their Australian colleagues, members of the Fraternal Order of Police in the US would also experience the immense benefits of greyhounds as companion animals.
The initiative builds on the ongoing efforts of GRNSW, working in collaboration with Greyhound Pets of America, to address a shortage of the breed for adoption in the US.
---
---
Similar Greyhound Racing News