Richmond Maiden: Chica Destacada produces an outstanding girl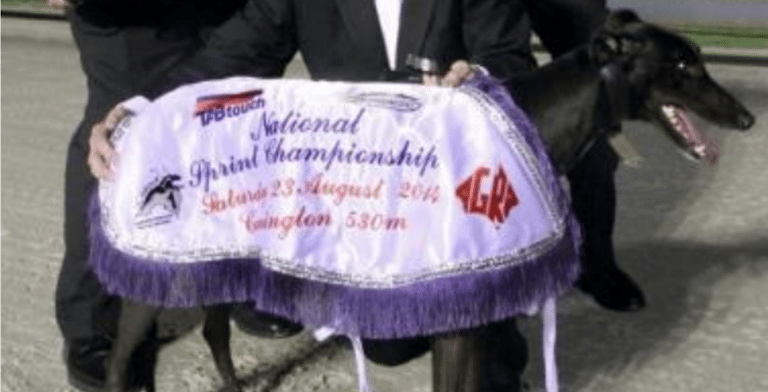 GROUP 1 winner Chica Destacada (Cosmic Rumble x Eluthra May '12) was a superstar on the race track and her success looks to have translated to the breeding barn with the regally-bred Poco Dorado (Fernando Bale x Chica Destacada Apr '16) recording a brilliant win in Friday's Listed Globe Memorial Maiden (535m) at Richmond.
The light fawn bitch gained a start in the final off box eight following the scratching of kennel mate Winsome Express and was sent to the traps as the second favourite behind her brother, Two Times Twice.
Poco Dorada stepped well from the outside, carving across to slip into second position behind Tear Town (Fernando Bale x Tears Siam Feb '16) in the run around the first turn. Coming off the back Poco Dorado found the front and hit the accelerator, charging clear to win by three and a half lengths in a fast 30.51.
Tear Town held on for second spot and Two Times Twice rounded out the trifecta back in third, giving Fernando Bale the first three across the line.
Trained by John Finn, Poco Dorado has now won one of her three starts, her other runs being a second and third placing in her heat and semi-final of the maiden series respectively.
Peter McDermott, who owns and bred the litter with his mate Dennis Donoghue, said it was no surprise to see Poco Dorado record such a commanding win.
"John [Finn] has always had a high opinion of both Two Times Twice and Poco Dorado – they have always been the early developers in the litter," McDermott told Australian Racing Greyhound.
"They are diametrically opposed pups – Two Times Twice is a 31.5kg dog and Poco Dorado is only 25.4kg – they are the biggest and smallest in the litter.
"Chica was only small too, but one of her great traits was her ability to get out in front and stay out of trouble.
"Poco Dorado isn't nailing the start yet like her mother did, but she is getting progressively better so hopefully with a bit of experience she can start beginning well.
"With that being said her overall time was amazing – she is only 18 months old and she has already gone quicker than Chica did at Richmond."

Both pups look to have bright futures, with others from the litter also showing some talent. Veloce Nero looks to be close to a win after running a massive second on debut at Dapto last Thursday and Blue Moon Rising has two handy performance trials under his belt.
The success of the litter so far is a massive thrill for McDermott and Donoghue, who also raced Chica Destacada, which was bred and trained by Doreen Drynan, winning 24 races including the 2014 Group 1 National Sprint Championship.
Amazingly, 'Chica' was McDermott's first greyhound, having purchased her with Donoghue for a bit of fun.
"I have known Dennis for 30 years – back then I was young and trying to make it as a harness racing trainer. I set up a stable and Dennis gave me a couple of horses to train which he bred – we had some success and have stayed friends ever since.
"Neither of us are involved in harness racing anymore, but Dennis raced an older half-sister to Chica by Premier Fantasy called Closing Time and John Finn trained her to win 12 races.
"I told him if Eluthra had another pup for sale that we would go in together and the rest is history."
Chica Destacada was one of the most popular greyhounds of her era, with the bonny black bitch renowned for early speed and her unusual name which is Spanish for outstanding girl.
Now the 'Dee and Pee Syndicate' are hoping Chica's pups can make names for themselves too.
"My son Mitchell studied at University in Mexico and Columbia for two years where he learned Spanish and he came up with the name Chica Destacada.
"I remember Doreen and Kerry Drynan thought the name was a bit out there at first, but we told them the dog would make the name which she did.
"Hopefully it's the same for these two – Poco Dorada is Spanish for small and golden.
"Two Times Twice was my concoction, it drives me crazy when people say their dog won two times at Wentworth Park when they could just say twice.
"It's something that always catches my ear and hopefully the name does in time too."
Similar Greyhound Racing News