Rimmer hoping for better beginning heading into Peter Mosman semi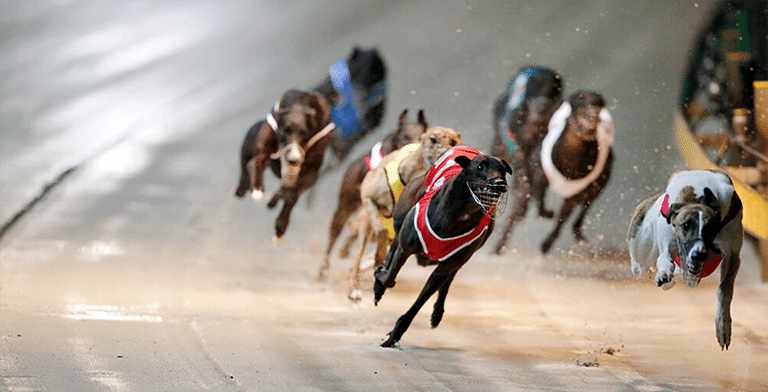 MAX Rimmer says he plans on doing plenty of box work with his star chaser Patch Adam in the lead up to next weekend's Peter Mosman Classic semi-finals at Wentworth Park.
Patch Adam will progress through to the second round of the group 1 series after scoring an emphatic last-to-first heat win off box six on Saturday night.
The black dog practically fell out of the traps before weaving his way through the pack, hitting the lead in the home straight and powering clear to score by one and three quarter lengths in a slick 29.96.
Rimmer said while it was disappointing to see his charge bomb the start, it is hard to fault the dog which showed tremendous tenacity and will to win.
"When he came out so poorly I just thought 'what are you doing you nutter' – it can be a little bit disheartening to see him come out like that but I know he can step on his night and he can certainly run," Rimmer told Australian Racing Greyhound.
"He did everything right except for coming out of the boxes – he is a very quiet dog but as soon as he gets near the race track he starts yelping and carrying on.
"When he is in the boxes the other trainers comment on how much noise he makes – when he hears the lure he just looses it."
Patch Adam, owned by Max and his wife Helen, is by Black Magic Opal out of Limited Addition and has now won 10 of his 24 starts with seven minor placings.

Rimmer says he has faith Patch Adam can turn his box manners around for the semi-finals, just like he did when stepping well and winning a heat of the Group 3 New Sensation in 29.55.
"He can actually run really good first sections – just not when he falls out of the boxes and is three lengths behind everyone else," Rimmer said.
"I would love to see him come out at Wentworth Park because he is really starting to hit his straps there – he rails beautifully through the corners and he is capable of reeling off some fast times.
"We are going to try a few little tricks with him to see if we can get him coming out a bit better this week – he tends to do everything right when we give him box work but we will give it a go."
Despite some of Australia's best tackling the semi-finals of the $75,000 to the winner series next weekend, Rimmer says his greyhound is good enough to match motors with them all on his night.
"There are some very good dogs through to the semi-finals – Lucky Chap, Aston Dee Bee and Up Hill Jill will all be very hard to beat.
"He really can't afford to give those type of dogs a start – its one thing to miss it in the heats but the semi-finals are going to be a lot harder to win.
"If he can come out with them this week we will see what he is capable of – I honestly believe he is able to match it with any of the heat winners on Saturday night – but he has to begin."
All up, eight heats of the Peter Mosman Classic were run on Saturday night – time honours going to Anthony Azzopardi's Lucky Chap which clocked 29.56 in the final qualifier. Azzopardi also won the seventh heat of the night with Rohan Hill in 29.96.
Meanwhile, star Victorian Up Hill Jill continued her quest for an elusive group 1 trophy when taking out the fourth heat in 29.97, whilst Aston Dee Bee also set tongues wagging with a gritty 29.93 victory for Seona Thompson.
The remaining heats were won by NSW trainers, with Central Bark taking out the opening race in 30.47 for Mark Bell. The fifth went to Jodie Van Enkhuyzen's Charrua in 29.92, whilst the remaining qualifier was claimed by Hunter Valley greyhound Yankee's Ethics for David Smith.
The top four from each heat will progress through to Saturday's semi-finals where the first two across the line in each qualifier will make it through to the $75,000 feature on June 17.