Rock Up Top brilliant in Group 2 Launceston Cup heat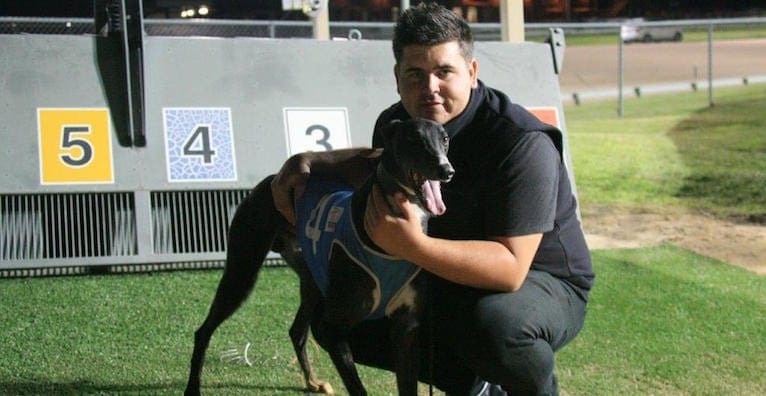 ROCK Up Top (Spud Regis x Proven Wag May '15) continued his quest to make all three Tasmanian group finals when taking out his heat of the Group 2 Launceston Cup (515m) on Monday night.
The Victorian chaser, which is currently being trained at Brighton by Blake Pursell, showed brilliant early pace in his qualifier, rushing straight to the front in 4.99.
Once he was out in front it was a case of times and margins, with the black dog stretching out to defeat Hogwash (Premier Boloney x Silent Girl Jun '15) by four and a half lengths in an equal best of night 29.62.
He now moves through to the semi-finals next Monday night and, if successful, he will have made the three biggest races on the Apple Isle – having won the Group 1 Hobart Thousand and finishing third in the Group 3 Devonport Cup.
Pursell, who is looking after the powerhouse performer for Rob Britton who co-trains with his father, Brendan Pursell, said he was thrilled with Rock On Top's heat effort.
"He was drawn well – box two meant that if he didn't jump out and lead he could have still settled just behind them, but luckily he came out running and he was able to lead all the way.

"I thought he'd go well. He had a trial there and a start the week before where he came up against a quality dog in Shima Sun which is very hard to beat on the bunny.
"To follow that up and come out and do what he did [on Monday] night – I was thrilled with him."
Rock Up Top has now won 12 races from 58 starts with 18 placings – his prize money sitting on $140,000.
Pursell said the 32-kilogam racer is underrated, but is glad to see him showing people what he is capable of.
"Before he came here he ran third in a Group 3 special event at Sandown and he has beaten some really good dogs – there was a start where he beat Raw Ability fair and square.
"He is definitely a bit underrated – but when he gets out quick and goes he is a very fast dog."
Six heats of the Launceston Cup were run and won on Monday night. The remaining qualifiers were won by Hemsworth (Black Magic Opal x El Brooklyn Jan '16) in 29.76, Soft Sand (Magic Sprite x Bralyn Nicky Oct '14) in 29.94, Two Bills (Spring Gun x China Lady Feb '15) in 29.62, Zulu Knock's (Zulu Zeus x Cosmic Dryva Mar '15) in 29.70 and She's A Honey (Fernando Bale x She's All Class Dec '15) in 30.01.
Three semi-finals will be held next Monday night, with first and second as well as the two fastest third progressing through to the $40,000 to the winner final which will be run on February 19.
Similar Greyhound Racing News