Royal Turbo ready to motor in Group 1 Peter Mosman semi-final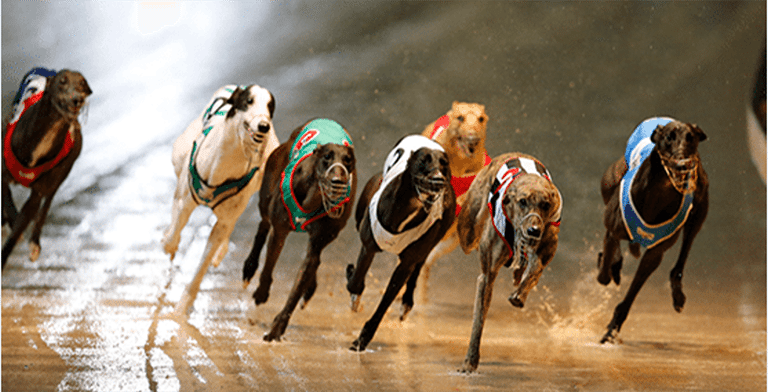 GLEN McKinley says his exciting youngster Royal Turbo is capable of sharp improvement heading into Saturday night's Group 1 Peter Mosman Classic semi-finals at Wentworth Park.
The blue brindle dog ran fifth in his heat last week behind Up Hill Jill, with the run just enough to see him scrape through to the second round of the series.
McKinley said he was happy just to make it through to the semi-finals, with the heat performance being Royal Turbo's first start in almost a month.
"He has been injured and we thought he would be short of the run, but we threw him in the heats because it's a one off series due to the age restriction," McKinley told Australian Racing Greyhound.
"He ran well, but he ran out of puff in the past 100m which I was expecting – I have given him a trial at Bulli this week and I expect him to be much better for the run."
McKinley says his charge has pulled up well after the run and is showing no signs of 'tying up' which contributed to his time on the sidelines.
"The dogs have to be 110 per cent healthy when you are racing at this level – if they aren't right they can't measure up with the top dogs they are racing against.
"He has had some rest and he is pulling up well now without any issues or tying up…hopefully we have got him right now."
Royal Turbo will exit box three in the first semi-final this Saturday night, coming up against Anthony Azzopardi's Lucky Chap which set the time standard last week with a flying 29.56 heat victory.

However, McKinley says Royal Turbo, which won the Group 3 Christmas Gift at Wentworth Park last December, is good enough to feature in the finish.
"I am under no illusion that this week is going to be harder – Lucky Chap ran a phenomenal time last week but I think my bloke is good enough to run second to him and that will be good enough to make it through to the final," McKinley said.
"He loves Wentworth Park and box three should suit him down to the ground… I expect him to put his best foot forward this week and run in the first two.
"I really believe he is good enough to make the final – if he can step well and get up towards the front around the first turn I reckon he can run in the first two for sure and if he can do that I think he will be at his peak heading into the final with a few runs under his belt."
Royal Turbo, which turned two years of age in January, has won 10 of his 28 starts with seven minor placings. McKinley says the son of Swift Fancy and Addiction is only going to get better as he matures into a top class race dog.
"He is a bit underrated – he is always a bit of a price – but he has run 29.88 at Wentworth Park and I think he is only going to get better," he said.
"He is only two years and a bit years old so providing he stays sound I think his best racing is in front of him."
This week's semi-finals are packed full of quality, with other big names including Mister Twister (race five box one), Up Hill Jill (race six box one), Aston Dee Bee (race six box four), Patch Adam (race seven box one) and Chevy King (race seven box five).
The first semi-final is race four and is set to jump at 8.27pm.
More Greyhounds News