Royal Turbo ready to slip into top gear in Christmas Gift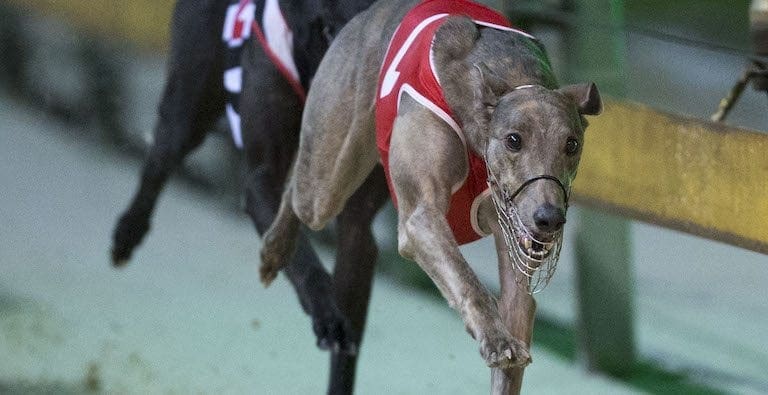 CONSISTENT NSW greyhound Royal Turbo (Swift Fancy x Addiction Jan '15) will be aiming to go back to back in the Group 3 Christmas Gift when he takes his place in the $25,000 to the winner decider this Saturday night at Wentworth Park.
Trained at Agnes Banks by Glen McKinley, Royal Turbo qualified for the race when running second in his heat over the weekend, leading all the way before being pipped on the post by Milky Jones (Spring Gun x Irish Marina Mar '15) in 30.38.
McKinley said he was happy with the run, believing his greyhound was not suited by the heavy track which was harrowed hours before the meeting commenced.
"I thought it was a great run. Nothing against the other dog winning, but the state of the track at Wentworth Park on Saturday night was an absolute disgrace," McKinley told Australian Racing Greyhound.
"All of the leaders were coming back to the dogs behind them and even the champion Fanta Bale – a one-mil-lion-dollar dog – got run down.
"Under the circumstances I thought it was a terrific run."
Royal Turbo took out the 2016 Christmas Gift as a 20/1 outsider, downing a great field including multiple group winner Mister Twister (Collision x Double Twist Jan '15). Since then he has been competitive at the top level, winning nine city races at Wentworth Park and Sandown Park with a 29.77 personal best in the Harbour City.
A full year after his biggest career win, McKinley believes his greyhound is racing better than ever.
"He is really well within himself and we are excited to have him in the final again a year later.
"He is turning three in January so I am hoping there is plenty of racing left in him. He is at his peak at the moment and there is no reason why he can't go well in the final.
"The warmer weather is helping him a lot – he was cramping through-out the winter months and that was stopping him from running out the real strong 500.
"That's not an issue anymore and I am sure he will be very competitive and he will do his best on Saturday night."

Royal Turbo will exit box five in Saturday's race against a quality field including Barking Bad (Bella Infra-red x Ebby Miss May '14) which won his heat in 29.98 and Riley Tokaam (Don't Knocka Him x Skyela Tokaam Mar '15).
Also progressing through to the feature are two runners from Jodie Lord's kennel – Bombshell Bandit (Collision x J's Robin Jul '15) which won her heat in 30.43 and dual Cup winner Champion Model (High Earner x Clay Model May '15) which finished second behind Riley Tokaam.
Completing the field is Black Hole Sun (Cosmic Rumble x Chas-ing Diana Jan '15), which finished second behind Barking Bad and will be looking for his second group 3 win after winning this year's Ambrosoli on Golden Easter Egg night.
Although many trainers would be sour about coming up with the yellow rug, McKinley believes it may suit his front-running sprinter.
"When he came out with box five I wasn't too disappointed.
"Leading trainer Frank Hurst has always told me if you have a fast beginner and can't have box one then box five is the next best – they have more room because there is a bigger space in between boxes four and five.
"He won his heat of the Christmas Gift off box five last year and he has run a couple of nice races from it so I don't think it's a problem."
Win, lose or draw, McKinley said he is proud of his charge for making the final.
"It would be fantastic for us and the dog if he were able to go well.
"There are much faster dogs than him out there, but he is a front runner and he makes it hard for them to get past him so you have to give him a chance. He has raced and beaten some good dogs throughout his career.
"I'm not expecting too much. It's a strong field this year up against dogs like Riley Tokaam and Barking Bad and I think they are definitely the two to beat, but as long as he comes home safe and tries his best that's all I can ask."
The Group 3 Christmas Gift will be run and won at Wentworth Park this Saturday night.
More Greyhounds News