Runway Bono wins NZ's Group 2 Nancy Cobain Distance Final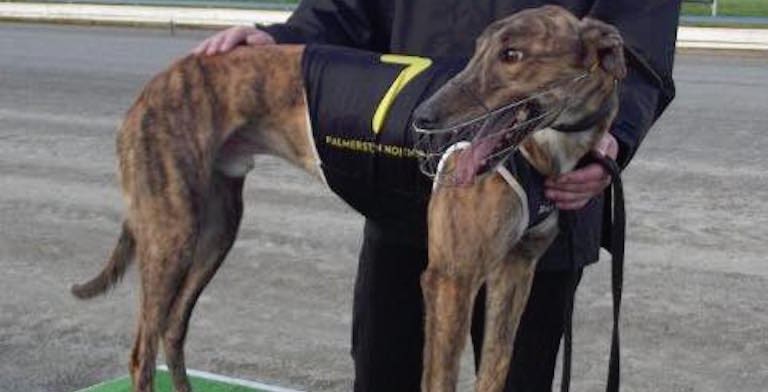 FORMER NSW greyhound Runway Bono (Cosmic Rumble x Runway Ready Jul '14) broke through for the first group win of his career when taking out Monday's Group 2 Nancy Cobain Distance Final (660m) at Manawatu.
Owned in Australia by the Punters HQ Syndicate, Runway Bono was sent to the boxes as a $4.80 chance, with fellow Aussie expat Ring The Bell (Kinloch Brae x Absolute Stunna Nov '13) the odds-on favourite after setting a new track record in his heat.
When the lids flew open, Runway Bono was quick to exit box one and held his position on the fence before being joined and headed by Thrilling Raider (Sergio x Thrilling Ella Dec '14) down the back.
Despite being relegated to second Runway Bono never gave in and put in a big finish in the home straight to score by around five lengths ahead of Thrilling Raider, with Ring The Bell running on to grab third after finding trouble.

Syndicate representative Craig O'loughlin said Runway Bono's other owners – David, Leo, Carl, Wayne, Pat and Lindsay, who purchased him prior to being sent to NZ, were thrilled with the result.
"We are over the moon, it was the first group win for the Punters HQ Syndicate," O'loughlin told Australian Racing Greyhound.
"There are seven guys who own him – two from SA, two from Victoria and three in NSW. A lot of the boys who own him have been in horses and trotters – but I have had three messages after the race saying this is the greatest feeling they've ever had."
Runway Bono is prepared in New Zealand by Jean and Dave Fahey where he has had 12 starts for five wins and three placings – including a third behind Ring The Bell in the Group 2 Kingston Cup over 732m last month.
WOW…WOW…just WOW!!!

Our first group success

Runway Bono wins the Nancy Cobain Group 2 Final

UNBELIEVABLE @PeterFenemor #FaheyNZ pic.twitter.com/Uwe4av8YAN
Prior to making the move to NZ, Runway Bono was owned by prominent breeder Lorraine Atchison and had been trained by leading NSW conditioner Dean Swain who had trained him toqualify for the Group 2 Summer Distance Plate.
"We wanted a greyhound to race in New Zealand and we identified him as the perfect fit," O'loughlin explained.
"Originally we planned on keeping him here with Dean for a couple of months, but at his first start for us he jumped really well and by the home turn he nearly didn't finish the race through non-chasing.
"Our hearts sunk and we were questioning our decision to buy him and after talking with Dean we decided to send him straight to NZ."
It wasn't an instant form-reversal for Runway Bono, but O'loughlin said team Fahey had been persistent.
"He never switched on at his first start over there, his second start he showed a bit of improvement and then he found a rainy day over there and he blew them to pieces from box seven over 500," he said.
"That was the start of his turnaround – after a few luckless runs he stepped up to the 643m and he blew them away again.

"After that he went straight into a 732m group 2 race – he led his heat and finished third and then led again the final before getting run down by Ring The Bell in the last 50 yards.
"After that series Dave set him for this race and he had won three in a row coming into the final today so a massive thanks to Jean and Dave Fahey because they have done a fantastic job with him."
O'loughlin credits the finish on lure in NZ for helping Runway Bono find his tenacity and recapture his best form at the right time.
"It's the pack mentality – once they realise they get the lure every time they go around it makes them more competitive and he wants to get to the lure first," he said.
"He is back to what he was as a young dog – he is a machine – and the best part is he is only three and a quarter so we are hopeful he still has another year of racing in front of him."
More Greyhounds News