Ryan's Puppy Championship winner to target Hobart St Leger series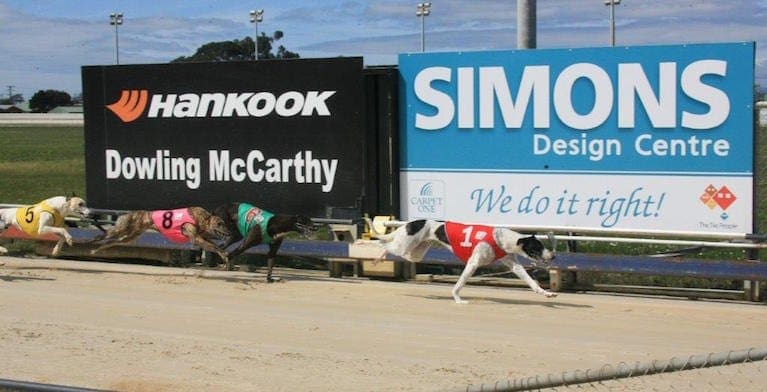 HETTI'S Produce (Destini Fireball x Miss Hetti Dec '15) will contest the heats of the St Leger (461m) at Hobart next Thursday after winning Tuesday's George and Eileen Johnson Puppy Championship (452m) at Devonport.
Trained by Pat Ryan, the white and black dog was fair to begin off box one and was able to barge his way up along the fence, finding the front and kicking clear to defeat Winklee Dutchy (Kc And All x Winklee Whisper Oct '15) and Fernando Bolt (Fernando Bale x She's All Class Dec '15) in 25.72.
The win followed a handy second in his heat behind his litter sister Wynburn Cutie, which started favourite in the final but was never in contention after a slow beginning from box four.
"[Wynburn Cutie] was just too good for him in the heat – she is a superstar – but I was happy with his run in the heat because he hadn't had a run in three weeks," Ryan told Australian Racing Greyhound.
"I was expecting improvement in the final but I knew he'd need a bit of luck – thankfully it all went to plan."
The win took Hetti's Produce's record to three wins and two placings from five starts, with his prize money now in excess of $7,200.
Ryan said the youngster, owned by Scott Bryan, has continued to improve with more racing and age and believes his best is still in front of him.
"He only broke in average, but we were hoping he'd improve because he is a lovely dog and we like having him around the kennels," Ryan explained.

"He is immature. He is a very clever dog, but he is very puppyish – he always wants to play and bound around on the lead.
"Even in his races he is still a bit awkward, but in time I think he will settle down and mature and that's when we'll see the best of him.
"I don't think he's going to be a superstar, but he is a nice pup and he is doing everything right at this stage."
Although he doesn't turn two until December, Ryan says his greyhound is going well enough to contest the $5,000 to the winner St Leger series at Hobart – with two heats set to be run and won on Thursday night.
Hetti's Produce will face some tough company, facing a field including the likes of It's A Deal (El Grand Senor x Hail Queenie Jun '15), Winklee Dutchy and Reality Hawk (Nolen x Top Reality May '15) when he jumps from box seven.
The other heat is also packed with quality – with Wynburn Boxer (Destini Fireball x Miss Hetti Dec '15), It's A Party (Jagger Swagger x It's A Blur Jul '15) and Zipping Jagger (Jagger Swagger x Tricky Rose Jul '15) all meeting for the series.
"He won at Hobart a few weeks ago and it was a massive run. He missed the start, got a hammering but was able to find a gap and went from last to first down the back straight," Ryan said.
"It was an outstanding run and I think Hobart will be his favourite track. He'll head back there on Thursday for the heats of the St Leger which is an age restricted race.
"He is probably going to run into dogs four or five months older than him and if it were any other track I don't think I'd start him in the series, but he has trialled nicely there – he went 26.05 – so with a bit of luck he should go well."
Also set to be run on Thursday night are two heats of the Big Moose Laurels, for female greyhounds. It has also attracted a quality line-up in pursuit of the lucrative winner's cheque such as Wynburn Cutie and It's A Wink (Jagger Swagger x It's A Blur Jul '15).
More Greyhounds News