SA star On Fire ruled out of next month's Group 1 Adelaide Cup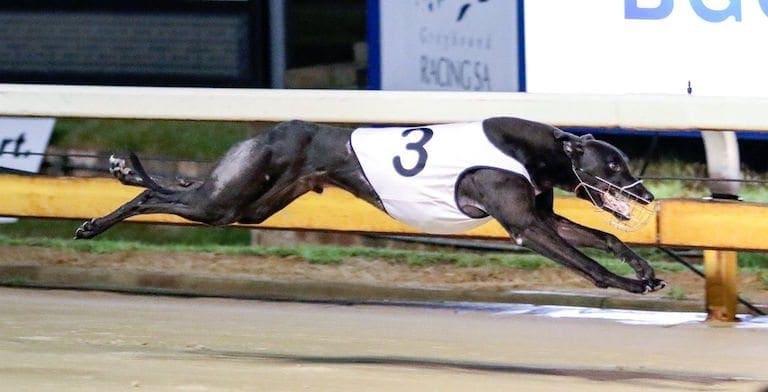 SOUTH Australia's best greyhound will miss the upcoming Group 1 Adelaide Cup (515m) after going amiss at Angle Park on Thursday night.
On Fire (Bekim Bale x Alana Blues Dec '14) had worked his way into third spot down the back, but just as he went to make his run he began to lose ground sharply, dropping back through the field to finish a distant last.
A post-race veterinary examination revealed On Fire had torn his triangle muscle – or hip support – which connects all the muscles in the upper hind leg together.
Trainer Cameron Butcher was naturally disappointed when talking to Australian Racing Greyhound, but says the injury shouldn't be career ending given the correct amount of time and treatment.
"The prognosis is good and we expect him to race again," Butcher said.
"He is at the vets now getting it fixed – surgery is optional but from experience I think it is better for the dog to have the muscle stitched up.
"The recovery period will probably be around two months before he can get back to racing, but all going well he should come back ok."

On Fire has won 30 of his 50 starts for Butcher, with 14 minor placings and more than $140,000 in prize money earnings.
The black dog was the runner-up in this year's Group 1 National Sprint Championship, finishing two lengths behind Jury at Albion Park in August.
The injury could not have come at a worse time, with the $75,000 Group 1 Adelaide Cup set to be run early next month.
"It's not good timing with the Adelaide Cup and the Melbourne Cup coming up but that's how it goes," Butcher said.
"He has been a very good dog for us and he was going so well – it just goes to show how quickly things can change.
"We're trying to stay positive. It could have been worse; he could have done a hock or something so I guess in a way we have been lucky – as long as he's ok that's the main thing."
On Fire was the pre-post favourite with online bookmaker Sportsbet to win SA's biggest feature, with $8 on offer for him to win the series.
Similar Greyhound Racing News