Julep: South Australia's Tiny Titan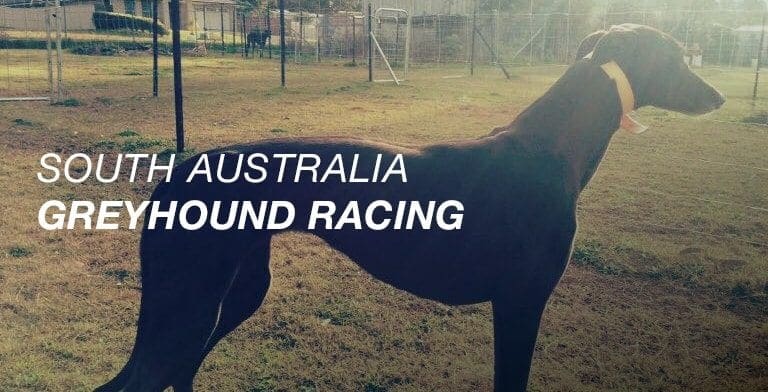 BEFORE she became the best stayer in South Australia and went on to make two National Distance Championship finals, the brindle bitch Julep made her mark early in 1988 with a slashing victory in the South Australian Breeder's Plate (now called the Howard Ashton, a Group 3 event).
Trained by Brian Arthur, Julep, a May 1986 whelping by Red Flag out of Leader's Pledge, weighed in at a tiny 24kgs.
Given her breeding, it would be no surprise that Julep would go on to a stellar career over the longer journey. Her sire, Red Flag, and her maternal grandsire, Leader's Jester and grand-dam, All Promise, had all been successful 'half-milers' at the top level.
Julep's career began on October 15, 1987 with a third placing over 512m at Angle Park, finishing less than a length behind the winner, Lotsa Loot. A week later, Julep scored her first victory, winning by half a length at the headquarters of South Australian racing.
Julep raced three more times in 1987, running two seconds and one third to finish the year having competed five times for one win and four placings.
After a spell of almost three months, Brian Arthur entered his charge in the heats of the South Australian Breeder's Plate at Angle Park on February 2, 1988.
Julep overcame box six to score a three-and-a-half-lengths victory. In her semi-final, Julep had drawn box one, but she found Wild Oak Drive too strong, going under by three lengths. Nonetheless, her second placing was enough to make it into the final.
The Breeder's Plate final took place just three days later, on February 11. Julep, from box three, settled into second place behind Wild Oak Drive. Trailing her heat conqueror until the home corner, Julep pounced and raced away to score by five lengths from Wild Oak Drive in a solid 30.36.
Arthur knew, from Julep's breeding and her racing style, he had a potential top-line stayer in his kennels. After she finished unplaced for the first time in her nine-start career at her next outing, Arthur switched her to the longer journey and set her the tough task of running in a heat of the South Australian leg of the National Distance Championship, run over 731m at Angle Park on February 25.
Julep drew well in box one and quickly raced to a long lead in her heat. Many might have expected her to compound over the final stages, but Julep powered on and scored by 11 and a half lengths in a fair 44.13.
In the final, Julep missed the start and was back in third place for most of the race before coming home solidly in the straight to down Golden Skimmer by two lengths in 44.46.
Unfortunately, Julep was injured and was unable to take her place in the National Distance Championship final, that year held at Wentworth Park.
Julep was out of action for almost six months. She resumed with a second placing over 516m at Port Pirie on August 24. Three unplaced runs followed, at Port Pirie and Gawler (530m). In the last of these Julep was again injured and did not return to the track for five weeks.
Resuming in November, Julep reeled off successive wins over 512m at Angle Park, by 13 and a half and 10 and a half lengths respectively. Sadly, these would prove to be her last victories in sprint events.
She then contested a heat of the West End Draught Distance Championship, over 731m. A little underdone, Julep managed to force her way into the final, finishing five lengths behind Magic Lightning in third place. Proud Gal defeated the great Victorian stayer Bold Trease in the other heat.
In the final, run on November 24, Julep began brilliantly and led all the way to turn the tables on Magic Lightning and score by two lengths, with Bold Trease three lengths further back in third position.
A week later, Julep had her last run for 1988, finishing only fifth in a sprint at Angle Park.
During 1988, Julep had raced only 15 times for seven wins, two seconds and one third. Over the distance trip she had raced just four times for three wins and one third, all against the best stayers available.

Julep resumed racing on January 19, 1989 with a narrow half-length win over Transvaal over 731m at Angle Park, clocking 43.95, her best time to date at the course.

Arthur knew his charge was back to her best and decided to tackle the Olympic Park Distance Championship (later the AWM Distance Title) over 732m at Melbourne's Olympic Park.

Julep had her first look at the course in a lead-up event, held on January 30. Despite coming up with the 'visitor's alley', box six, Julep recorded a stunning seven lengths victory in 44.06.

A week later she annexed her heat of the Distance Championship, defeating Roy Boy by just over a length in a speedy 43.76.

In the Olympic Park Distance Championship final, run on February 13, Julep spaced her rivals, passing the post six lengths clear of Billy Dean in a fast 43.61.

These three races, for three sensational wins, were to be the only time in her career Julep ventured outside of South Australia.

Back home, Julep defeated Transvaal by seven and a half lengths at Angle Park, running 43.63, a time just 4/100ths outside the track record.

Set for the National Distance Championship series, where the final would be run at Angle Park, Julep narrowly won her heat of the South Australian division, holding on to defeat The First Post by half a length in a fast 43.77. It was Julep's sixth win on end.

In the South Australian National Distance Championship final, Julep clashed with her old rival Transvaal in what was a thrilling race. Transvaal held sway for most of the race with Julep at his flanks, and on the line he held on to defeat Julep by half a head.

With the National Distance Championship final being held at Angle Park, it meant South Australia could supply two of the eight finalists and so both Transvaal and Julep lined up against the interstate contenders on March 16.

From box two, Julep began brilliantly and gave nothing else a chance, racing away to down Victorian contender Out And About by six lengths with Transvaal a solid third. Her time of 43.79 was just 20/100ths outside the track record.

Notably, NSW contender Mary Casey finished fourth. She had also run fourth behind Julep in the Olympic Park Distance Championship final.

Given a deserved seven-week break, Julep resumed with a sixth over 512m at Angle Park, but was again injured and did not appear again for another six weeks.

On June 19 she again resumed in a sprint, at Angle Park, running a half-head second. Just three days later, Julep scored by 12 lengths over 731m at headquarters and a week after that made it two in a row as she overwhelmed Gold Trophy in the shadows of the post to score by half a length.

Once more Julep's unsoundness forced her from the track and it was nearly two months before racegoers saw her again. Unfortunately, her return was unsuccessful as Julep finished fifth in Free For All at Angle Park, her first unplaced run over the longer journey.

Another five-week break ensued, but when Julep resumed, on September 28, she bounced back to her best, reeling off three consecutive wins at Angle Park in three weeks.

Her final run for 1989 came on October 19 when Proud Gal held off Julep to relegate her into second place at the Day's Road circuit. She did not appear again on a racetrack for almost eight months.

Julep had raced only 17 times during 1989 for 12 wins and three seconds.

After coming on season, Julep was mated with leading sire West Cape and in January 1990 produced a litter of just two puppies.

Brian Arthur attempted to bring the now four-year-old bitch back to racing and at first all looked to be going quite well. She resumed over 516m at Port Pirie on June 13 and finished second before scoring a nose victory over 640m at Gawler a week later.

Unfortunately, Julep's return to Angle Park and the 731m trip proved unsuccessful as she finished a close third, second and fourth in what where the last three races of her illustrious career.

Retired once more to the breeding barn, Julep finished her career having contested 42 races for 21 wins, nine seconds and four thirds. Her long distance record was exemplary: 15 wins and five placings from just 22 outings. She had won five major races: the South Australian Breeder's Plate, Olympic Park Distance Championship, South Australian National Distance Championship, West End Draught Distance Championship and National Distance Championship. Her average winning margin was an impressive 4.80 lengths.

Sunshine Sally, one of the two pups produced from Julep's first litter, went on to become the dam of Oak Raider, who was crowned SA Greyhound of the Year in 1997.


Warning: count(): Parameter must be an array or an object that implements Countable in /home/australianracinggreyhoundzzz/webapps/app-australianracinggreyhound/wpress/wp-content/plugins/Odds-Compare/vendor/guzzlehttp/guzzle/src/Handler/CurlFactory.php on line 67