Rawlings goes back-to-back in Howard Ashton with Crunchin Numbers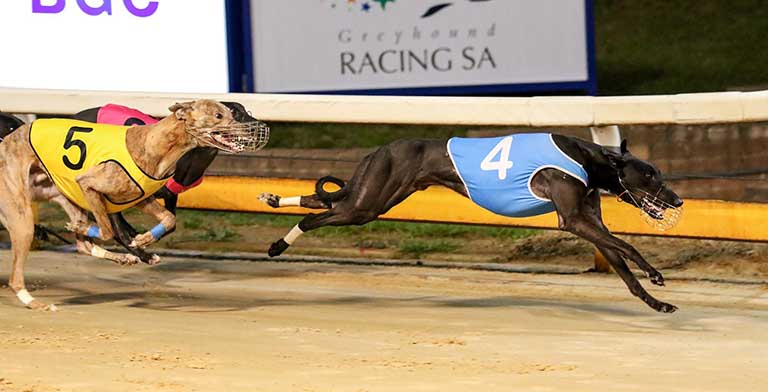 BEN Rawlings secured back to back wins in the Group 3 Howard Ashton final (515m) on Thursday night at Angle Park when his front-running sprinter Crunchin Numbers proved too good for his opposition.
The young gun trainer prepared Wilba Beast to win the 2016 edition of the race which is only open to SA-bred greyhounds between two and two and a half years of age.
Starting from box four on Thursday night, Crunchin Numbers showed great acceleration in the early stages, slipping straight to the front in the charge towards the first turn.
Despite a late surge from his opponents, the black dog was too strong for Victa Ollie (box five) and Usain's Squeeze (box eight) when prevailing by one length in 30.19.
It was another enormous thrill for Rawlings, who has had a big 12 months since last year's race, winning the 2017 Group 1 Perth Galaxy with consistent half-miler Bogie Bekim.
"I was rapt with him," Rawlings told Australian Racing Greyhound.
"Realistically it was probably one of the weakest Howard Ashton finals of late – I won it last year and there were four or five dogs in the final which could break 30 whereas this year there was probably only one.
"There were a few dogs with early speed in the race, but I was confident that if he got the start right he could get it done and that's what happened – he got a break on them early and there was a bit of a jam up behind him which is all he needed.
"We didn't race him over 500 prior to the series – because we were saving him for this series to do what he did which was to go bang, bang, bang and get away with it out in front because of his early toe.
"It's not often that you set a plan like this and it actually comes true – everything worked out.
"I know Howard Ashton from when I was playing footy before I even got into the dogs, so to win the race named in his honour two years in a row is something that I will definitely treasure."

Owned by Debra Stuppos, Crunchin Numbers is by Elite State out of Rawling's former handy racer Mighty Chaos.
The 22-time winner has transformed into a top broodbitch, also producing Wilba Beast, last year's Howard Ashton winner, from her mating to El Galo.
"We raced the mother, bred from her and Debbie Stuppos bought a couple out of each of her litters," Rawlings explained.
"She asked us if we would take her pups from the second litter to train and we have had them ever since.
"We were really happy to get the chance to have them back to train – their mother still lives on my couch with a couple of other retired dogs.
"It's pretty cool having her inside with one of the pups from her first litter, Wilba Beast, winning the race last year and now Crunchin Numbers winning it again this year – it's a big thrill to know we've had them since the beginning and they've gone on to achieve what they have."
A winner of 15 from 25 with six minor placings, Rawlings is hoping Crunchin Numbers will be able to emulate more feats of his ultra-consistent big brother after over coming a serious injury early in his career.
Whilst there is no guarantee the 32-kilogram speedster will ever make a full recovery, Rawlings is hoping some TLC and management throughout his career will help Crunchin Numbers reach his full potential.
"He hit the rail at Gawler at his sixth or seventh start really hard and we have had all sorts of problems with his back left leg.
"It has probably hindered him running out a strong 500 because I think he does feel it a bit at the end.
"We have tried a few different things with our vet John Katakasi and he seems to be pulling up better in it now – so hopefully it keeps holding up and with natural improvement he could get under the 30 second mark which will definitely see him win some more races with his early toe.
"He is very consistent and it was a real shame that he hurt himself when he did because I thought he could be another Wilba Beast and run the hot 29.60s and 29.70s at Angle Park.
"But you can't fault what he has done so far – his 400m times are electric – he is ticking along nicely so hopefully he just gets a bit stronger as he matures."
More greyhound news