She's A Pearl the Million Dollar Chase standout star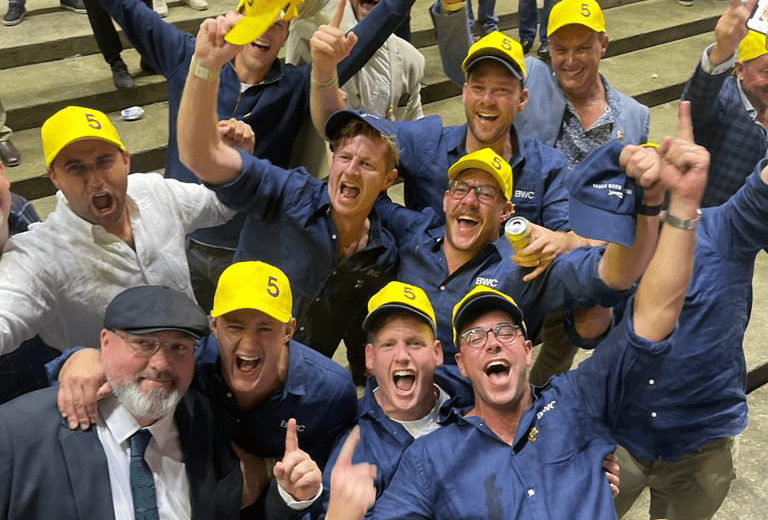 She's A Pearl is so good she is now in Fernando Bale company.
That was the thought she left punters with on Friday night after her victory in the fifth TAB Million Dollar Chase semi-final at Wentworth Park, saluting in a breathtaking time of 29.30 seconds.
And that's without even mentioning she did it from box four on a slow track for the ever-consistent Jodie Lord kennel.
Her owner Joe Lannutti was struggling to find the right words to describe what he witnessed.
The two-year-old's finishing time was just 0.04 seconds off Fernando Bale's personal best at the historic Glebe venue.
And her second sectional of 13.51 seconds was also only 0.04 off the great millionaire dog's 13.47-second effort on his way towards a Golden Easter Egg semi-final victory back in 2015, before he took out the final.
"I think 13.51 seconds (came very close to) Fenando Bale's split record (at Wentworth Park)," Lannutti told australianracinggreyhound.com.
"I'm speechless. I don't think it was a fast track."
The fact that She's A Pearl will again line up from box four for next Saturday night's Million Dollar Chase final won't worry Lannutti at all.
"I don't think the boxes matter if she's going to run those splits. She keeps getting better and better," he said.
"(The goal was to) just win. But she made a bit of a statement there, didn't she?"
She's A Pearl is now the $1.40 favourite with greyhound betting sites to take out the MDC final.
And if she delivers once again it should not be long before we witness the chaser with the highest amount of prizemoney in Australian greyhound racing history – all before her third birthday which is not until October 25.
Fanta Bale finished her career with $1.365 million in earnings for Robert Britton in 2018.
Fernando Bale pulled in almost $1.3 million.
She's A Pearl has so far earned just over $353,000, with the 2022 MDC Final winner to take home a cool $1 million.
"What it (a win next Saturday) would mean is she'd be about $10,000 off Fanta Bale – the all-time highest prizemoney winner in history," Lannutti said.
"It'd just mean everything. It's amazing and we're loving it."
2022 Million Dollar Chase Semi Final 5 (Wentworth Park, 520m, April 23, 2022) – She's A Pearl (29.30)
---
The scary thing is She's A Pearl is continuing to raise the bar after she won the $338,000 Golden Easter Egg Final in 29.73 seconds from box five on April 9.
"Jodie Lord has always said she thinks she's always improving," Lannutti said.
Lord owned the night, with Coast Model (29.69 seconds) and Doonan (29.97 seconds) also winning their semi-finals.
2022 Million Dollar Chase Semi Final 2 (Wentworth Park, 520m, April 23, 2022) – Coast Model (29.69)
---
2022 Million Dollar Chase Semi Final 7 (Wentworth Park, 520m, April 23, 2022) – Doonan (29.97)
---
Frank Hurst's fellow star two-year-old Good Odds Cash was the other standout, winning the third semi-final in 29.67 seconds.
He, too, thinks his talented bitch can only improve.
"I thought she'd run better. She had 10 days since her last start (a second-place in 29.53 seconds behind She's A Pearl's 29.38 effort in the "MDC Final May 7" at Wentworth Park on April 20)," Hurst said.
2022 Million Dollar Chase Semi Final 3 (Wentworth Park, 520m, April 23, 2022) – Good Odds Cash (29.67)
---
"She was probably a little bit underdone, and I expected her to find the line a bit better.
"And when She's A Pearl ran 29.30 and she ran 29.67 – there's not much between them."
---
2022 Million Dollar Chase Semi Final 1 (Wentworth Park, 520m, April 23, 2022) – Irinka Riley (29.84)
---
2022 Million Dollar Chase Semi Final 4 (Wentworth Park, 520m, April 23, 2022) – Photo Man (29.96)
---
2022 Million Dollar Chase Semi Final 6 (Wentworth Park, 520m, April 23, 2022) – Ritza Donna (30.29)
---
2022 Million Dollar Chase Semi Final 8 (Wentworth Park, 520m, April 23, 2022) – Zambidis (30.02)
---
2022 Million Dollar Chase Final Box Draw (520m)
Million Dollar Chase Final Field

Wentworth Park520m$1,000,000 to-the-winner

1 Coast Model T: Jodie Lord

4 She's A Pearl T: Jodie Lord

5 Good Odds Cash T: Frank Hurst

6 Irinka Riley T: Raymond Smith

7 Zambidis T: Christos Arletos

8 Doonan T: Jodie Lord

Reserves
---
Similar Greyhound Racing News