She's A Pearl tops trio of Lord runners in MDC final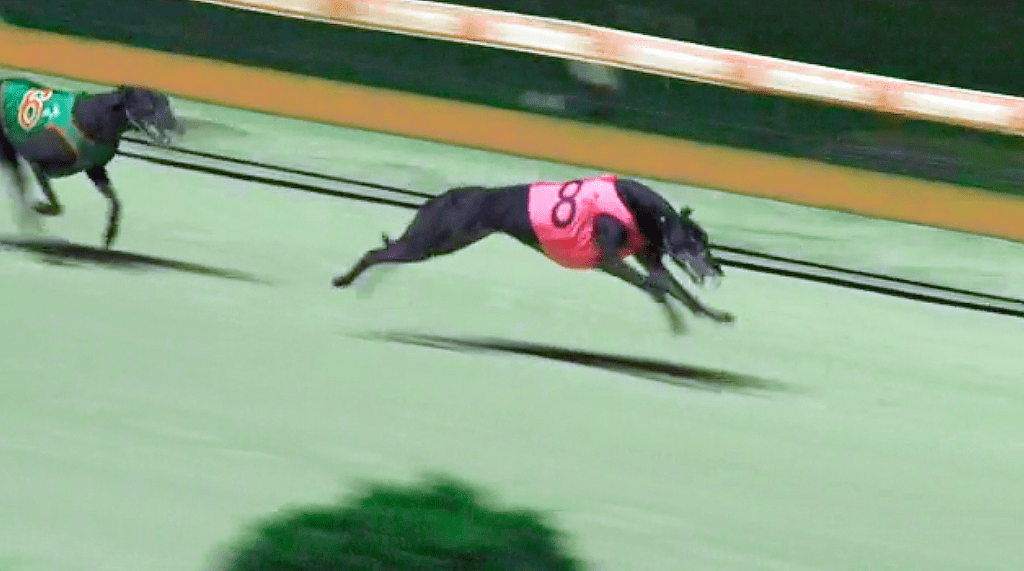 Superstar bitch She's A Pearl is so keen to race, her handlers don't even bother trying to muzzle her.
That is just partly why the two-year-old is the $1.40 favourite with Ladbrokes to win the Million Dollar Chase final at Wentworth Park on Saturday night.
The other major factor is her freakish ability to run fast times despite the condition of the track and what box she's in.
This was why She's A Pearl once again left her handler Paul Mills stunned with a 29.30-second time from box four on a soft track in her MDC semi-final last Friday night.
She has again drawn box four for the final on Saturday night, but that has not worried Jodie Lord's kennel.
"I don't like getting too carried away, but she's shown that she's elite," Mills told AustralianRacingGreyhound.com.
"I don't like to be too biased, but there was a bit of give in the track.
"If you ask the opinions of others they say it's scary.
"It was a bit soft, but when it's soft they generally pull up sound, and a dog's welfare is the most important thing.
"But who knows what she would've run (if the track was hard). She keeps getting challenged and she thrives on it."
"She gets jealous if she doesn't go racing. She just loves racing," he said.
"We don't put the muzzle on her because she just grabs a hold of the door and wants to pull it open because she always wants to run."
Despite the success the Lords have enjoyed, it has not been an easy road to the top of the tree in the highly competitive New South Wales training scene.
"It's full on. I've been doing it all my life and had some Group success myself," Mills said.
"You don't have much time. You get home at 2-3am and you're back up at 5.30am rain, hail or shine.
"It's what you know, and what you have to do to keep them sound and healthy and in a good routine.
"She (She's A Pearl) is a good dog, but she's been up for a long time. You have to know what you're doing.
"You don't win premierships year in, year out if you don't know what you're doing.
"It (the competition and prizemoney) is on such a big scale. Things have to be run routinely and you have to be organised."
The Lords also qualified Coast Model (29.69 seconds – box one) and Doonan (29.97 seconds – box eight) for the Million Dollar Chase final.
"She (Coast Model) has drawn well. You don't have to do much wrong when you're racing against an elite bitch (She's A Pearl)," Mills said.
"Doonan is a young and upcoming dog, and he's drawn bad. But he's in the race.
"We gave them all good chances (to make the final). Doonan was maybe an outsider, but Coast Model has the ability.
"Pearl was $1.20."
2022 Million Dollar Chase Semi Final (Wentworth Park, 520m) – She's A Pearl
---
2022 Million Dollar Chase Semi Final (Wentworth Park, 520m) – Coast Model
---
2022 Million Dollar Chase Semi Final (Wentworth Park, 520m) – Doonan
---