Silvestor Doyle Inducted To Hall Of Fame

Greyhound Racing Victoria (GRV) tonight launched its Victorian Greyhound Racing Hall of Fame at Sandown Greyhound Racing Club.
Silvestor Doyle has tonight been announced as one of the inaugural 36 inductees in to the Victorian Greyhound Racing Hall Of Fame.
Hall Of Fame Inductee : Silvestor Doyle (Pioneer Administrator)
Silvester Doyle was one of a handful of key administrators that helped lay the platform for the sport of greyhound racing today.

In his role as Executive of the sport's then controlling body, the National Coursing Association [NCA], a position he held from 1951-'77, Doyle was one of the main players in arguably the most pivotal movement in the history of Victorian greyhound racing, that being the cessation of proprietary [privatized] racing in 1958.
It took the hard work of some brilliant, innovative and hard working people to achieve this, and Doyle's ability to present a logical case to the then Labour government was crucial. The reason this movement was so important is because it brought all race clubs into line – thus helping eliminate potential integrity issues – and it created new levels of consistency in the way in which greyhound racing operated.
"He was very big on integrity…black was black and white was white", Doyle's granddaughter Deanna Keogh said recently.
The end to proprietary racing saw the berth of a new and more powerful controlling body, the Greyhound Racing Control Board [GRCB], now known as Greyhound Racing Victoria, in 1958. Doyle joined the GRCB from 1961-'76 and during those years he continued his role as NCA Executive, and he was also the NCA President.
It was in that era that administrators such as Doyle benchmarked the standards of professionalism in the sport, and wrote many of the rules and regulations that apply today.
As if his involvement in greyhound racing wasn't enough to keep him occupied, Doyle lived in Bendigo and spent most of his working life as a Real Estate Agent specializing in country hotels. In this role as a hotel broker Doyle became extremely well known throughout Bendigo and many other towns throughout northern Victoria.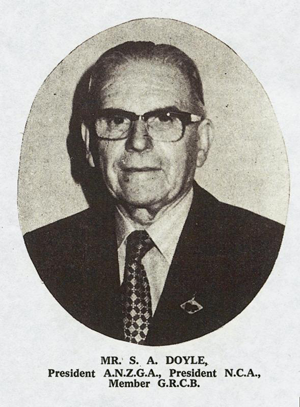 "People called him the 'Bush Lawyer', because if anyone asked him a question about the legality of something he'd either tell you the answer or he'd find out for you", Doyle's son-in-law Joe Stanek recalled fondly.
Born in Bendigo on Valentine's Day in 1907, Doyle went on to marry Molly and together they had two daughters Vesta and Dallas.
"He was good to grandma", said Deanna, who is a daughter of Dallas. "In his later years he drove a Charger, which at the time was a cool sports car but it wasn't very practical for the elderly.
However, when he took grandma out in it he'd open the door for her and make sure she got in ok.
And he'd hold her hand a lot of the time. He was a sweet man."
Incidentally, cars were one of Doyle's great passions… "Cars were always his interest. Some of the cars he drove included a new 1953 Studebaker Lark, a Triumph and a Honda", said Silvester's nephew Danny Doyle.
"He had an impressive appearance as he was always beautifully dressed in natty pinstripe with a tie and a pocket handkerchief", Danny added.
Silvester followed his father Andrew, who trained greyhounds, into the sport of greyhound racing, and he himself was actively involved in racing greyhounds in his early years. The coursing aspect of greyhound racing was one of Doyle's passions. He was a delegate of the Bendigo Coursing Club and he staunchly defended live hare coursing until its eventual cessation.
A larger than life character, Doyle was extremely religious, generous and open-minded.
"He had a finger in a lot of pies. He was very well connected and he knew a lot about a lot of things", Deanna said.
"A lot of people talk the talk but they don't walk the walk when it comes to religion. But when it came to being catholic he was the real deal. One of the things I loved most about him was that he wasn't judgmental. He was extremely open-minded and was before his time in that regard, especially considering he was from the country, where people are generally less open-minded than city folk", she added.
An example of Doyle's generosity was during the depression when he took one of his brothers under his wing and clothed and fed him.
Silvester Doyle passed away in February 1992, less than two weeks shy of his 85th birthday.
However, the legacies of the likes of Doyle have helped Victorian greyhound racing grow into the multi-million dollar industry it is today.
Notable Acheivements
National Coursing Association [NCA] Executive 1951-'77
Served for three years as the first Secretary Manager of the then NCA-run Sandown Greyhound Racing Club [1956-59] once mechanical racing was legalised
Delegate of the Bendigo Coursing Club
NCA President [1958-'91]
Board Member of the Greyhound Racing Control Board [1961-'76]
Awarded a Member of the British Empire [MBE] in 1982, which is now known as an Order of Australia Medal [OAM], for his contribution to greyhound racing
The 36 Victorian Greyhound Racing Hall of Fame inductees are in three broad categories:
The Pioneers (8) – recognised by the selection committee as having shaped Greyhound Racing's early days.
The People (15) – includes trainers, breeders, owners, administrators and other prominent personalities.
The Greyhounds (13) – includes achievements on the racetrack and at stud.
The 36 inductees are as follows:
PIONEERS [8]
Noel Banks – Administrator
Byamee – Coursing Greyhound
Silvester Doyle – Administrator
Chris Flint – Administrator
Ray Herbert – Trainer
Roy Maidment – Administrator
John 'Jack' McKenna – Administrator
George Schofield – Administrator

GREYHOUNDS [13]

Bold Trease – Racing Greyhound
Brett Lee – Racing Greyhound
Chariot Supreme – Breeding Greyhound
Cheltenham Lass – Racing Greyhound
China Trip – Racing Greyhound
Head Honcho – Breeding Greyhound
Highly Blessed – Racing Greyhound
Kantarn Bale – Racing Greyhound
Lizrene – Racing Greyhound
Odearo – Racing Greyhound
Rookie Rebel – Racing Greyhound
Temlee – Breeding Greyhound
Wee Sal – Breeding Greyhound

PEOPLE [15]

Graeme Bate – Trainer
Fred Booth – Studmaster
Ned Bryant – Trainer
Ken Carr – Administrator
William 'Bill' Conroy – Administrator
Rod Deakin – Breeder
Jim Gannon – Veterinarian
Henry Harrison – Administrator
Dave Hodgson – Canine Chiropractor
Paul Hogan – Breeder/Trainer
Stan Lake – Administrator
Harold Matthews – Administrator
Ron Nestor – Administrator
Bill Pearson – Media
Margaret Thomas – Administrator
All future Victorian Hall of Fame inductees will be announced at the annual Victorian Greyhound Industry Awards, with a maximum of four inductees in any given year.