Sonksen painting a positive picture of Florida greyhound racing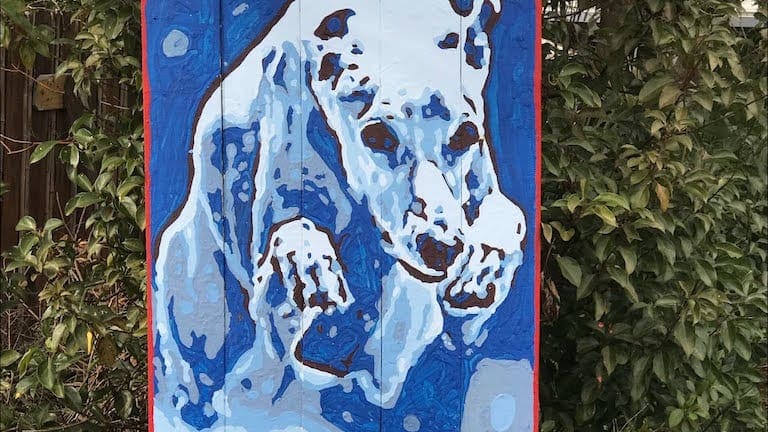 JEFF Sonksen never would have believed you five years ago if you told him he would become the voice of American – and global – greyhound racing participants.
The Florida artist is the man behind 'Paint The Trail' – a Facebook page dedicated to his artwork which took a twist in 2017 when he began documenting behind the scenes footage at several greyhound racing tracks and training establishments.
Sonksen is a carpenter by trade who has always dabbled with art as a hobby. That changed when the recession hit – forcing him to turn to his street art as a way of coping.
"I was irritated by my situation – I was struggling to find work," Sonksen told Australian Racing Greyhound.
"I lashed out in what some might call a juvenile way by putting my artwork in public places without permission, mostly to annoy people.
"Once I started sticking the art out there I found out that people were enjoying it, which fuelled me to do more – to reach people and touch people in the way that I have is something I never saw coming."
Back then his art largely depicted pop culture icons painted on panels out of fence pickets. His art was having a positive impact through murals at schools for troubled kids and commissioned memorial paintings – and homeowners began displaying his masterpieces on their fences.
"I had never had any complaints and then out of the blue two Commissioners told the person who lived on the property where some of my art was not to let me put anymore up," Sonksen said.
"I tried to meet with them and they wouldn't even talk to me – so I took my gloves off, threw them on the ground and decided to campaign against them full time."
Sonksen began supporting their rivals including Richard Drummond, who used to work at a dog track as security, as well as ex-WWE wrestler Matt Morgan who had also accepted a political donation from one of the greyhound kennel clubs. It was then Sonksen was first ex-posed to the other side of greyhound racing and, in order to fully throw his support behind Morgan and Drummond, he wanted to discover the truth about the industry.
Interestingly, over three years ago it could be argued that Sonksen was 'anti-racing'. He once created a stacked painting which featured a greyhound with the words 'What's so wonderful about the dog track?'
"The guys I was trying to get out were campaigning against the industry with the typical stuff – that the dogs are given cocaine and are abused – so that's how I started defending them.
"A bloke named AJ invited me to kennels to have a look at the set-up and what goes on there. He let me bring in my go-pro and that's how it all started.
"I waited until the election was over then posted my first video and it has just kept growing.
"When I went in there initially I was anti-racing in my head – if I had the power I would have closed he tracks down because of what I thought I knew.
"But everything I thought I knew about racing was wrong."
Sonksen describes himself as 'pig-headed', so once he saw for himself that the mistruths about greyhound racing were exactly that, he launched a new project to disprove the myths.
"The more I found out about the dogs, all I could see were happy and healthy dogs everywhere I went.
"It was nothing at all like I thought it would be – the people at the kennels love the dogs and the dogs love them.
"Trying to convince the public – even with video evidence – is like trying to convince people the earth is flat though.
"They think they know what's going on there because they've heard things all their lives – but none of them have seen what actually goes on with their own eyes."
Sonksen has now recorded over 30 'episodes' which he shares on his Facebook page to his 25,000 followers – often painting murals of greyhounds to go with each one. He has visited tracks and breeding farms and has met several service dogs which have gone on to live full and enriched lives after their racing careers.
His videos have been shared around the world – some close to 100,000 times. He says he never set out to 'rally troops around the world' but he understands how his videos have given people hope that the tide is slowly turning in favour of greyhound racing.
Moving forward, his aim is to make everyone aware of the lies spread by groups such as Grey2K USA. A glimpse at the organisation's annual report reveals it spent 81 per cent of its $618,248 expenditure in 2016 on 'programs including legislative advocacy, ballot initiatives, legal research and investigation into the cruelty of greyhound racing'.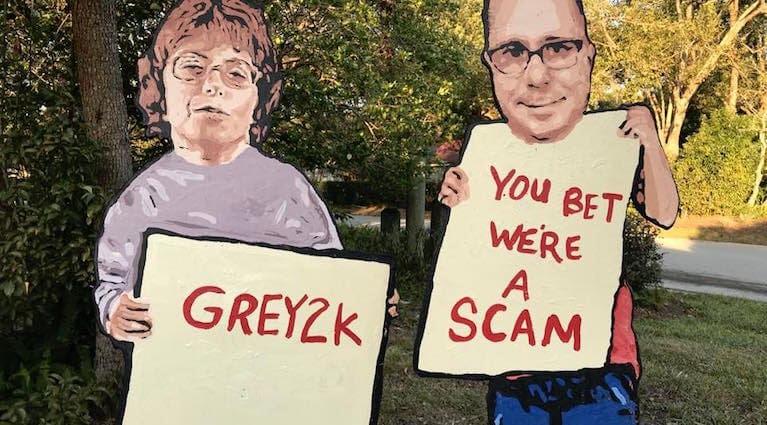 Nine per cent was spent on the production of adoption information and educational materials for the general public, distribution of campaign updates to supporters, upgrades to its website and other member services. Ten per cent was also paid out for registration and reporting in racing states, legal and accounting support and administrative costs for its Massachusetts headquarters.
So how much actually went to helping greyhounds? Sonksen says Grey2K relies on spreading mistruths about the industry to boost its annual donations.
"These people make millions of dollars lying about the industry – then they give their money to politicians who don't even check the facts.
"We have lawmakers who are spreading propaganda and lies from a scam organisation. They don't even talk to the other side [to find out the truth]. Is that how laws are made? From believing those who offer political donations? Because if it is that's scary as hell."
He says until animal activists and groups have cold, hard facts to prove their allegations, the general public should not buy in to the hysteria.
"Every day activists lie to me on my page.
"I've had them tell me they've seen dogs shot in the head and it's like, really? And what did you do? Why didn't you call the police? If you didn't call the police you're a sick person.
"If you are going to say some-thing so outrageous you better have the evidence to back it up. They never do – but I have plenty of video evidence of dogs which are loved and looked after.
"I have never caught a handler or a trainer that has hurt a dog and I can go wherever I want and do whatever I want in these kennels.
"If I saw something, I'd post it – but it's a myth propagated by these anti-racing organisations because they are making so much money from it."
Sonksen said his work in the greyhound industry is far from over – he will not stop until everyone knows the truth.
"I'm nowhere near done – I haven't won. I have convinced a lot of people who didn't know the dogs were treated well – but I want to convince everyone.
"These dogs are not abused. I love standing out in the yards when they get let out – they all come running up to me and just want to love me to death.
"They have never seen me in their lives – but every single dog wants a pat and that would not be the case if these dogs were abused.
"If they were mistreated they would be growling at me, but I have met 100s of dogs and there is not one which wouldn't let me crawl into its crate and spend time with them.
"That alone proves my point – game over."
Similar Greyhound Racing News