Spring Meteor torches the field to win Wollondilly Gift final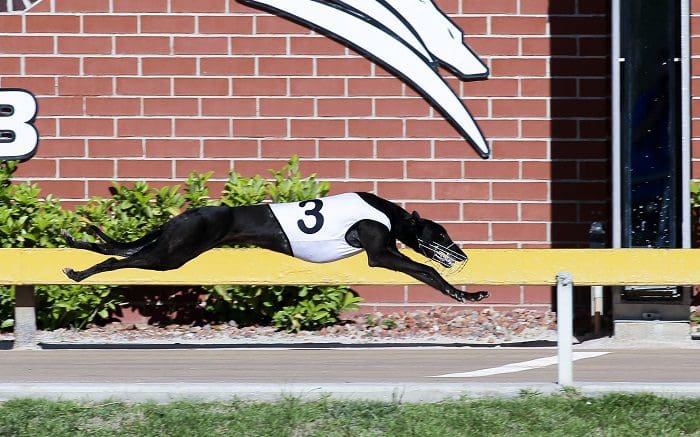 Despite running a scorching time in his heat, Spring Meteor's triumph in the $12,250 Ladbrokes Wollondilly Gift final (440m) at Goulburn on Friday night came as a surprise to Orange-based trainer Josh Board.
The almost two-year-old showed an electric turn of foot at the 50m mark to win from the inside in a time of 24.81 seconds, a length ahead of Mark Wilcox's Majestic Legend.
It was another impressive performance from Spring Meteor after winning his heat in 24.50 seconds.
And it was the best victory of 21-year-old Board's young training career.
"It's not very often you can win a race like that. So you make the most of it when it happens," he told AustralianRacingGreyhound.com.
"It'd definitely be the biggest win for me.
"I've nominated him for the New Sensation heats at Wentworth Park for this Wednesday. Hopefully he gets a run in that."
Asked if he thought his dog was a winning chance at the turn, Board said: "Not really, to tell you the truth.
"He's never really been that strong. He really pulled something out of the hat with that one, I think.
"He just put in a big effort to get up."
With good pedigree, Spring Meteor is set for a fine future.
He is the grandson of Spring Leaf, who won 17 races and $135,740 in prizemoney.
"Really excited (about Spring Meteor's future). Hopefully he stays sound with no injuries. Him and his sister Spring Venom – there's not a lot between them," Board said.
Still only a rookie trainer but showing immense potential, Board is also surrounded by a family of winners.
His father, Scott, has had plenty of success in the sport.
They both train their dogs on a five-acre property at Spring Hill, near Orange.
And Josh's grandparents Greg and Helen moved from Spring Hill to Murray Bridge in South Australia in 2017, where Greg has won several owners' premierships and regularly been among the 10 leading trainers.
"Without them, the dogs wouldn't be who they are. Behind the scenes, Dad more or less trains the dog. It's all Dad's knowledge," Board said.
"I help him do the work, but really without Dad's knowledge he (Spring Meteor) wouldn't be who he is.
"It's a full-time job. They've always got to be fed. I've got three (in work at the moment).
"I've always helped Dad with the dogs. I didn't have any myself. I've always been around them, but now it's good to have my own.
"Dad's done well and built it up little by little. It (the Spring Hill property) is a good spot."
Between being a greyhound trainer, a concreter, and also a halfback/hooker for Orange CYMS in the NSW Group 10 rugby league competition, there is never a dull moment for the promising young trainer.
"It's pretty full-on; non-stop really," Board said.
"I just enjoy it. It's a lot of fun to go to the dogs, or to go and play footy, or go to work.
"Whatever it is, you don't do it unless you love it."
2022 Wollandilly Gift Final
Similar Greyhound Racing News