Stewards wrap: Finn's penalty for EPO offences reduced on appeal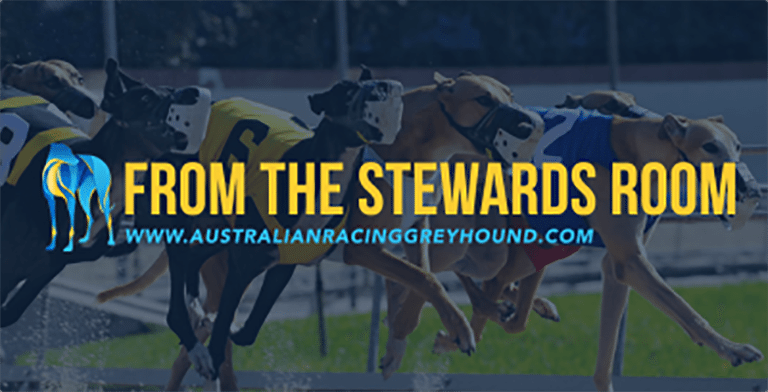 THE Racing Appeals Tribunal has reduced the severity of a penalty handed down to trainer Melinda Finn after two of her greyhounds returned positive urine samples to Recombinant Human Erythropoietin (EPO) between March 20 and May 4, 2015.
Finn had previously been found guilty of four breaches of the prohibited substance rule, GAR 83(2) after her greyhounds, Down Every Road (three charges) and Winsome Warrior (one charge), returned positive samples to the banned substance.
Last December, Greyhound Racing NSW (GRNSW) stewards banned Finn for 117 weeks for each charge and she was also slapped with an additional 156 weeks' disqualification due to cumulative aggravating factors.
All up, Finn's disqualification totalled 12 years, backdated to the day of her original suspension on May 29, 2015.
However, when Finn appealed the penalty with the Racing Appeals Tribunal, the tribunal upheld the severity appeal and amended the disqualification to two years and six months on each of the four charges commencing February 28, May 28, August 28, November 28, 2015.
Speaking to Australian Racing Greyhound last month following the appeal hearing, Finn said she was 'fairly happy' with the Tribunal's ruling.
"I thought 12 years was too harsh," Finn said.
"We are just about out of [greyhounds] anyway – I only just appealed because I thought it was a long sentence and you never know, one day I might want to take my granddaughter to the dog track.
"We have cut right down because of John's health problems and because I want to spend more time with my grandchildren.
"Now that I have got grandchildren I have got more things to worry about than the dogs.
"I am not worried what people say [about me] or what they do… they can say what they want to say I don't care.
"The way the industry is going who'd want to be in it?"
Finn said she was treated harshly considering stewards did not pursue charges relating to administration of a prohibited substance and only found her guilty of presenting her greyhounds to have when not free of a prohibited substance.
"They more or less threw the book at me because it was bad timing," she said.
"The first time [the stewards treated me unfairly] – when I only got charged with presenting the dog and not administrating it.
"I was innocent all the way and got 12 years."
Jones appeals severity successfully
Rex Jones appealed the severity of a sentence imposed by GRNSW stewards after he was disqualified for 60 weeks for a breach of the prohibited substance rule.
The charge was in relation to the greyhound Cosmic Topper, which returned a positive urine sample to ostarine when it competed at Gosford on May 24, 2016.
The Racing Appeals Tribunal decided to uphold the severity of the appeal and amended the disqualification period to 12 months, commencing on November 30, 2016.
Hobson fined
Robert Hobson has been fined $750 by GRNSW stewards after being found guilty of the prohibited substance rule. The breach was in regards to the greyhound Velodrome, which returned a positive urine sample to arsenic when competing at Moree on November 12, 2016.
Langman fined
Arthur Langman recently faced a GRNSW stewards' inquiry charged with a breach of GAR 83(2) after his greyhound Nitro Monkey returned a positive urine sample to salbutamol when competing at The Gardens on September 9, 2016.
Langman entered an early guilty plea to the charge an upon considering the circumstances of the case, stewards imposed a fine of $500.
Suspension for misconduct
Gordon Watts has been handed down a suspension by GRNSW after being found guilty of two breaches relating to misconduct.
The specific rules breached were GAR 86(o) and GAR 86(p) and related to his actions at the Maitland greyhound track on March 2, 2017, where it was alleged he failed to comply with the lawful order of a steward.
Stewards handed down a three-month suspension, with eight weeks of the penalty suspended pending no further breaches of conduct related rules within the next 12 months.
Pirie fined
Queensland trainer Warren Pirie recently faced the Queensland Racing Integrity Commission (QRIC) charged with a breach of the prohibited substance rule.
The charge was in relation to the greyhound Carlo Scorcho which returned a positive urine sample to levamisole when competing at Rockhampton on December 14, 2016.
Pirie pleaded guilty to a breach of GAR 83(2)(a) with stewards handing down a fine of $1,500.
Ogden charged over prohibited substance
Jamie Ogden has recently been found guilty of three charges in relation to the possession of prohibited substances and a failure to maintain treatment records.
The first charge was a breach of GAR 86 (ag) after stewards found a bottle of the banned substance Testoprop during a routine kennel inspection.
The second charge was a breach of GAR 84 A(4)(b) which related to the discovery of a bottle of unlabelled schedule 4 prescription only substance in Ogden's kennels.
The third charge was a breach of GAR 84 A (1) which related to Ogden failing to keep treatment records at an appropriate standard.
Ogden was found guilty and fined $200 for each charge.
Thomson pleads guilty to three offences
QRIC recently finalised an inquiry into trainer Robert Thomson who was charged with three rule breaches following a kennel inspection at his property last July.
During the inspection, stewards found the prohibited substance Testoprop along with a number of unregistered products and prescription only products that were not prescribed under the Greyhounds Australasia Rules of Racing.
He was also charged for failing to keep treatment records which document all vaccinations, antiparasitics and medical treatments administered to a greyhound.
Thomson was found guilty of breaching GAR 84(2), GAR 86(ag) and GAR 84(1) for which he was fined $1000, $300 and $200 respectively.
Trainer guilty of misconduct
Sunshine state trainer Michael James was recently found guilty of misconduct and charged with two breaches under the greyhound racing rules.
The first charge was a breach of GAR 86(o), which was in relation to James using foul and abusive language whilst on the track immediately after the running of a race at Bundaberg on March 4, 2017.
It was also alleged that he failed to take his injured greyhound to the veterinarian immediately after the completion of the race.
James was fined $2000, with $1000 suspended for 12 months pending no further rule breaches during that period.
Furthermore, James also pleaded guilty to a breach of 86(f)(1) after it was alleged that James acted in an improper manner during an inquiry by insinuating that the stewards were lying whilst providing evidence. For this offence James was fined $500.
Steel receives suspended disqualification
Nullawarre North trainer Elizabeth Steel was the subject of a Racing Appeals and Disciplinary Board (RADb) inquiry earlier this month charged with a breach of the prohibited substance rule.
The breach related to Steel's greyhound Airborne Gone which returned a positive urine sample to atenolol when competing at Warrnambool on September 15, 2016.
Steel pleaded guilty to the charge and gave evidence that she was not present at Warrnambool on the day of the race meeting as she had left for overseas three days prior.
The greyhound was handled by its owner Andrew Hull. Steel also gave evidence that both she and Hull used atenolol for blood pressure issues which was deemed as the likely cause of the positive due to cross contamination.
Steel was issued a three-month disqualification, which was wholly suspended for six months.
Cobalt swab puts Lieshout on the sidelines
Christopher Lieshout has been banned for 18 months with nine months of that sentence suspended after one of his greyhounds, Unique Replica, returned a positive urine sample to cobalt at a reading higher than the allowed threshold when competing at The Meadows on June 1, 2016.
Lieshout pleaded not guilty to two charges relating to administering and presenting the greyhound to race when not free of a prohibited substance, GAR 83(1A) and GAR 83(2).
However, after considering the evidence, the RADB found Lieshout guilty as charged.
Similar Greyhound Racing News