Terra Torra looking for the Casino Cup – Lismore Cup double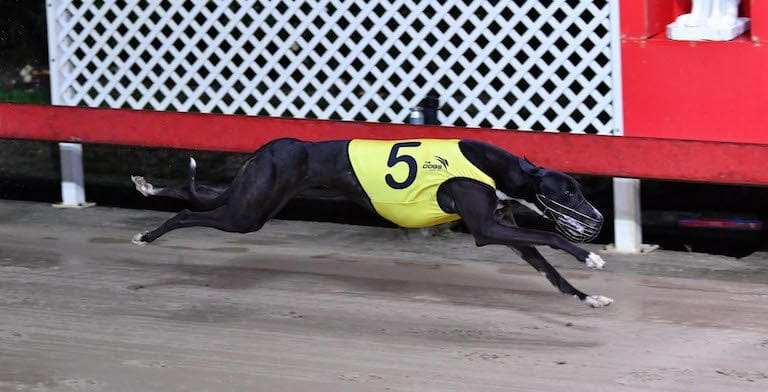 TERRA Torra (Don't Knocka Him x Kingsbrae Sam Nov '14) will be aiming to win her second cup feature in the Northern Rivers region when she heads to Lismore next Tuesday to contest the Group 2 Lismore Cup (520m).
Already a winner of the Group 3 Casino Cup last month, Terra Torra qualified for the Lismore Cup with a brilliant win in her heat last week, overcoming box five to lead all the way and defeat Queensland star Opal Nera (Dyna Tron x Black Sambuca May '15) by one and a half lengths in a slick 29.71.
Yorklea trainer Ryan Newstead, who prepares Terra Torra with his father Billy, said he was pleased with the performance.
"I thought she was a good chance. The only dog we were really worried about was Opal Nera – he has been racing well but he probably didn't begin as well as he can," Newstead told Australian Racing Greyhound.
"Box five was a bit of a worry – but she did everything right and you can't really ask anything more of her."
Terra Torra, which was bred by Charlie and Toni Northfield, heads into the final unbeaten at Lismore over 520m where she has won five from five, whilst she will also be advantaged by box one – a draw from which she boasts a perfect four wins from four starts.
Newstead concedes the final will be much harder to win than the heat up against a quality field including Group 1 National Sprint Championship winner Jury (Cosmic Chief x Velocity Sheba Apr '15).
"She loves racing at Lismore, but she will face some stiff competition in the final," he said.
"Box one might help her out, but a lot of the other dogs posted a quicker first section than her in the heats.
"If she misses the start she could get crowded and that could cause her some trouble, but hopefully she can hold her spot and if a few of the others find a bit of mischief she might be able to run through along the fence."

Terra Torra, which has won 17 races from 33 starts, will take her career earnings beyond $92,000 if she is successful in the feature next Tuesday.
Newstead said he is trying not to get too excited ahead of the race, but says it would be a massive thrill to claim the title.
"I haven't really thought about it – I just take one day as it comes and if she happens to win I'm sure there will be some celebrations afterwards.
"She has been very handy – it was a good day when she won the Casino Cup, we had a bit of a party afterwards then too.
"She has always shown potential from when she was a pup, so it would be nice to be able to come away with the win."
The Group 2 Lismore Cup will be run and won next Tuesday night with winning connections pocketing $40,000.
Group 2 Lismore Cup – box draw
1 – Terra Torra
2 – Go Lassie Go
3 – Jury
4 – Snug
5 – Opal Nera
6 – Tooka Turn
7 – Cyndie's Magic
8 – Comaneci
Reserves
9 – Slick
10 – Aristotle
More Greyhounds News